ThirdLove says 41% of its customers have signed up for its loyalty program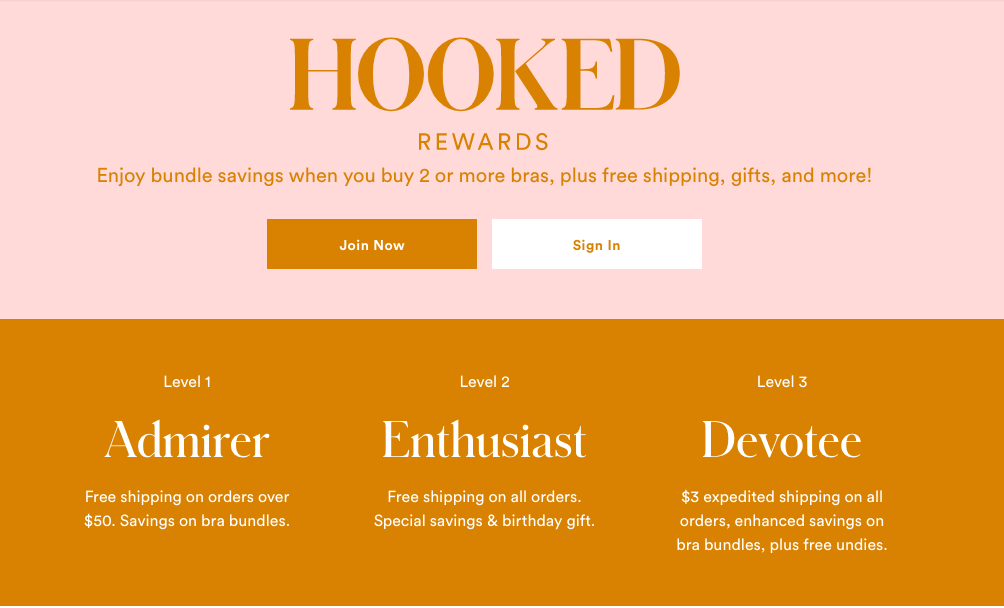 Most DTC companies don't launch with a loyalty program. Given that these brands are often first built around a single "hero product," that doesn't leave them with much room to offer customers additional add-ons once they spend a certain amount.
But, six-year-old lingerie brand ThirdLove decided to launch a loyalty program, called Hooked, in November in conjunction with a revamp of its promotional offerings. ThirdLove said that 41% of its customers have signed up for the program since launch, and that first-time customers who have signed up for the program have a 16% higher average order value than first-time customers who aren't loyalty members. The loyalty program also gives ThirdLove a new data set to inform them about what it will take to incentivize customers to spend more. The company doesn't disclose how many customers it has, but has said that it has sold over 4 million bras to-date.
The program has three tiers — Admirer (free to join), Enthusiast (for customers who have spent at least $250 with ThirdLove) and Devotee (for customers who have spent at least $450 with ThirdLove). ThirdLove chief creative officer Ra'el Cohen said that the company decided to base the tiers on lifetime spend because lingerie isn't a frequently replenished item, and that some customers "might buy only once a year, and that's okay." Members of the top two tiers get access to a free seamless underwear with purchase, and early access to new products, and exclusive seasonal offerings, in addition.  All members get access to some variation of free or low-cost shipping.
ThirdLove created the loyalty program in response to customer demand — Cohen said that it was a frequent request customers made on ThirdLove's social media pages and through its customer service chat.
She also said that ThirdLove wanted to come up with a way to more consistently give customers access to rewards throughout the customer journey, and thought of the loyalty program as one way to do that. For example, ThirdLove, like many DTC companies, used to offer first-time customers a discount — customers who signed up for ThirdLove's email list for the first time got a 10% off coupon. But by getting customers to sign up for a loyalty program, ThirdLove gets more information about how customers react to certain promotional and product offerings beyond just the first-time offer.
"If you kind of unpack what a loyalty program is, it's effectively giving benefits, discounts and other things to customers," Richie Siegel, founder of retail consultancy firm Loose Threads said. "I think one of the big shifts is these [DTC] brands have just done that in marketing."
But, Cohen said that what ThirdLove found was that bundling discounting was more successful — like offering up to $40 off and free shipping when customers buy four bras.
"That was really the purchasing behavior we saw reflected in our customer base," Cohen said. "A woman would buy one bra — she got a great fit, was really happy with it — and would come back and buy two or three more." 
So in the months leading up to the loyalty program launch, ThirdLove did away with its 10% discount for first-time customers. It also wanted to release a tiered loyalty program, to spell out exactly how much customers would have to spend in order to reach the next tier of the loyalty program as a way to encourage them to spend more.
The perks offered through ThirdLove's loyalty program is similar to other new retail loyalty programs in that the brand is more interested in offering customers early or exclusive access to product, rather than only discounts. Siegel said that other offerings — free and low-cost expedited shipping — are "table stakes" for retailers today, and "is that going to move the needle? I don't think so."
For more established brands like Reebok who have released new loyalty programs in recent months, it's the first time they've been able to collect certain pieces of customer data, or see how a customer purchases with them over time. Cohen said that ThirdLove's loyalty program hasn't given the brand access to any new pieces of data that they didn't have before, but that it's been helpful in giving ThirdLove a better way to understand what will drive its most valuable customers to purchase more.
"For us, it's really about understanding what is the behavior for each individual tier, and what are the moments in which we can help incentivize women to get to that next tier and earn that higher rewards status," Cohen said.