To acquire customers more cheaply, DTC brands are partnering up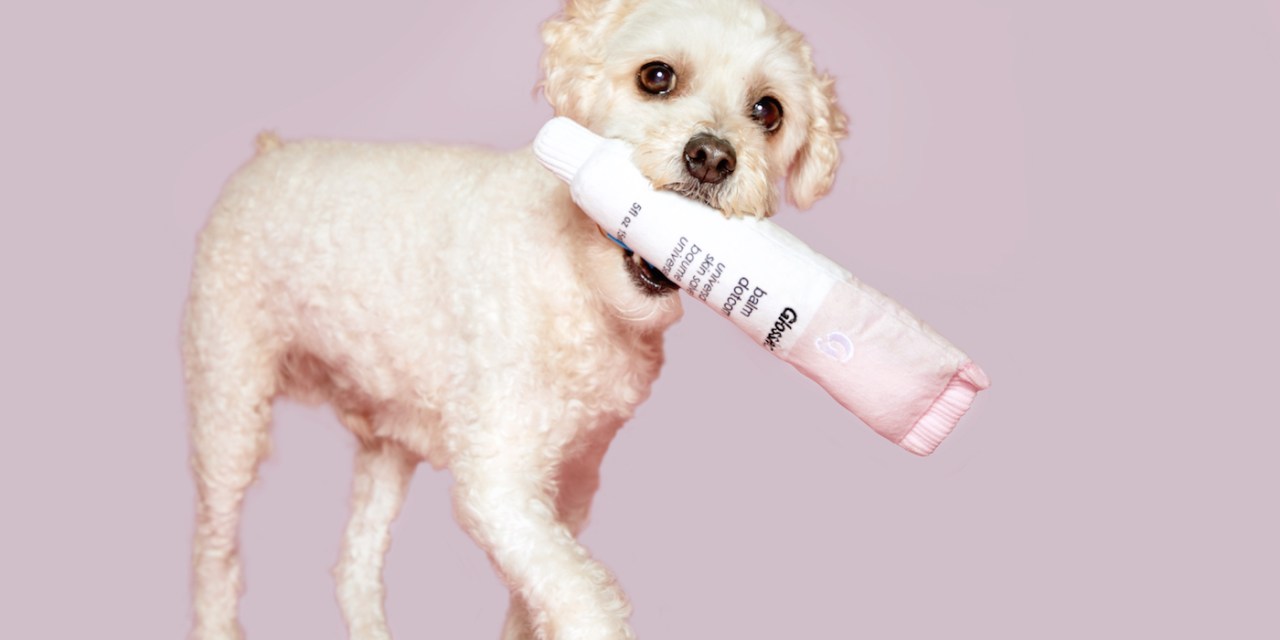 As they grow up, direct-to-consumer startups are starting to work together for more exclusive product drops, giveaways and events — all in the name of cheaper customer acquisition.
On Tuesday, pet products company Bark and cosmetics brand Glossier announced that that they were releasing a limited edition-line of Glossier branded dog toys. The toys will be available for purchase at Glossier's New York and Los Angeles retail locations, and on Bark's website. A Bark spokeswoman said that the two companies would not use paid marketing to promote the line.
While many of these partnerships are only responsible for bringing in incremental revenue, they are one of a number of ways that today's DTC brands are trying to find cheaper and more organic ways to get more people to hear about their brands.
"A lot of companies [are] hitting the Facebook wall — you'll see more and more brands reach out in this way to figure out interesting ways to collaborate," said Andrea Hippeau, principal at seed and early-stage venture fund Lerer Hippeau.
Brands can't share personal info like email addresses to target one another's customers. So instead brands look for low-cost ways to get their products into the hands of customers who shop a brand that may target a similar demographic of customer as them, but is not a direct competitor.
These partnerships are also popping up more frequently as the DTC community has become more tight-knit — many of these partnerships are being struck by brands who share a similar investor, have executives who speak on the same panels, or have stores located just blocks away from one another. Bark's headquarters are on the same street as Glossier's New York City flagship store, for example. Glossier's head of brand marketing and strategy, Poppy Thorpe said that Bark approached Glossier about a potential partnership after noticing how many Glossier customers were bringing dogs into the store.
Richie Siegel, the founder and lead analyst for retail consultancy Loose Threads, said the most frequent way he sees DTC brands try to reach fans of other companies is through limited-time product giveaways. Rhone, for example ran a Father's Day promotion on its Instagram account where followers tagged a dad they know in the comments to be entered into a contest to receive a $1000 product package, which included a $250 gift card to Rhone, a bag from Dagne Dover, supplements from Eboost, and other products from athletic-minded startups.
In many of these cases, all of the brands will promote the giveaway on their respective social accounts, increasing the likelihood that a customer of one brand will come across the name of another participating brand for the first time.
Giveaways also gives brands another way to incentivize customers to buy right now without heavily discounting the price of their product. Sleep products companies Eight Sleep and Gravity Product, for example, have partnered up on two sales this summer — one during the Fourth of July, and one during Labor Day which is scheduled to end on September 9. Eight Sleep customers who buy the Pod, a $2,000 temperature-adjusting mattress, get a Gravity Cooling Blanket with their purchase.
"We are very limited in our discounts for our new Pod product, and instead look to offer our customers additional value when they purchase," Alexandra Zatarian, co-founder and vp of brand and marketing for Eight Sleep in an email. "Partnerships will continue to be key for us not only during sale periods, but also as we expand our products and services."
Zatarian and a spokesperson for Gravity Products both said that they were pleased with the results of the first two sales, and were actively looking for other ways to partner together.
Co-branded products in the vein of the Glossier and Bark partnership are a heavier lift, as it requires the companies to work together on developing an entirely new product and labeling. But if brands pick other companies with an extremely loyal following, it increases the likelihood that customers will be willing to go to the other brand's product or website for the first time.
Kate Pobuda, director of merchandising for Bark, said in an email that while the company hasn't partnered with any other DTC brands on product launches, it's done similar collaborations with coffee chain Bluestone Lane, and Shake Shack, creating a line of burger, fries and shake-shaped plushes. Bark looks to partner with other brands who have a high number of pet owners as customers, and to create lines of toys that they think will be shared a lot on social media.
As more of these DTC brands get into physical retail, they are also starting to partner more on in-store events. For the brand that owns the store, it's a way to get more foot traffic.
For the brand who doesn't own the store, it's a way for them to see how customers respond to the product in a physical store setting, without having to shell out money on a store or even a three-month-long pop-up itself.
Stephen Kuhl, co-founder and CEO of DTC brand Burrow said that events are a critical part of its store strategy, as its a way to draw in customers who may not be in the market yet to spend hundreds of dollars on a sofa. Burrow currently has two stores — one in New York City and one in Chicago — and some of the DTC brands it has hosted in-store events with include dog food brand Ollie, and CBD drink brand Recess.
Hydrow, which sells rowing machines direct-to-consumer, earlier this year struck a partnership with Rhone to display Hydrow rowing machines in two of Rhone's New York City stores. Customers could try on Rhone apparel and then try out Hydrow's rowing machine. If they were able to row 275 meters in 1 minute or less, they were entered in a raffle to win a $1,000 Rhone gift card.
Nancy Smith, chief marketing officer of Hydrow, previously told Modern Retail that Hydrow partnered with Rhone after it decided that it wasn't yet ready to open more pop-up stores, after opening its first last November in Boston.
While many of these partnerships are still small in nature, if they become more successful over time, brands may make collaborations a bigger component of their customer acquisition strategy.
"It's not a strategy I would bank my company on, but I think it could move the needle over time," Siegel said.