To grow, Kroger is diversifying beyond grocery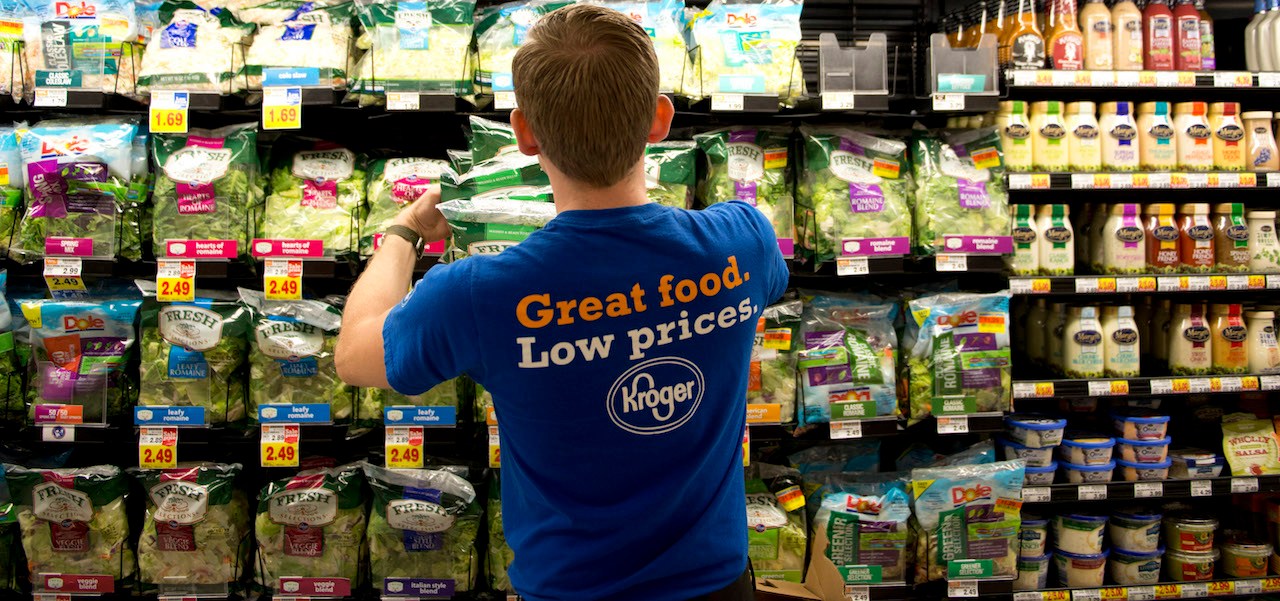 Kroger is looking beyond grocery. In an effort to differentiate and diversify where it makes money, the company is now focusing on prepared meals, from ghost kitchens to meal kits.
This week, Kroger announced that it would be launching four delivery-only kitchens — also commonly known as ghost kitchens — in partnership with a startup called Clustertruck. With this new service, customers who live within the applicable delivery radius will be able to go to Kroger's website, and choose from a variety of prepared meals to be delivered directly to their home. Kroger said that customers won't be charged a service or delivery fee, and that orders prepared by Clustertruck are delivered, on average, in 30 minutes or less.
Delivery-only kitchens helps Kroger address two issues: one, it gives Kroger another offering to convince customers to buy dinner from a grocery store, instead of going out to eat.  Second, it also provides a more cost-effective way for Kroger to deliver prepared meals to customers, since the company won't be opening a full-service restaurant.
That's critical for Kroger, as it's trying to main favorable profit margins while making other costly investments in e-commerce, like building more fulfillment centers to ensure it can fulfill online orders more quickly.  During its second quarter earnings report in December, Kroger said that digital sales grew 31%. But, operating profit just grew 1.8% to $599 million.
To that end, in a press release announcing the Clustertruck partnership, Kroger's CIO Yael Cosset, said that the company believes Clustertruck's model of delivery-only kitchens "is cracking the code for the future of profitable meal delivery."
While restaurant sales dipped during the recession, the improved economy and the rise of meal delivery services mean that restaurant sales growth has eclipsed grocery sales growth in recent months, starting in December 2015, according to the National Restaurant Association.
"Grocers, restaurants, and food brands are all trying to address that 6 o'clock dilemma of people getting home and wanting to get something nutritious at the right price, but also without too much work," said Bill Duffy, research director for Gartner.
At first, many grocers looked to meal kit subscription services to help them compete with delivery services, thanks to the early success of startups like Blue Apron and HelloFresh. Kroger purchased meal kit subscription service Home Chef in 2019, while Albertsons purchased a competitor called Plated in 2017. But, interest in these services has waned in the past couple of years. Blue Apron reported in October that it had 386,000 customers during its most recent earnings call, compared to 646,000 a year prior.
"As Americans, we generally don't like to be locked in by subscription," said Tory Gunderlach, an analyst at Kantar who covers the grocery industry. "We live in a world where shoppers are demanding a more and more convenient option, whether they might want a meal kit one day, but they might want something that's already prepared," she added.
So Kroger's trying to build out its prepared meal offerings in a few different ways. Though Kroger still offers a subscription plan through Home Chef, it's also started carrying more of its meal in stores. It's also continuing to expand a partnership with Walgreens. Last year, the two companies announced that Walgreens would carry Kroger products, including meal kits, in select stores in the Midwest. It's also piloting a new supermarket with a food hall attached in its headquarters city of Cincinnati.
Though delivery-only kitchens are more cheaper than building out full-service restaurants, many ghost kitchen startups like Clustertruck are still only a few years old, and haven't proven they can be profitable at scale. As such, Duffy predicts Kroger will push bundling — encouraging customers to try out both same-day delivery or grocery pickup, and meal delivery, in order to increase average order value and make the service as profitable as possible.
"If customers are coming to already pick up their weekly, digital grocery order, it should be a seamless experience to also order a hot bar meal, " Duffy said.