To keep shoppers coming back, Nike is testing a new experiential store format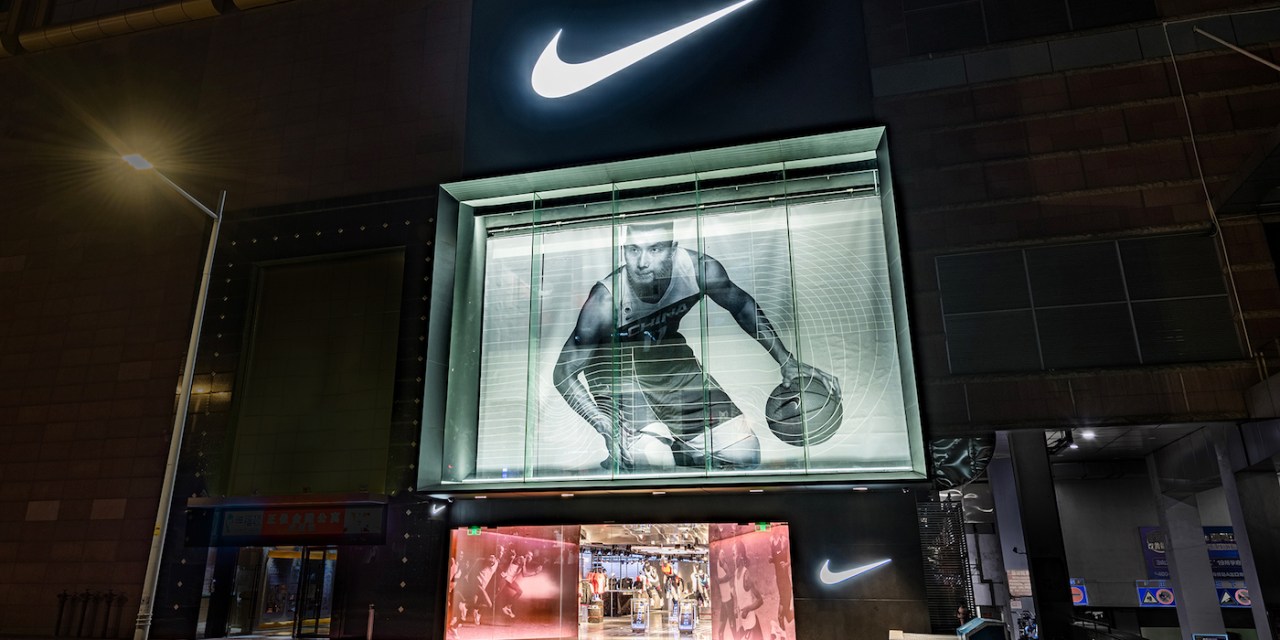 As part of Nike's plan to increase the percentage of its sales that come from its direct-to-consumer business, the company has been opening a slew of new stores in order over the past couple of years to boost sales. Now, the company is unveiling a new retail format that it hopes will make its stores a more regular destination for shoppers.
Nike is testing the format, called Nike Rise, at a new store that is opening today in Guangzhou, China. The focus of Nike Rise is to be a store that serves as a hub for local sports enthusiasts, by hosting new in-store events as well as through the addition of new app features.
As Nike seeks to boost its direct-to-consumer sales, it not only has to convince customers to buy more products from its store, but also to visit its stores more frequently, as well as to use more of Nike's services like its app that will give Nike more data about the customer. However, asking customers to visit stores more frequently is a tall order in the parts of the world where the coronavirus outbreak is still worsening. It remains to be seen whether or not some of the mechanisms that retailers often used to drive people in-store more frequently — like events — will be as effective following the coronavirus outbreak.
During Nike's most recent fiscal year, which ended on May 31, nearly 34.8% of Nike's revenue came from its direct-to-consumer business, which includes both its stores and its website. That's up from 31.6% compared to the year prior.
One way for Nike to grow its direct-to-consumer business is simply by opening more stores. At the end of 2019, Nike had more than 1,134 stores around the world. CEO John Donahue said during the company's most recent earnings call in June that the company plans to open 150 to 200 stores over the next couple of years.
"Nike knows how to engage a consumer, and knows how to host an event," said Jessica Ramirez, retail research at Jane Hali & Associates. But, she questioned the appetite for in-person events right now among shoppers.
Cathy Sparks, global vice president and general manager of Nike Direct stores, said that Nike Rise is part of an overall shift in the company's store strategy. The company plans to open more Nike Rise stores, she said, as well as revamp existing stores to fit this concept. The Nike Rise stores will run upwards of 15,000 square feet, putting it squarely in the middle of Nike's other retail concepts.
In addition to the Nike Rise store, Nike has opened two new flagship stores in Shanghai and New York within the past two years, which it calls its House of Innovation stores. Nike plans to open its third House of Innovation store, in Paris, later this year. Those run upwards of 50,000 square feet and have more interactive features throughout the store like a mini-baseketball court where shoppers can test out sneakers.
On the smaller end of the spectrum, Nike has also a handful of 5,000 square foot stores called Nike Live stores over the past year. Those typically carry a smaller fleet of  frequently-rotating products that are most popular among Nike app users in that area.
"Nike has always been about connecting athletes to sports, and now wellness," Sparks said. "We are very focused on serving the local members in the city where these sports exist, bringing the pulse of the local Guangzhou sports teams, grassroots community leagues, and large championship football clubs to life in the store."
On display at the new Guangzhou store will be a digital calendar of events, highlighting basketball and soccer matches that staff will host at a nearby sports center that Nike has partnered with. Shoppers can register for one-on-one sessions with Nike staffer who specialize in certain activities like yoga, running and soccer, to ask them questions about products and training. The store will also host weekly speaking events lead by local athletes and community leaders, talking about their wellness, workout, and nutrition routines. Starting in Guangzhou, Nike will also be testing out a new feature in its app called Nike Experiences, where members can register for and receive notifications about upcoming events. Nike also plans to roll out Nike Experiences to app users in other cities.
"We have a history of doing things first in China — China allows us to learn fast, and their members are highly digitally engaged," Sparks said.
A number of other athletic apparel retailers — from Lululemon to Nike's biggest wholesale partner, Foot Locker ,– have used stores as spaces that double as community events hubs as well as host workout classes. Ramirez said that Nike's events and content strategy differs from competitors because it caters to a wider variety of skill levels, and doesn't just focus on runners or yoga enthusiasts. It's also a skill that Nike has been able to hone during the pandemic, as it's gotten more data on the types of workouts that users are interested in as it saw an uptick in new users for its Nike Run Club and Training Club app during the pandemic.
"If you are an athlete, or if you are someone just getting into working out… they are on the top of almost every conversation I feel like the consumer could be interested in at the moment," Ramirez said.
Sparks said that the opening of the Guangzhou store, which has been in the works for over a year has not been delayed by the coronavirus outbreak. When the store opens, Nike will be implementing the same precautions it is taking at its other stores in China — requiring face masks for entry, taking temperature checks at the door, and limiting the number of people who come in store. Sparks said that foot traffic has remained high in China following the reopening of Nike's stores there; "in places where traffic is declining, it is because we are metering the number of people who can come in," she said.
"We feel really good about what we will be able to learn in this store, given how China has performed over the last couple of months," Sparks said.