Earnings
// February 17, 2022 ■ 4 min read
Walmart gains market share in grocery thanks to continued inflation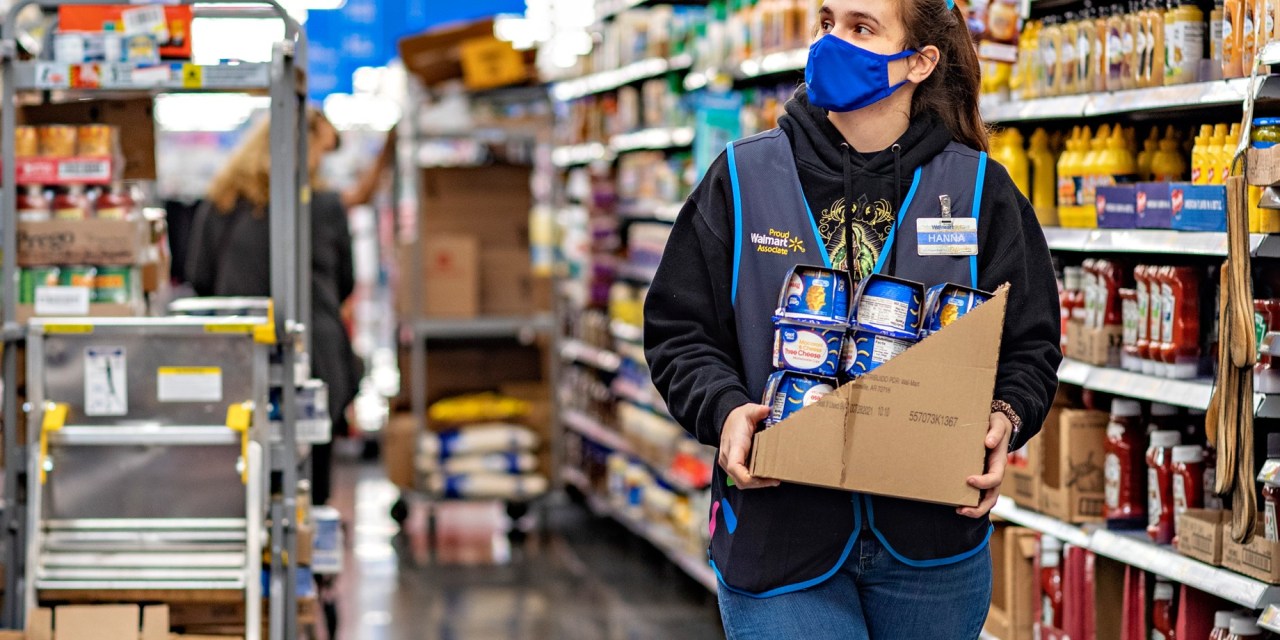 Walmart
Walmart continues to benefit from the rising cost of goods as shoppers look to stretch their food budgets. 
The retail giant saw strong sales in the U.S. as it gained market share in grocery. Walmart's U.S. sales rose 5.7% to $105.3 billion year-over-year in the fourth quarter, with comp sales (excluding fuel) up 5.6%. Grocery's comp sales saw high single-digit growth in the fourth quarter.
Analysts say Walmart's results reflect how consumers spooked by inflation keep turning to Walmart stores for food and other essentials due to its reputation for offering low costs. However, Walmart is not completely immune to other issues. Executives said they're seeing "slightly" wider price gaps with its competitors compared to pre-pandemic levels, and are taking steps to manage inflation as well as in-stock challenges. 
"We're working closely with our suppliers to manage inflation, finding a few places where we can roll back prices, and we're paying close attention to how we manage our opening price point items," CEO Doug McMillon said during a call with investors and analysts. "[The fourth quarter] and the full year are proof points that we can keep our price gaps in the range where we want them, grow market share and deliver against our top and bottom-line growth algorithm."
For the fiscal year, the company's revenue grew 2.4% to $571.8 billion, while e-commerce revenue grew 11% and 90% on a two-year-stack. 
Reaping the benefits of inflation
Inflation in January marked another four-decade high as supply chain constraints coupled with strong consumer demand drove price hikes for consumer goods. The consumer price index, a key barometer of inflation, rose 7.5% in January, according to recent data from the Labor Department.
Neil Saunders, managing director of GlobalData, said Walmart is acquiring greater shares of food shoppers because of continued inflation. And although its general merchandise performance isn't as strong as grocery, Walmart's recent merchandising enhancements should allow it to gain some market share this year. Earlier this month, Walmart unveiled the latest phase of its store remodels, which aims to more prominently highlight its owned and national brands. The remodel will roll out in other locations this year.
"With its enormous buying power and unsullied reputation for value, we believe that Walmart will be one of the main beneficiaries of continued inflation," Saunders said in emailed comments. "Certainly, it faces greater competition from the expansion of the value players like Aldi and from dollar stores, but the more rounded, comprehensive proposition of Walmart will ensure it holds its own over the year ahead."
Keeping up with pandemic-driven growth 
Walmart's e-commerce sales grew 1% in the fourth quarter, compared to 69% around the same time last year when consumers were more hesitant to shop in person. While it might not look like much, given Walmart's e-commerce growth over the last two years, the 1% growth is an accomplishment said Charles Lewis Sizemore, chief investment officer of Sizemore Capital. 
"Growth that might normally not have happened until 2023 or 2024 or beyond got pulled into 2020 and 2021," he said. "The fact that they've been able to increase those online sales even by such ridiculously difficult comps, that was a really good plus."
The retailer did not disclose the number of Walmart+ members it currently has but said it is adding capacity for pickup and delivery.
Despite its positive outlook, Walmart has also been impacted by supply chain constraints. Walmart's supply chain costs were over $400 million higher than it projected, executives said. 
Sizemore said these costs should dissipate over time. "Walmart, just by virtue of being as large as it is, is a global logistics powerhouse," he said. "They're in a better position to absorb these costs, are better positioned to get around them. Walmart has the ability, because of its size, to negotiate better pricing. When it's necessary, outbid other competitors for what has become scarce transportation resources." 
In the face of the Omicron variant, associate paid-leave costs increased over $450 million in the fourth quarter alone — introducing a headwind of over $300 million. Walmart told workers in January that it is cutting paid leave in half and, just recently, said it would start easing mask mandates for fully vaccinated staff members unless required by local regulations. 
Katie Thomas, who leads the Kearney Consumer Institute, said Walmart overall is able to absorb more cost than other retailers because of their scale. "You've seen them do a nice job of trying to modify accordingly and meet consumer needs while also passing through price increases where they have to."