Walmart's logistics investments are paying off during the coronavirus outbreak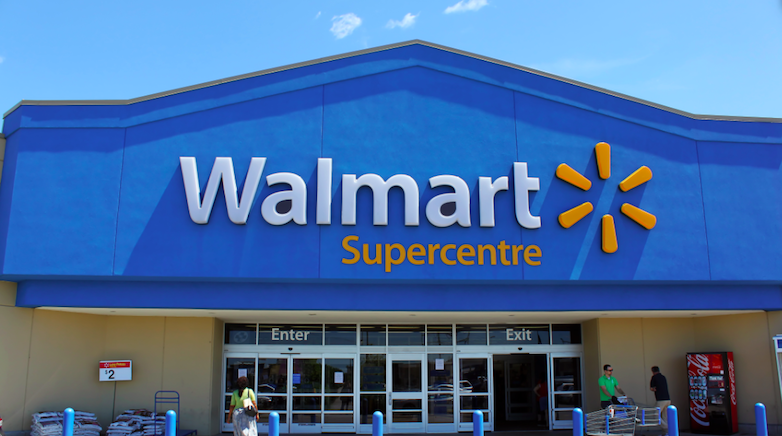 Walmart has proven to be one of the retail winners over the last couple of months, as both its stores and its website drew strong sales.
During its first quarter earnings on Tuesday, Walmart reported that total revenue was $10.7 billion, up 8.6% year-over-year. Comparable store sales were up 10%, while it's e-commerce sales were up 74%. While Walmart has made online grocery pickup and delivery the bedrock of its e-commerce strategy, the company reported that online sales growth was driven not only by online grocery, but also by sales of non-grocery items on its website and its third-party marketplace.
E-commerce
The past couple of months have shown just how far Walmart has come in building an e-commerce behemoth. In response to the coronavirus outbreak, Walmart announced at the beginning of May that it would accelerate the launch of Express, its two hour delivery service, rolling it out to nearly 2,000 stores. The rollout of Express wouldn't have been possible without the earlier logistics investments Walmart had made, building its own warehouses dedicated to e-commerce and grocery fulfillment, striking partnerships with a handful of last-mile delivery companies, as well as through the acquisition of $3.3 billion acquisition of Jet.com in 2016.
Walmart acquired Jet.com in order to acquire e-commerce know-how that the big-box retailer believed it couldn't build on its own. But in a sign of just how much Walmart's e-commerce prowess has grown, the company said today that it would be shutting down the Jet.com website, "due to continued strength of the Walmart.com brand."
As Walmart seeks to further expand its e-commerce operations and steal customers away from Amazon, it's continued building out its logistics flywheel to add even more fulfillment options. The company also said that it expanded the number of locations that offer ship from store to 2,500 this quarter.
Prepared for the current crisis
That's particularly critical right now when customers want a variety of ways to shop. Some of them are hesitant about going to the store at all, some would rather be able to do curbside pickup in order to get their items faster. Additionally, many want to limit their trips to stores as much as possible, and so will want to visit retailers who have a wide variety of merchandise so they can get everything they need in one trip.
"Because of the combination of click and collect, the fact that they have delivery options for people who choose that, that they are one of the leading providers of grocery and household essentials, and they are also a low cost provider," said Andrew Lipsman, e-commerce analyst at eMarketer. "They tick every box in a way that I don't think any other retailer quite does."
Walmart also benefitted during this quarter from customers' panic buying, reporting that the average ticket price in stores increased by 16.5%. "Some of this was made possible by the strong logistics of Walmart which ensured, as far as was possible, that products remained in stock," Neil Saunders, managing director of GlobalData Retail side. "We believe that while there were gaps on shelves at many points, Walmart coped far better than many of its grocery counterparts."
Saunders said that it also appears that this helped Walmart acquire new customers during the pandemic — GlobalData Retail has a consumer panel that the firm surveys monthly, and the number of respondents who said that the percentage of respondents who said they bought food and grocery items at least once from Walmart during that month was 60.2% in April, up from 52.5%in January.
Customers turned to Walmart for more than just groceries during the quarter. While grocery sales were up low double-digits, general merchandise were up mid-single digits. The company reported that sales were strong for electronics, media & gaming, toys, sporting goods and home items — products that people wanted to buy to keep entertained while they were for the most part staying home.
Profitability concerns
But, Walmart still said that its consolidated gross profit rate declined 66 basis points in the quarter, due in part to "a shift in the sales mix to lower-margin categories." In order to make its e-commerce unit more profitable, Walmart will need to continue to draw sales. That however is a challenge right now, with apparel sales down. Clothing store sales have fallen 89% in the past two months, according to Commerce Department data.
One way that Walmart may be able to do that is by introducing new membership options in order to encourage customers to come back to Walmart for a variety of purchases, beyond grocery. Walmart has not yet launched a competitor to Amazon Prime, but Vox reported in February that the company was looking at launching one, which would perhaps include pharmacy and fuel discounts at Walmart stores. The company also has an opportunity to promote and upsell more customers on its Delivery Unlimited program, where customers can pay $98 a year to get free unlimited grocery delivery.
"What Walmart knows is that they are looking to gain more traction with their profitable categories in e-commerce," said Evan Mack, senior specialist in Gartner's marketing practice. "What we know is that Walmart will look to design its fulfillment strategy to that end."