Why Clorox's DTC brand Objective is partnering with Gravity Blankets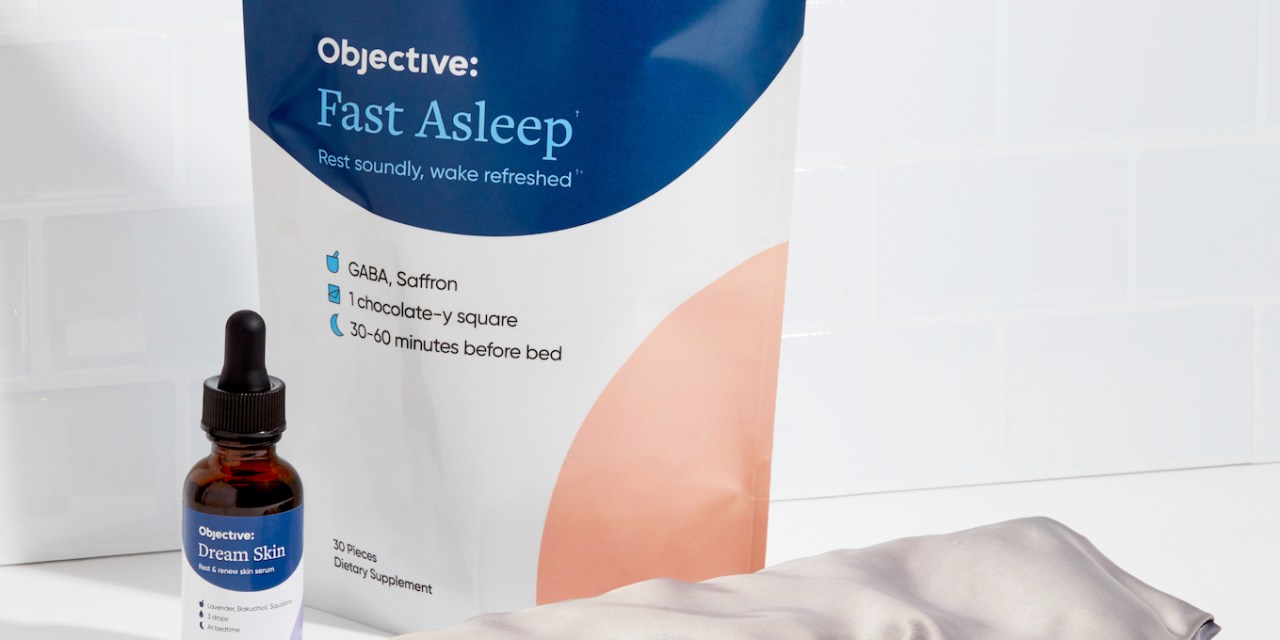 Clorox is ripping another page out of the DTC handbook.
One year ago, the CPG giant launched a direct-to-consumer supplement label called Objective Wellness, complete with minimalist packaging and a focus on using digital marketing strategies. Now, Objective is going one step further and collaborating with other startups.
This week, Objective announced that it is partnering with Gravity Products, the maker of the weighted Gravity Blanket, to sell 'beauty sleep kits' on each of their respective websites. The kits will include a weighted sleep mask from Gravity, 'calming chocolates' from Objective and a dream skin serum that will be co-branded.
The partnership comes at a time when Clorox has not only been launching new brands like Objective, but also building out a direct-to-consumer team within the company. Although Clorox's reported sales increases during the pandemic, the company is looking for new ways to build closer relationships with customers and collect better data on what they are buying.
By partnering with a DTC startup, Objective can also test out new marketing tactics. Its parent company, Clorox, participated in the Facebook advertising boycott this summer, and Clorox's CMO told Adweek that its brands — including Objective — will pause Facebook and Instagram advertising spend until the end of the year.
"The idea of partnerships are something we've been talking about since the beginning of [Objective]," Vivian Chang, vice president of growth, DTC at Clorox told Modern Retail. Objective has partnered with Gravity a few times before. Last holiday season, the two brands paired up on a joint product giveaway; And in February, Gravity carried some Objective products at a "snooze room" pop-up shop it launched at the Barclays Center.
According to Chang, Objective wanted to partner with Gravity in particular because the weighted blanket brand is "really open to testing, and does a lot with partnerships." For his part, Mike Grillo, CEO of Gravity told Modern Retail that he wanted to partner with Objective because Gravity is looking to launch more wellness-related products, beyond its blankets and sleep masks.
Chang said that she expects the Objective and Gravity partnership will continue through the first few months of the year, depending upon how quickly the Sleep Beauty Kits sell. The serum is being manufactured by Objective, and Gravity is "essentially paying us a discounted wholesale price," Chang said. She said the two companies will primarily promote the partnership through influencer marketing, which each brand contributing a list of influencers they've worked with in the past, email promotion, and potentially getting the product on gift guides.
Partnership marketing is an increasingly popular tactic used by DTC startups. These types of partnerships include product giveaways with another company, as Magic Spoon and Chobani have previously done, or releasing co-branded product, as Glossier and dog toy brand Bark did. The strategy allows companies to reach potential new by instead working with a company who has a similar customer base as theirs, but isn't a direct competitor.
Clorox has experienced huge demand for its brands during the pandemic, which include its namesake cleaning products as well as Burt's Bees and Nature's Vitality vitamins, resulting in 27% year-over-year sales growth. However, CPG conglomerates like Clorox and PepsiCo have been increasingly interested in launching either their direct-to-consumer brands or new e-commerce websites — PepsiCo launched two new e-commerce sites during the pandemic — in response to customers buying more online.
In addition to assisting with the launch of Objective, Clorox's direct-to-consumer team also built a new tech stack, to more easily allow brands to build their own e-commerce websites and collect better customer data, Clorox's vp and general manager of DTC Jackson Jeyanayagam previously told Modern Retail.
"Larger CPG brands are desperate to have a direct relationship with their customers," Aditi Dash, a partner at fintech firm CircleUp told Modern Retail in an email. Dash, whose firm works primarily with CPG startups, added that launching direct-to-consumer brands allows CPG companies to "to see what customers actually buy, whereas a focus group only allows customers to talk about what they might buy or consume."
Even before the Gravity partnership, Chang said that Objective had been looking to partner more with influencers, particularly on YouTube, after Clorox halted Facebook and Instagram advertising. She added that after pulling money from Facebook and Instagram advertising budets, Objective also started investing more in search and display advertising.
She didn't say exactly when Objective and Clorox will resume Facebook and Instagram advertising, but that Clorox's CMO and other stakeholders were in talks with Facebook, "outlining a path with what we would have to see to get back onto Facebook/Instagram."
Chang said that Objective also hopes to do more partnership marketing in the future — citing food and women's health as two particular areas of interest. "We still want to go down this route of 'can we develop co-branded products?' Chang said. It's about "having these conversations open and seeing organically where they go."