Why Eastbay is launching a new private label line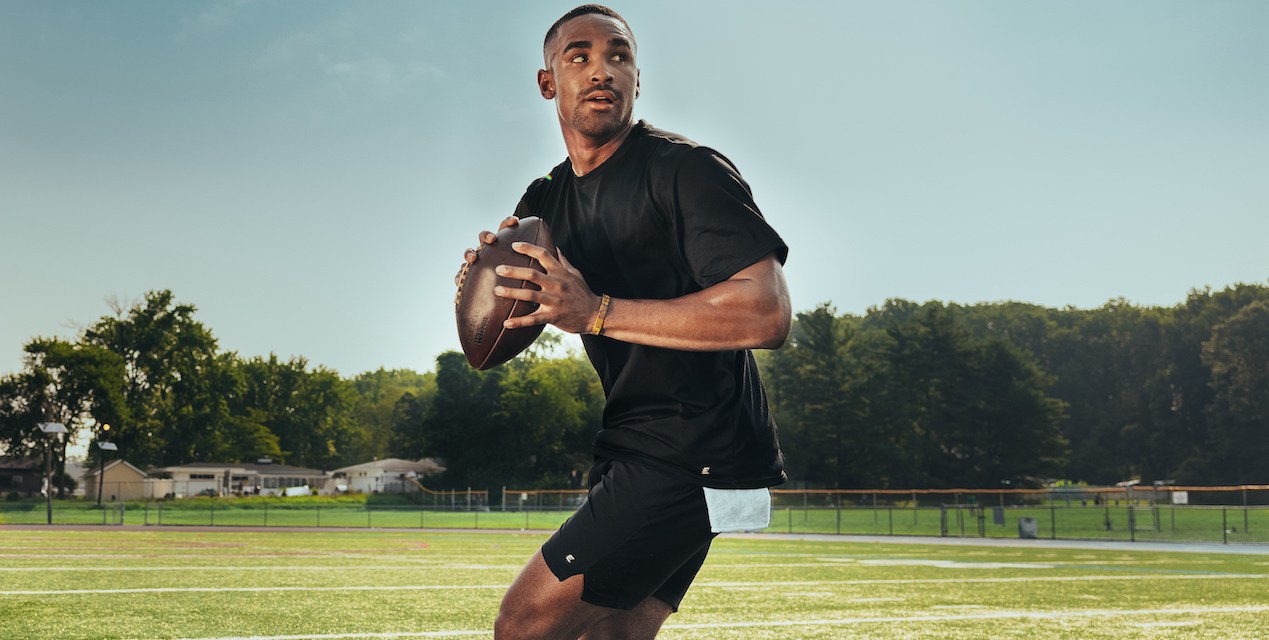 Eastbay
Over 40 years after its founding, retailer Eastbay is launching a new athletic wear private label line. 
Eastbay Performance, which began to roll out this week, is part of a collaboration with Philadelphia Eagles Quarterback Jalen Hurts, who is serving as a brand ambassador. The brand will launch new collections seasonally, and in 2022, will add women's and kids collections. 
Eastbay was founded in 1980 and acquired by Foot Locker in 1997. Eastbay and Champs Sports currently operate as one division under Foot Locker, and while Eastbay has some shop-in-shops within Champs Sports locations, there are no Eastbay standalone stores. The new label will be sold across Foot Locker's various banners, including Eastbay, Champs Sports and Foot Locker's websites, as well as in select Champs Sports stores. The move also marks new territory for Eastbay, which until now has specialized in selling sporting apparel, footwear and equipment to student athletes. 
Guy Harkless, senior vp and general manager at Champs Sports and Eastbay, said that the new label is a new way for the retailer to cater to high school student athletes. "We've been marketing to athletes for 40 years," said Harkless, and said that has given Eastbay more consumer insight compared to newer athleticwear brands. Now, the retailer wants to parlay those findings, largely from selling third-party brands like Nike and New Balance, to launch in-house merchandise. 
Eastbay is entering a crowded market, and will compete with major brands like Nike and Adidas, as well as big-box stores like Target and Dick's Sporting Goods. 
Eastbay Performance's theme is focused on a "Game, Train, Live" motto, said Harkless, and features styles "that can be worn on and off the court." Items include compression tees, tanks, shorts, along with athleisure hoodies and bottoms; Prices range from $15 for compression shorts to $55 for jackets.  
Eastbay traces back its history to the retailer's direct mail catalog, which the company still distributes periodically. Harkless said the model has evolved into an online direct-to-consumer channel. "We believe there is a greater digital future for the business," he said.
Eastbay Performance's initial collection will specifically target Hurts' home market of Philadelphia, which will include several campaigns. Hurts also appeared on the August cover of Eastbay's catalog, where he modeled several looks from the brand. This fall, the brand will run out-of-home campaigns in select markets, including tailgate events during Philadelphia Eagles games.
Harkless, who joined Eastbay from Foot Locker in 2020, said private labels are part of the company's initiative to modernize the Eastbay brand and further integrate it into Champs Sports. This will include opening more Eastbay stores inside Champs locations in the coming year. Champs Bay has about 530 stores throughout the U.S., Puerto Rico, U.S. Virgin Islands and Canada. "The two brands will be working together to target both athletes and sports fans," said Harkless.
To coincide with the launch, Eastbay is also ramping up brand awareness efforts on social platforms, such as Instagram and TikTok. The company also works with influencers and a team of sports ambassadors to promote its merchandise.
Private labels have become a go-to strategy for retailers looking to improve sales and become less reliant on national brands.
This year, Dick's Sporting Good also expanded its private-label offerings. In March the company launched its first men's line, following the success of its women's athleisure label. Meanwhile, fitness companies like Peloton have also ventured into private labels 
Christopher Durham, a private brand consultant and president of Folio28, previously told Modern Retail that sportswear retailers are taking a page out of Target and Old Navy's book by launching in-house offerings. 
"Creating their own variations helps bypass the third party brand tax," said Durham. "Plus, the margins are always deeper for in-house labels." 
Correction: An earlier version of this story erroneously referred to the new line as Eastbay's first private label line, due to an error in the initial press materials. The story has been updated to reflect that it is not Easbay's first private label line.