Why Lululemon is betting on pop-up shops during the holidays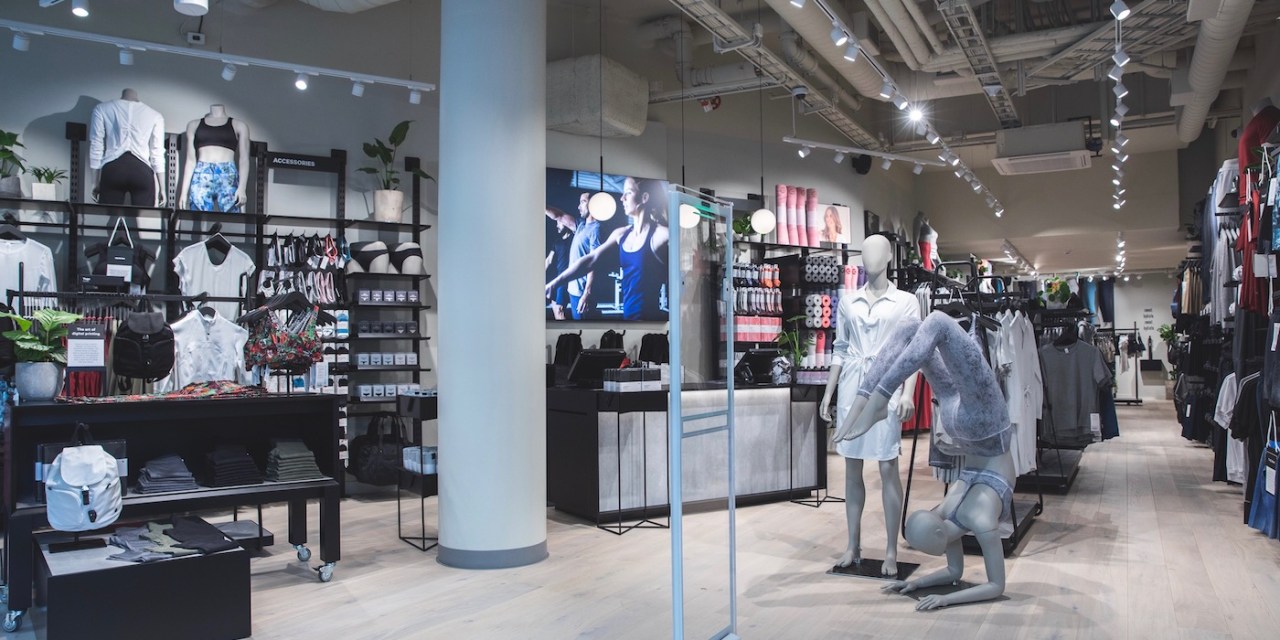 Image via Lululemon
Even though some shoppers are still hesitant to visit stores, not every retailer is shying away from opening new brick-and-mortar locations.
Lululemon CEO Calvin McDonald said on Tuesday during the company's second quarter earnings that it plans to open about 70 pop-up locations during the second half of this year. It's a strategy that Lululemon has employed before, but the coronavirus means that the role of these temporary stores will change.
During the fourth quarter of 2019, Lululemon opened 50 temporary stores, and primarily used them to test out new markets that Lululemon was considering opening permanent stores on. Now, the company is leaning on pop-up stores to help deal with in-store traffic challenges. Even though Lululemon is projecting that store traffic will continue to remain below 2019 levels, restrictions on the number of customers allowed in stores means that some customers are still experiencing long wait times to enter. Opening pop-ups in areas where permanent stores are seeing a lot of foot traffic could help Lululemon serve these customers more quickly. Additionally, these pop-ups could help Lululemon clear more excess inventory.
"[Lululemon] is in the category where people are still shopping," said Jessica Ramirez, retail research analyst at Jane Hali & Associates. "When the holiday season comes, we're not expecting the figures to be what they were last year, but you will still have people shopping in-store." Lululemon reported that during its second quarter, revenue was $902.9 million, up 2% year-over-year.
Gabriella Santaniello, founder of retail research firm A Line Partners, said that the Lululemon pop-up stores she's previously visited have been a "pretty edited version of what they have in retail stores," mostly offering Lululemon's core products, like its black leggings, as well as highlighting newer lines of business like its men's business. McDonald said on Tuesday that Lululemon would be investing more in inclusive sizing, and carrying some of its core products in sizes zero to 20 starting this month, so Lululemon could use its pop-up stores to promote this new sizing.
While Lululemon hasn't released exact figures about how many people are visiting Lululemon's store this year compared to last, the company did share that nearly 400,000 customers have used virtual waitlists that the company has implemented at 280 stores. If Lululemon can't let in any more customers in-store because it is at capacity under local coronavirus ordinances, customers can sign up to receive a text notification for when its their turn to enter the store. Santaniello said that at Lululemon stores in Orange County, California, Orlando, Florida and Dallas, Texas she's seen or heard of wait times as long as one to two hours. Ramirez said that when she said visited Soho this past weekend, Lululemon didn't have a line outside the store like other retailers did, but that "it did have some traffic."
"I think this is a great strategy, they've just got to get the word out," said Santaniello. She said Lululemon could, for example, email existing customers who live in areas near where Lululemon is looking to open these pop-up stores, and let them know about these new pop-up stores. McDonald also said that in some cases, Lululemon would be doubling up on stores in the same mall.
Lululemon may also be able to get a good deal on rent right now, given that many other retailers are closing stores right now. Additionally, opening more pop-up stores could help Lululemon get rid of excess inventory, according to Santaniello. McDonald said during the company's first quarter earnings call in June that about 40% of its inventory was non-seasonal like black leggings, which the company said could help Lululemon rely less on markdowns. But the company said on Tuesday that it still had 36% more inventory year-over-year. Opening more temporary stores gives more places for Lululemon to sell this product.
Santaniello said that opening pop-ups during the holidays may work for other retailers that, like Lululemon, haven't seen a huge sales decrease but have smaller stores and are worried about customers who want to shop in-person experiencing longer wait times. And even after the holidays, pop-ups will be a way to ensure that brands don't get locked into lengthy leases while they are still waiting for the pandemic to end.
"If you look at some of the bigger box stores…they are at an advantage, because they can maybe let 200-plus people in the stores," Santaniello said. "I think speciality retail is in a really difficult position."