Why recycled luxury brand Philip Karto is opening physical stores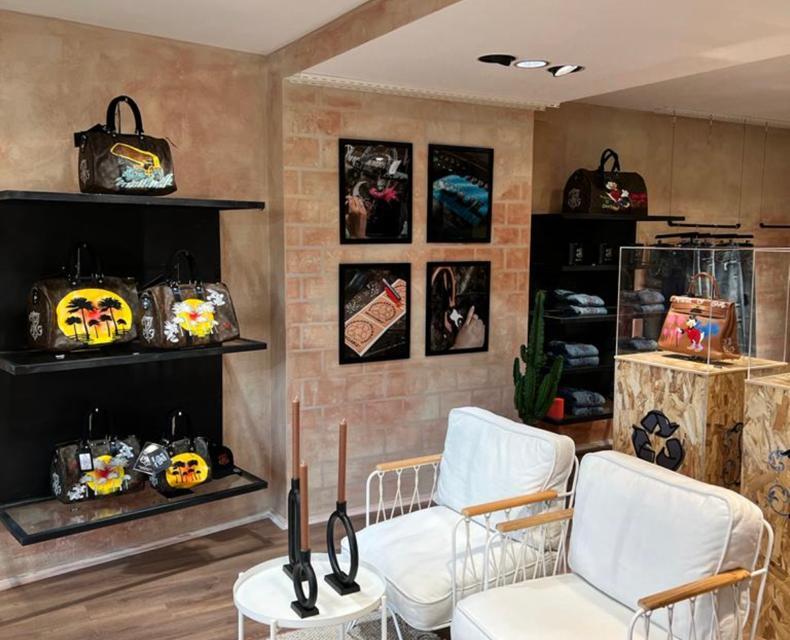 Philip Karto
After selling through multibrand retailers' stores and websites for years, Philip Karto is bringing together its sustainable luxury products at its own standalone store.
The brand — whose celebrity clients include Miley Cyrus, Bella Hadid and Puff Daddy — announced the opening of its first store last week in Saint-Tropez, France, the founder's country of origin. Philip Karto also plans to open locations in Miami and New York before the end of the year. In total, the company plans to open 10 physical locations across the globe in a quest for better margins and growth. 
After briefly stepping back from the fashion industry, founder, CEO and designer Philip Karto launched his namesake brand in 2017, which specializes in hand-painted recycled luxury bags like Louis Vuitton, Hermes and Goyard as well as apparel. Karto combines art and luxury, purchasing worn pieces and adding new elements inspired by his background in street art. The company made $2 million in sales in 2021, a drop from $5 million pre-pandemic in 2019. 
"I stopped [working in] the fashion industry because I didn't find my place," Karto said. He said he was unable to reconcile with the amount of waste associated with the industry. "I felt uncomfortable with mass-market fashion."
Since the brand's founding, Karto has sold his products at various websites and 87 stores, such as Farfetch, Bergdorf Goodman and Selfridges. But in order to better build more trust with customers, Karto decided to open his own physical stores. As a luxury retailer, whose products can cost $3,400 to around $34,990, Karto said consumers are less likely to spend a significant amount of money online on the brand's website. 
"Even if you know the [brand's] story… it's difficult to pay $5,000 to $30,000 for Hermes on an e-shop," Karto said. The 1,000 square feet store in Saint-Tropez also features Karto's apparel line, which follows a similar concept to his bags. Like many luxury retailers, Karto's store offers clienteling services, where customers can consult staff members.  
Services like these are part of the luxury price tag customers pay for, said Polly Wong, president of marketing firm Belardi Wong. Having a physical presence gives a brand credibility and authority that online stores can't. Additionally, brands have more control over their services and presentation in standalone stores than in multi-brand retailers, she said. 
"Usually luxury product stores have a level of customer service and a level of engagement with customers that is very different than if you were selling $100 sweater," Wong said. "That luxury consumer has a much more personal relationship with the sales associate at a store than if it were in a lower- or mid-ticket category."
In some instances luxury sales associates personally reach out to customers when new products come in or even write handwritten notes for customers, Wong said. Chanel, on the other hand, said it is planning to open dedicated boutiques for its highest-spending clients as its stores experience high traffic, according to Business of Fashion. In 2019, when Nordstrom opened its first flagship in New York, the company touted a suite of services like styling clothing alterations and shoe repairs.
Philip Karto also offers other unique services. Customers can bring their own bag to the store and choose any design from Karto's catalog through a service dubbed The Studio Lab. The bag will then be sent to Karto's workshop and recreated. 
Another variation of this service is called The Secret Lab — clients who have specific design requests can meet with Karto in person or via Zoom. Just recently, for instance, Karto redesigned a Hermes Birkin for a client, where he put diamonds on the bag's locker.
Having a standalone brick-and-mortar location allows brands to learn more about their customers' tastes and preferences, said Melissa Minkow, director of retail strategy at digital consultancy firm CI&T. This information could then be used to inform the brand's merchandising strategy.
But launching a store does come with certain risks, Minkow said. "There's definitely going to be a realist estate costs associated because for a luxury brand in particular, you will want to be very intentional about where you're located, she said. "You're also going to have to worry about costs to pay either brand educators or associates that are working in those stores."
Apart from his stores, Karto said 'Rock'n'Roll' customizations on Hermes bags are currently underway. Philip Karto products can be found in 17 countries, including the U.S., Italy, Germany and Switzerland. Beyond New York and Miami, Karto is also exploring the possibility of opening a store in Dubai.