Why retailers are increasingly building mobile apps for store employees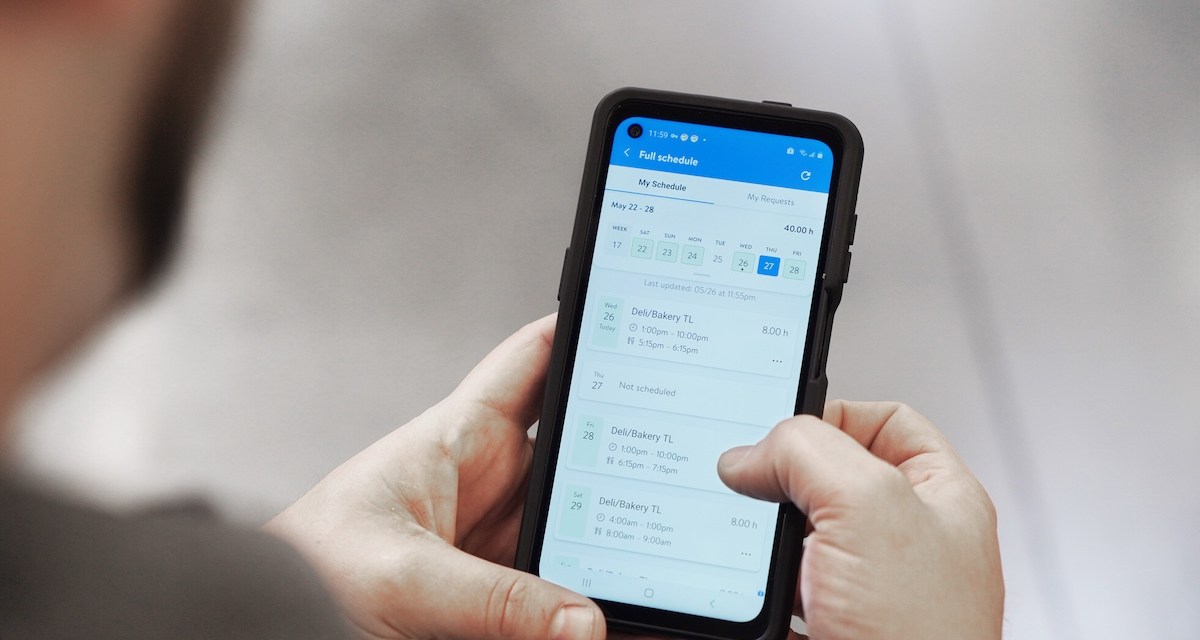 Walmart
Store workers at big-box retailers are increasing expected to deal with both online and in-store orders. As a result, retailers are trying to find new tech tools to help workers manage the growing list of tasks they're responsible for.
The solution many are settling upon is to create mobile apps specifically for store employees to access either on phones or company tablets. Walmart, for example announced last week that it was creating a new mobile app called Me@Walmart. Through the app, store employees can manage their shifts and view their schedules, use a voice-activated personal assistant to answer common questions, such as where certain items are located throughout the store, and eventually, use the app to scan merchandise in the backroom.
In addition to Walmart, Target has also had an employee-facing mobile app for four years called myCheckout, while other retailers like Lowe's decided to create employee-facing apps during the coronavirus pandemic to help managers and employees manage new tasks. Industry experts say that they are increasingly seeing retailers turn to mobile because it's the technology employees are most comfortable with. Walmart is taking a different approach than other retailers — who typically will give employees shared tablets to access the apps on — and instead offering more than 740,000 of its associates a smartphone, free of charge, which they can use both on and off the clock.
Kelsie Marian, senior director analyst at Gartner, said that she believes tech for store employees is an area that, historically, retailers have underinvested in. "While there has been some effort put forth around maybe doing scheduling for store managers, the actual store associate and their access to information and tools — particularly from a mobile standpoint — I would say has been pretty limited," Marian said.
A growing number of use cases
Retailers have experimented before with creating mobile apps, but some of the efforts have previously bordered on gimmicky or had limited use cases. In 2018 Home Depot, for example, created a mobile app with games to train new hires.
But what's spurred this latest iteration of employee facing mobile apps is the growing percentage of online orders that are fulfilled at or picked up at stores. Target's stores, for example fulfilled 95% of the company's online orders during its first quarter. That has now made it necessary for employees at many retail stores to be able to get information from their company's website at a moment's notice, and to create apps that allow them to do so. Target's myCheckout app, which the company launched in 2017, is primarily used by store employees to help customers place online orders if they can't find the item they are looking for in-store; Target employees can access the app on scanners equipped with a credit card reader, so they also can complete the order for customers on the spot.
"By putting a phone in your associates hand, you are helping them keep up with the speed of shoppers — if not, your shoppers are going to be faster, and we know they have less patience and I think it's critical for them to be at that same pace," said Lei Duran, senior vice president of retail insights at Kantar Consulting and a former category director at Walmart.
During the coronavirus pandemic, there were also more instances in which store employees needed access to more real-time information. That prompted Lowe's for example to create an app to help store managers keep track of the number of customers in store, to ensure they were adhering to capacity limits.
The other, most common use case for employee-facing mobile apps is to help employees manage shifts, or talk with another while they are on the job. In 2019, American Eagle rolled out an app called Real Rewards, through which managers and store employees can reward one another for completing sales goals and other tasks, as well as to earn certain perks like gift cards once they earn enough rewards.
Creating an app for store employees requires more than just hiring software developers. Companies also then have to distribute devices for employees to access these apps on. Historically, that's been on shared tablets or smartphones that employees will use while on the clock and then hand off once they are done with their shift.
But Walmart is taking a different approach in its new app, which could signal a shift in the role that technology plays in retail employees' lives. In its announcement last week, Walmart said that by the end of the year, it will be offering 740,000 store employees a new Samsung Galaxy XCover Pro smartphone — which they can also use as their own personal phone.
The company said in its press release that it will not be able to access any personal data on the phones, and that employees can only log in to the Me@Walmart app while they are on the clock. That may not completely reassure employees who are concerned about using a phone 24/7 that was provided by their employer — but the trend of retailers creating mobile apps for their employees isn't expected to slow down.
"I think retailers are just like any other human right now and have a great reliance on their phone," Duran said.