Why secondhand clothing platforms are booming as the apparel industry struggles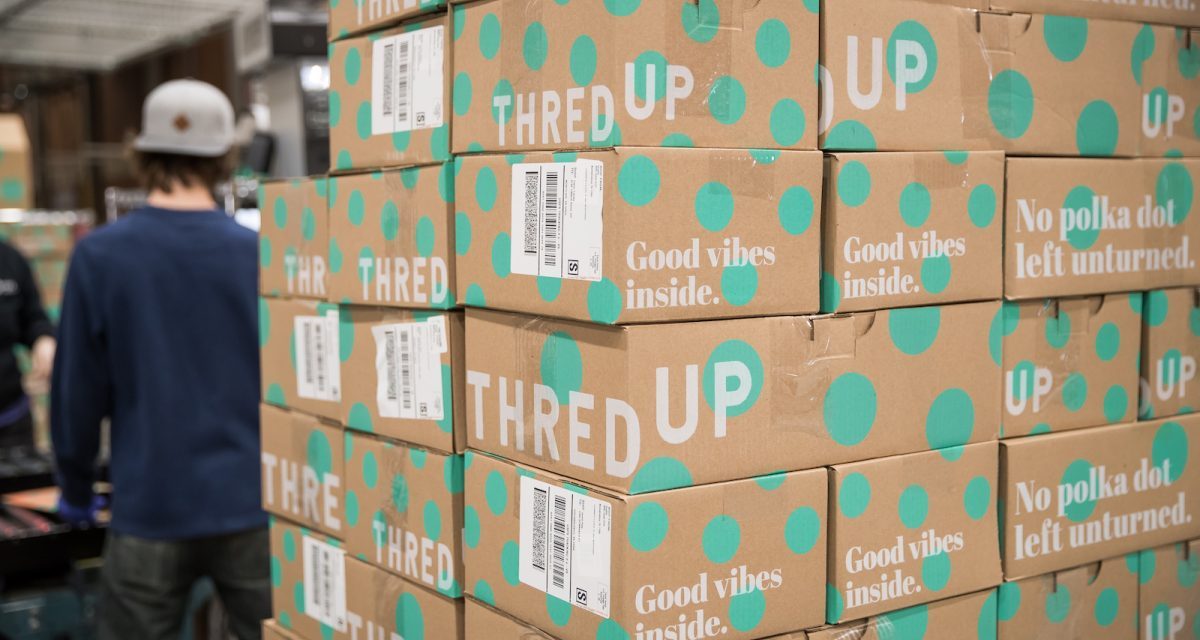 ThredUp
As the apparel industry struggles to return to its pre-covid level of sales, some secondhand clothing startups have been thriving as shoppers become more price conscious.
ThredUp released its annual report on the state of secondhand clothing, and said that from mid-March to the end of May, its weekly gross transaction volume has grown 20% compared to the same time period last year. That's slower than the growth ThredUp was seeing before the pandemic — the company's weekly gross transaction volume grew 43% year-over-year from January to mid-March. But, ThredUp President Anthony Marino said that much of the slowdown came at the end of March, and that ThredUp saw record growth in April and May.
It's not the only secondhand resale site seeing promising growth. From mid-April to mid-May, Poshmark "experienced a 50% increase in clothing and accessories sales compared to the previous year," according to the Wall Street Journal, while Depop's traffic increased 100% year-over-year in April.
With tens of millions of Americans still unemployed, it's not a surprise that secondhand clothing startups are growing, even though most other apparel retailers are seeing a sales decline. In May, apparel sales were down 63.4% compared to May of last year, according to Commerce Department data. But these platforms' continued success relies on them capitalizing on certain behavior shifts; it's not only that U.S. consumers are increasingly price conscious. Customers, for example, have more time to spend online, to compare items across sites and sellers before making a purchase. And, many shoppers are still hesitant to visit stores in person. The secondhand clothing startups that are in the best position to win shoppers long-term are the ones that cater to these types of shoppers.
Social engagement
Compared to traditional thrift stores or the first wave of resale sites like eBay, digitally-native resale sites like Depop, Poshmark, and ThredUp are more of a social experience. Before the coronavirus, Poshmark for example hosted in-person meetups for sellers. It also added a Stories feature, similar to Instagram's and Snapchat's, to its app in April. "They are clearly marketing to a younger, fashion forward audience that is not just focused on price, more of a value play," said Tiffany Hogan, senior apparel analyst at Kantar Consulting.
That has been a benefit during the stay at home orders, when people were spending more time online. Marino said that ThredUp saw a record number of new visitors to its apps and websites in June.
"We list tens of thousands of fresh items every single day, so one thing that we've found is that customers seem to value this even more right now, the endless scroll through items that are freshly listed has become a past time," he said.
A focus on fulfillment
One challenge that all of the secondhand apparel sites are facing right now is that items are taking longer to ship — which can turn away first-time customers if their items take too long to arrive. Unlike some other resale sites, ThredUp sellers don't directly ship items to buyers — they instead ship them to ThredUp warehouses, where the company cleans and inspects items before making them available for purchase on its website. Marino said that it is taking ThredUp longer to process items thanks to social distancing and stricter cleaning measures that it has implemented in its warehouses, but that "customers seem to know that covid has affected every business."
Competing resale sites have taken other methods to try to ensure that their items get to customers more quickly. Last week, Japanese resale site Mercari, which is trying to make inroads in the U.S., launched a same-day delivery option with Postmates.
Before the coronavirus, ThredUp was also increasingly trying to pitch itself as a B2B service provider to retailers, securing partnerships with Gap, Macy's, and JCPenney to sell ThredUp inventory in select stores. Most recently, the company announced that it was partnering with Walmart to make ThredUp items available for sale through Walmart's website.
Marino said that as stores see less foot traffic due to the coronavirus, ThredUp was seeing more inbound from retailers who want to establish both an online and an offline partnership with ThredUp.
"Retailers want a clear path to an online strategy around secondhand," he said.