Why Sleep Number is redesigning its stores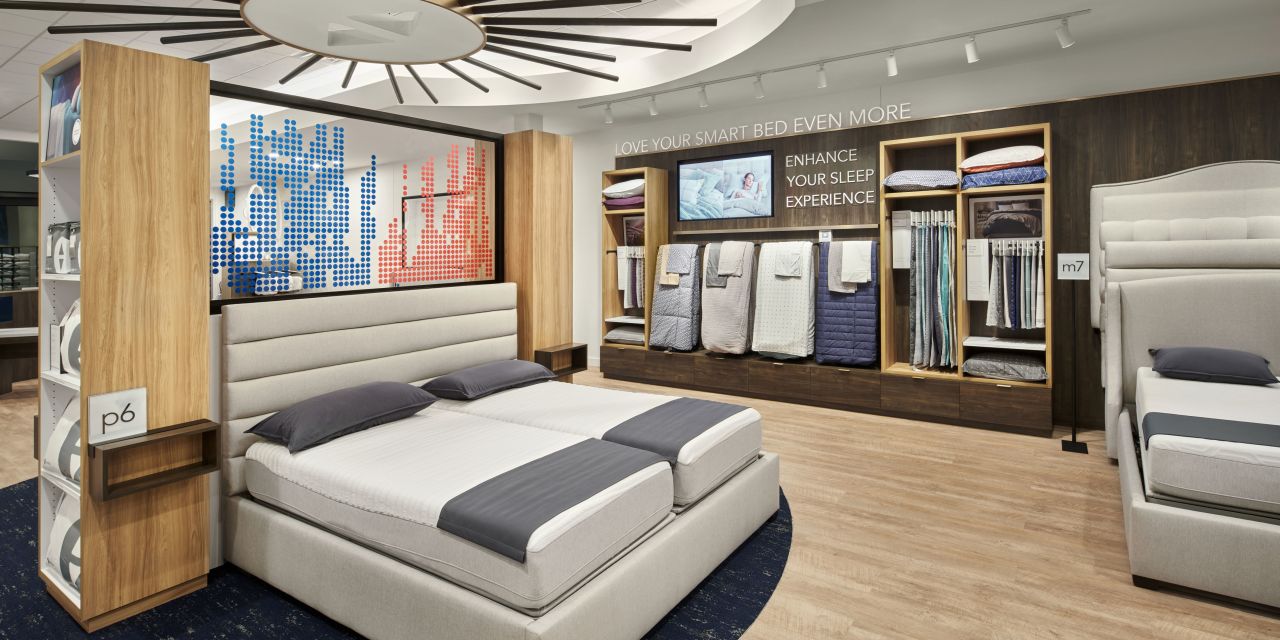 Round Three Photography
Sleep Number stores are getting a new look.
The company — which offers mattresses, bedding and pillows — is rolling out a store redesign across its new and relocated stores this year. The first redesigned store opened in late June in its Edina, Minnesota location. Sleep Number will introduce the redesign across 16 more stores this year. The remodeled stores feature a new floor plan, modular fixtures and digital features such as QR codes that link to its bedding planner and PillowFit Quiz.
Its store remodels signal Sleep Number's desire to create a space to accommodate its newer product innovations, such as its new Climate 360 Smart Beds. Founded in 1987, Sleep Number has over 650 retail locations across the country. Moving forward, Sleep Number wants its stores to reflect the company's increasingly tech-focused strategic direction.
While the company sells various products, including beds and headboards, it is primarily known for its tech-enhanced mattresses. The price of Sleep Number's mattresses can range from around $999 to around $5,299, according to its website. In its recent earnings report, the company's net sales dropped 7% to $527 million, with the company blaming the dip in sales on a short supply of computer chips needed for its tech-enhanced mattresses, as well as other economic factors. The company has responded to the slower sales by trimming media and other planned costs by $10 million in the quarter.
"The store is really all about complementing our sleep innovations," said Angela Gearhart, vice president of connected brand experience at Sleep Number. "We wanted to create something that would be flexible for future innovations because we're always developing on behalf of our consumers. 
Each redesigned store will feature a focal point highlighting its new products and an updated bedding section with less packaging as well as samples that shoppers can use to touch and feel the product. QR codes are also found throughout the store, which then link to the company's website. There, consumers can take the PillowFit Quiz to determine the pillow that fits their preference or use the bedding planner where consumers can mix and match different beddings to see how it would look together.
Gearhart said the company developed the redesign with sustainability in mind. She said the flooring is manufactured in zero-waste facilities and the carpets are made from "post-industrial recycled materials." Drinking fountain bottle fillers are also available in the remodeled stores to minimize the use of bottled water.
"We really want to support our positioning as the leader in connected sleep health, science and research," Gearhart said. "What the store environment does is really start to bring that positioning to life." 
R.J. Hottovy, head of analytical research at Placer.ai, said that retailers tend to roll out store redesigns to create a sense of newness and buzz. In recent years, he said more retailers have been incorporating more experiential and omnichannel aspects into the store. 
For example, Walmart unveiled a new store design in its incubator location in Springdale, Arkansas in January, which features a living room or bedroom set up so customers know what the product looks like outside of its packaging as well as QR codes that link to other product options online. 
"Sometimes, the redesigns are a way to better show off a new product," he said. "Sometimes store designs are intended to put a new product or new service in the best light possible."
Target, which has heavily invested in private labels and shop-in-shop partnerships, has remodeled its stores to highlight its offerings. It has also dedicated a space to support the popularity of its same-day services, such as order pick up and drive up.
"The obvious goal is to drive more foot traffic to that store," Hottovy said. "You might also be trying to get people to stay in the store longer. Typically if you are in the store longer, it does tend to lead to higher transaction sizes." 
However, store remodels also come with some risks, Hottovy said. If the store remodel ends up being too extreme, retailers run the risk of turning off its loyal customer base. Additionally, the financial investment towards redesigning stores might not yield the expected return, he said.
For Sleep Number, the company plans to use the remodeled stores to determine which elements it wants to roll out to other locations. Sleep Number's Gearhart said that the company's store updates is "never really a one and done process." The company is also looking into ways to incorporate augmented reality experiences in the store. 
"We're very much in a test, learn and apply culture," she said. "A lot of retail stores would maybe [create] a new prototype experience every five years, maybe three. But we're continuously evolving."