Why Tonal is launching a shop-within-shop at Nordstrom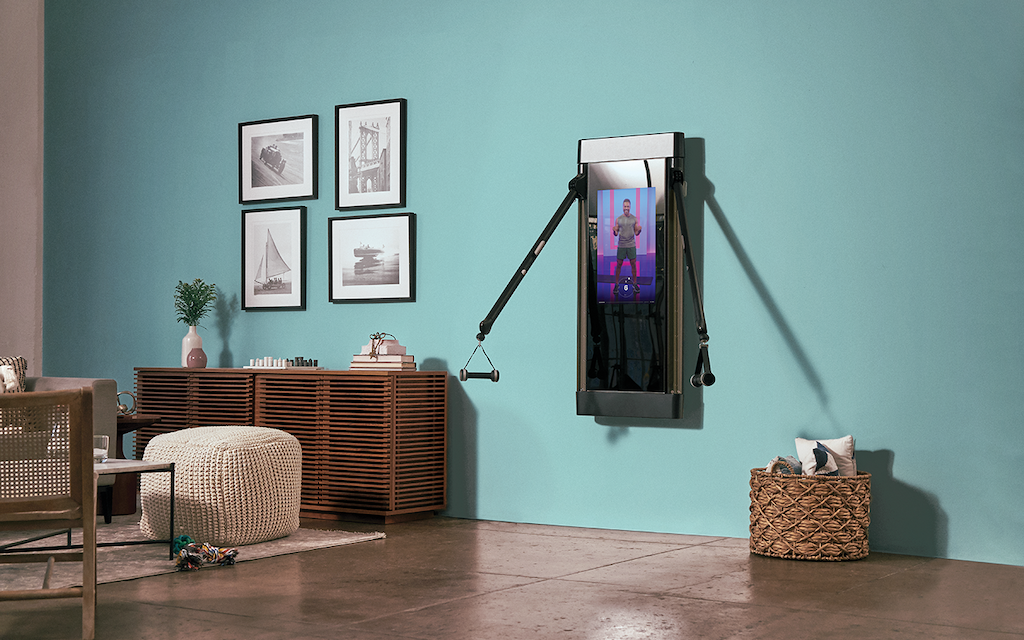 With demand for virtual fitness going strong, Tonal is expanding its physical presence to reach more customers.
This week, the connected workout machine maker announced it's opening mini showrooms inside 40 Nordstrom department stores. Tonal's Nordstrom launch is another example of at-home fitness growing presence inside retail stores. The 50-square-foot shops, which will be operated by Tonal employees, will give customers a chance to ask questions and try out the system before inquiring about purchasing it.
The move is a timely opportunity for Nordstrom to expand its fitness merchandise, said Bridge Ventures founder Charlie O'Donnell, whose early stage investments include The Wing and DTC paint brand Clare. "The footprint of a trial space is quite small," O'Donnell said. This makes it an easy way for Nordstrom to utilize expensive real estate within stores, which stands to create high lifetime value customers.
Tonal, founded in 2018, also currently has ongoing partnerships with Neighborhood Goods and B8ta. The Nordstrom customer, however, is very different from Tonal's typical DTC showroom shopper. Furthermore, while Tonal already has six proprietary showrooms across the country, Nordstrom stores are located in suburbs where people have the at-home gym space to install one. Therefore, it gives this market an alternative otherwise driving to a gym, O'Donnell said. 
Brett Rose, CEO of United National Consumer Suppliers (UNCS) — which provides wholesale solutions for retailers like T.J. Maxx and Ross department stores — agreed that the demo rooms can help Nordstrom grow revenue per square foot.
"Nordstrom has done a good job in courting young brands," Rose said, noting that the retailer has also bulked up Rack locations and closed underperforming stores. Nordstrom has courted young, digitally-native brands more aggressively than competitors like Macy's. These include partnerships with Kim Kardashian's Skims, Glossier and Everlane over the years, as well as emerging brands like menswear grooming brand Asystem, which launched in Nordstrom last fall. The department store chain also recently struck up a partnership with Food52.
Expensive fitness equipment is an interesting choice for a department store; Nordstrom cited the move as a chance to expand offerings beyond apparel, beauty and footwear. The addition of Tonal is part of a long term strategy to expand into activewear and fitness gear, Nordstrom said in the partnership's press release.
The store-within-store trend will likely grow among retailers as they navigate real estate expansion, said Melissa Gonzalez, founder of experiential retail firm The Lionesque Group. "It's an efficient way to span the distribution channel outside of their standalone stores," Gonzalez said. Even brands with a large physical footprint are considering the concept. This month, Target announced it's testing out mini Apple shop concepts inside select stores. Last fall, the big box store announced a similar collaboration with beauty retailer Ulta. 
The partnership follows in the footsteps of Lululemon and Mirror, among others competing with Peloton's smart fitness equipment market share. All of these startups have seen monster growth over the last year. Mirror, which was acquired by Lululemon last June, said in November that it was on track to hit $150 million in revenue in 2020. (When Mirror was first acquired, Lululemon estimated that the company would hit $100 million the end of the year.) Meanwhile, Peloton, which went public in 2019, had its first billion-dollar quarter ever and a 128% sales growth last quarter. Peloton also increased projections for this year's revenue to hit $4 billion, up from $3.9 billion.
For emerging brands like Tonal, which is still rallying to gain market share among the growing field, there's incentive to reduce return costs via showroom demos. Opening more stores is also costlier than partnering with existing retailers, Rose said. Peloton, for instance, continues to invest in its supply chain to reduce fulfillment costs and delivery windows. 
What's more, for a high ticket item like the Tonal system — which starts at $2,995 — seeing and touching it in person is a must for most customers, Rose said. "Even if the shopper isn't going to buy it, it's a fun way to try it out and build brand awareness," he said.