Why Walmart is testing porch coolers for grocery delivery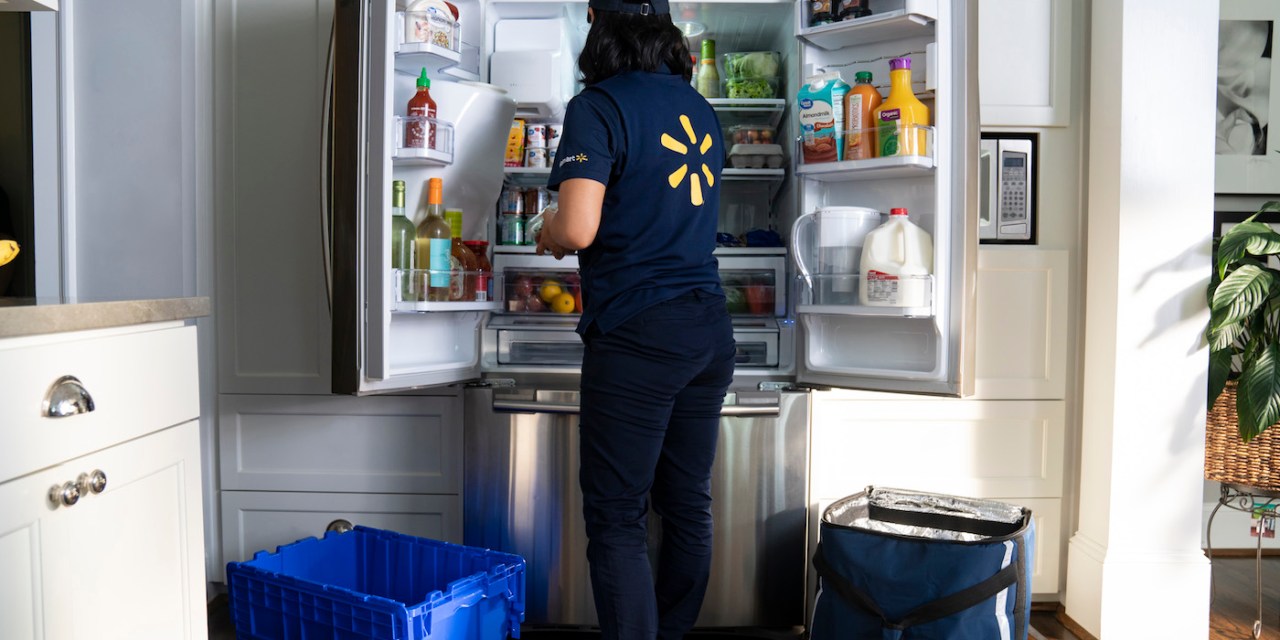 Image via Walmart
In the coming months, Walmart is experimenting with its last mile options.
The big-box retailer is set to pilot a "smart cooler"-based program in its home city of Bentonville, Arkansas, in which customers will receive a temperature-controlled outdoor cooler to keep their Walmart orders fresh; the device, created by a Silicon Valley startup HomeValet, Walmart has partnered with, can be placed on a porch or doorstep.
It's a small program, similar to other test programs Walmart has done. However, the HomeValet pilot focuses on an important frontier for Walmart: delivering fresh groceries in a safe and secure way. While it may be hard to scale, the trial signals that Walmart is serious about further investing in online grocery delivery.
According to Tom Ward, senior vice president of customer product at Walmart, the effort is aimed at customers who want delivery but aren't home to receive their groceries. HomeValet could also "present an opportunity to deliver items 24 hours a day, seven days a week," he said in the press release announcing the new program. It's unclear how much the device will cost. HomeValet itself still has a pre-sale waitlist for the cooler, but didn't disclose the price.
Kantar Retail senior vp Lei Duran, said that while the smart cooler won't be on every customer's steps anytime soon, it's another example of Walmart "constantly testing" services and tools to see what works. "My prediction is that this won't be rolled out extensively," Duran said. "It's a big fixed cost and adds unnecessary complications."
Small pilot programs have been part of Walmart's strategy to keep up with Amazon, she noted, even if some of those beta trials don't pan out. That's especially true for its grocery delivery program. The retailer, for example, in 2019 the retailer began a pilot called InHome that allowed customers to have groceries put away in their fridge. That program is still limited to select cities including Pittsburgh and Kansas City. InHome requires customers to sign up for a smart key entry tool. The company, along with rival Amazon, is also testing out an in-garage delivery service.
All these programs follow a similar playbook of testing out something ambitious and iterate from there. While many of these trials don't become national programs, Walmart has been known to use small-scale services, like its Jetblack concierge program, as a way to gather customer data.
With sales growth beginning to slow down, Walmart has major reasons to invest in retaining its grocery consumers it gained throughout the past year; Its 2020 third quarter earnings showed the company's online grocery business were up by mid single digits, compared to an increase in the "low double digits" during the previous quarter. And offering perks like the smart cooler presents a way to do both.
The target market may also be somewhat small. Andrew Hogenson, global head of consumer goods, retail and logistics at Infosys Consulting, said that given the likely maintenance and costs the cooler will require, Walmart customers will need a big incentive to use such a device. "It's also likely to target homeowners vs. condo or apartment renters," Hogensen said, which further limits its market size.
However, the HomeValet cooler can also solve some in-home delivery programs that have had big barriers in the past, Hogensen said. Unlike a smart lock that requires wifi and access into customer's homes, such as Key by Amazon, "outdoor storage devices can provide temperature control without potential security issues," he explained. 
Like other pilot tests from Walmart's innovation leg, the HomeValet partnership is yet another chance for Walmart at growing and maintaining its market share, said Duran.