Why warehouse working conditions are now in the spotlight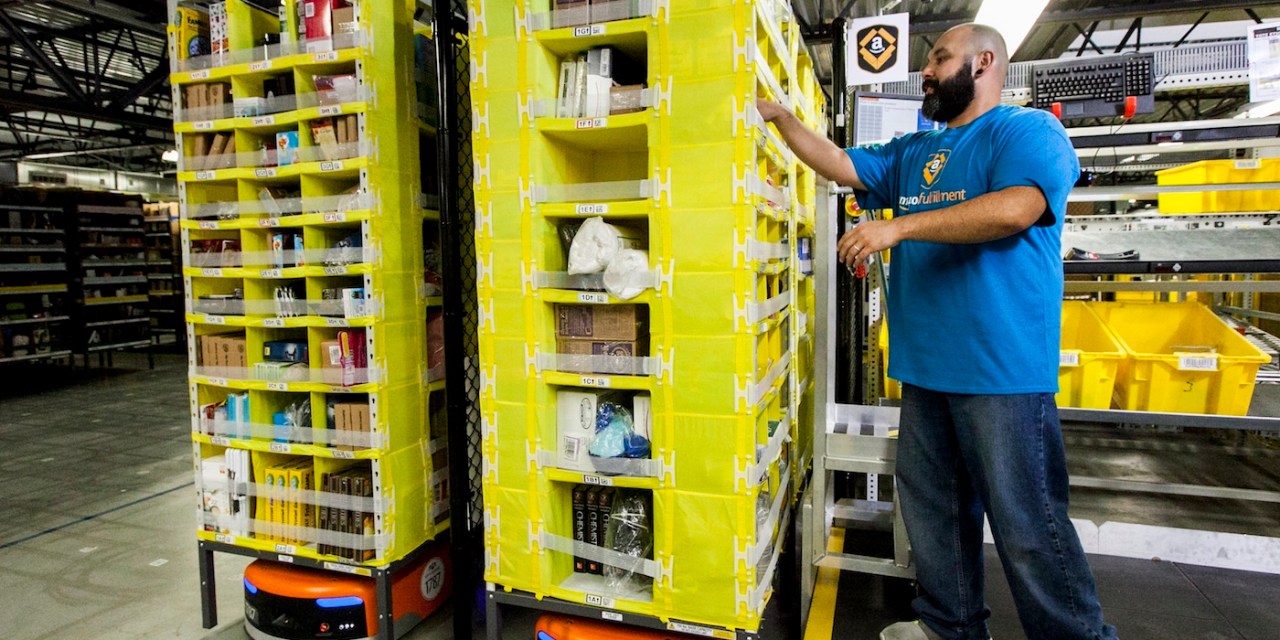 As the coronavirus outbreak drags on and more Americans do their shopping online, there's been a greater focus on the working conditions in warehouses, and whether or not companies are doing enough to protect their workers from contacting the coronavirus.
Some Amazon workers at a fulfillment center in Staten Island yesterday staged a walkout, stating that they thought that Amazon should close the facility for two weeks as at least one worker there has tested positive for the coronavirus. The New York Times also spoke with four employees last week at luxury resale platform TheRealReal, all of whom worked in one of the company's two New Jersey warehouses, who felt that the company wasn't doing enough to keep its warehouse workers safe. Ralph Lauren temporarily closed its distribution centers, but said they would re-open on April 1 following a deep clean.
As most retailers' stores around the country remain closed, their e-commerce operations have become absolutely vital to ensuring that they are still able to bring in at least some cash. And in order to keep their website running, they to have workers who are able to ship and fulfill orders. A number of places that have issued stay at home orders, like New Jersey, have made exemptions for warehouses.
So, warehouse operators are starting to take similar steps as those taken by grocery store chains and pharmacies. They are increasing cleanings at warehouses, trying to provide them with as much personal protection equipment as possible, and providing more space between workers in the warehouses.
At the same time, spurred by states' classifying as certain types of retail as essential vs. non-essential, at least some workers are questioning whether or not they should still even be coming into warehouses at all right now. The Times reported that one warehouse employee of TheRealReal sent a letter to the office of the New Jersey governor, stating that "I work for an online luxury consignment brand taking pictures of clothing to be then uploaded to a website for people to browse and buy from. This is not an essential business."
A spokeswoman for TheRealReal said in an email that "at a time when unemployment claims have hit record highs, we're doing everything in our power to protect our employees' jobs and their salaries…we have had direct conversations with both the governor's office and our local mayors to ensure we are in compliance." The spokeswoman said that it reduced its normal staffing levels in warehouses by more than 85%, though all warehouse workers are still being paid in full. Other changes the company has made include staggering break shifts, moving workspaces to ensure they are six feet apart, and providing employees with gloves and hand sanitizers.
"The challenge is that, in ordinary circumstances, [warehouses] are designed for maximum efficiency which usually means very high density with goods moving the shortest distance possible from shelf to ship," said Jason Goldberg, chief commerce officer at Publicis. "Unfortunately, those optimizations are exactly the opposite of social distancing best practices. So making distribution hubs coronavirus safe-for employees is a significant undertaking."
Another ongoing point of contention between workers and their employers is how long to close a facility for once an employee has tested positive for the coronavirus. Amazon did have to close a warehouse in Kentucky for a few days after multiple employees there tested positive for the coronavirus, and the company told NPR last week that it was working with medical and health experts to determine how long to close a facility after an employee there tests positive for the coronavirus.
In a request for comment regarding the employee walkout yesterday, an Amazon spokesperson said that "of the more than 5,000 employees at our Staten Island site, 15 people—less than half a percent of associates—participated in Monday's demonstration…we have taken extreme measures to keep people safe, tripling down on deep cleaning, procuring safety supplies that are available, changing processes to ensure those in our buildings are keeping safe distances and in Staten Island we are now temperature checking everyone entering the facility."
As the coronavirus outbreaks worsen, warehouse operators are ultimately going to face two risks to their business, said Andrew Lipsman, e-commerce analyst at eMarketer.
"From a human standpoint, the biggest risk is a significant outbreak of the virus that begins within their distribution centers putting a lot of people's health in jeopardy," said Lipsman. "From a business standpoint, the biggest risk is mass worker strikes."