With new fulfillment service, Walmart comes closer to matching Amazon on seller features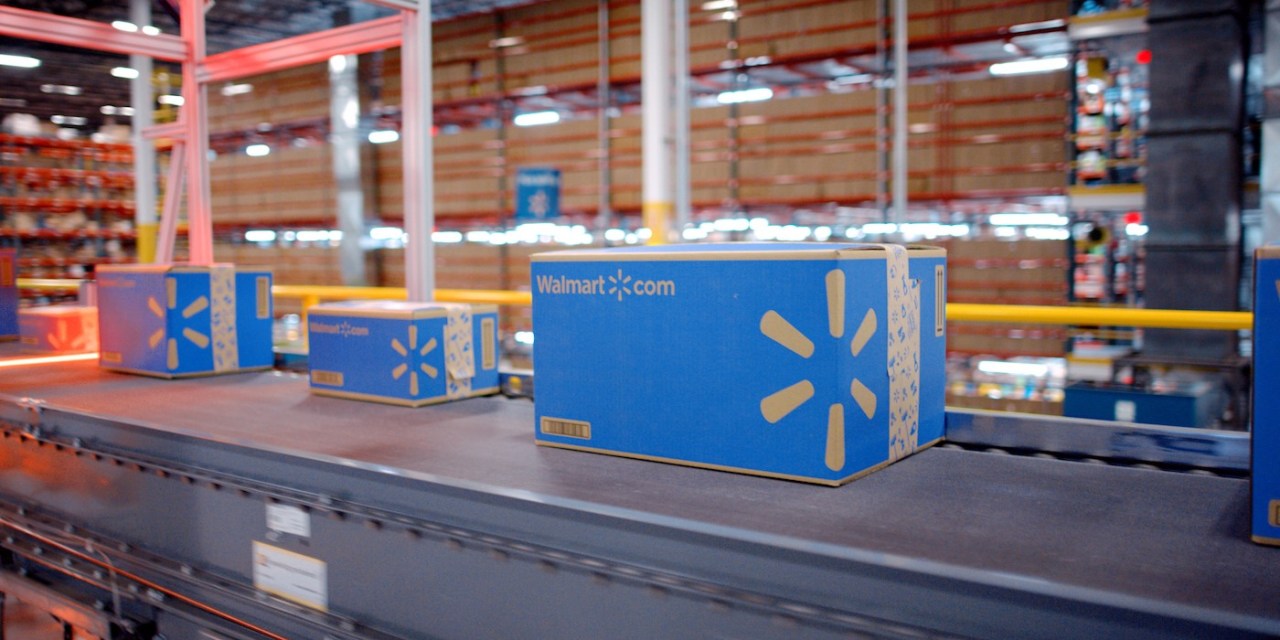 Image via Walmart
After Walmart started aggressively growing its marketplace following its Jet.com acquisition in 2016, it wasn't a question of if the company would launch a fulfillment service for third-party sellers, but when. For one, its biggest competitor, Amazon, has had a fulfillment service available for third-party sellers since 2006.
This week, Walmart finally took the wraps off its fulfillment service, which the retailer said it soft-launched with select sellers a few months ago. The company appears to be pitching its fulfillment services as a new tool that will help businesses grow sales faster through Walmart Marketplace than they previously could before.
Walmart said that all sellers can apply to use the fulfillment service, though some who sell products over a certain weight and size are not eligible. On a web page explaining Walmart Fulfillment Services, the company said that sellers who participate in the program can gain higher search rankings because their products will be tagged as eligible for two-day shipping. A Walmart spokeswoman did not say how much it will cost vendors to use the service, but that they will be charged a storage and fulfillment fee.
"We intentionally designed WFS together with sellers and offer benefits including [two]-day shipping, easy returns, dedicated customer service, and a low-cost, simple fee structure – all without a membership fee," Jare' Buckley-Cox, vp of Walmart Fulfillment Services, said in an email.
Agencies and sellers say that it will take more than just Walmart offering fulfillment services to build a marketplace that rivals that of Amazon. Amazon still gets more web and mobile app traffic than Walmart. Amazon has a greater variety of advertising formats, including new ones in video and across display, which sellers say makes it easier to figure out on Amazon what new ad formats to test out in the hope of generating more sales.
Of the three agencies Modern Retail spoke with, all said that their clients who sell on Walmart Marketplace see fewer sales on there than on Amazon. Elizabeth Marsten, senior director of strategic marketplace services for Tinuiti, said the sales the agency's best-performing clients get through Walmart's website translates to about 20% of the sales they do on Amazon.
"Holding [Walmart] to the same expectations as Amazon will only lead to disappointment out of the gate," said Marsten.
Will Johnston, owner of Grow and Make, said that his company will probably pull its products from Walmart Marketplace in the next few months after disappointing sales. Johnston estimated that Grow and Make, which sells a variety of do-it-yourself kits, did about $600,000 in sales last year on Amazon, and less than $1,000 through Walmart Marketplace during the same time period.
A Walmart spokeswoman declined to say how much business its third-party sellers typically generate from Walmart Marketplace compared to Amazon, but pointed to a testimonial from e-commerce agency Pattern, which stated that when testing Walmart's new fulfillment service, it had one of it its best sales month ever on Walmart's website.
Still, there's a few benefits to selling through Walmart Marketplace. Companies see selling through Walmart Marketplace as a first step to potentially getting Walmart to carry their products in-store.
Additionally, as companies grow increasingly wary of relying too heavily on Amazon, Walmart Marketplace is one of the first places they consider selling on to diversify their revenue.
Kiri Masters, CEO of Bobsled Marketing said that because Walmart Marketplace has fewer seller, the company's account managers are typically more responsive than Amazon's. Amazon has an estimated 2.8 million active sellers, while a Walmart spokeswoman would only say that its marketplace has thousands of sellers.
Adding fulfillment services will address one big pain point that sellers have previously expressed to Digiday about Walmart Marketplace — that it was more difficult to offer the same prices on Walmart's website as they did on Amazon, because they had to tack on fulfillment costs themselves.
But probably the biggest pain point for sellers on Walmart Marketplace remains the lack of advertising options. Amazon has three main advertising formats — sponsored products, sponsored brand ads, and product display ads — but has a greater variety of ad placements, as well as search terms to run ads against. Meanwhile, Walmart's main advertising format available to third-party sellers is still sponsored product listings.
"Walmart, yes they have their sponsored products program, but it is very early days. They are probably in in the first or second inning of a nine inning ballgame. said Ryan Craver, CEO of retail and e-commerce agency Commerce Canal.
Walmart has already taken steps this year to roll out more ad formats and features to match those that sellers are used to finding on Amazon. In January for example, Walmart Media Group rolled out a self-service advertising platform.
"To have an effective ads business in 2020, the expectation from the marketplace is to obviously automate your business because that gives greater control, tools and insights in real time," Lex Josephs, vp of sales and media partnerships for Walmart Media Group previously told Digiday.
Craver said that another challenge with Walmart's Marketplace is that it doesn't have a service that's a strong conversion driver like Amazon's Prime membership. If a shopper on Amazon has a Prime membership, and a company gets their products to be eligible for Prime membership, it gives them a compelling reason to choose that company's products over competitors. However, with the news today that Walmart is looking to create its own membership competitor to Prime, that could change.
"Today when you go to a Walmart listing, you may see a guaranteed shipping of two days. But it doesn't hold the same conditioning in the mind of the consumer that you see with Prime," Craver said.