Snap rolls out augmented reality tools for fashion retailers in latest commerce push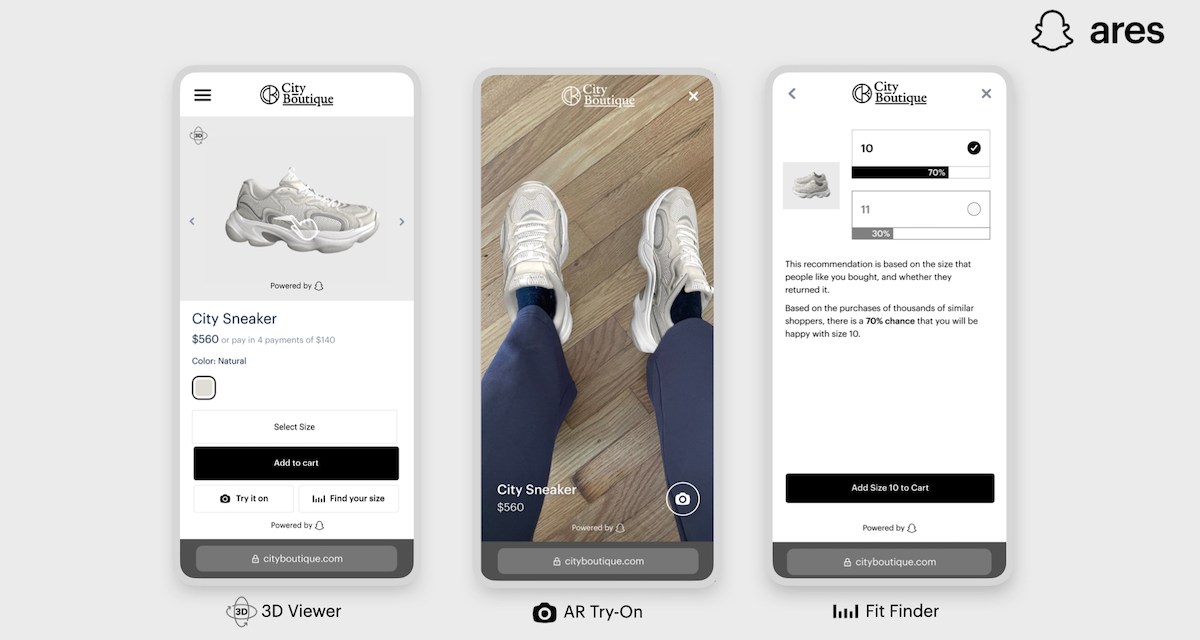 Snap
Snap is taking more steps to position itself as a go-to source for augmented reality (AR) in commerce.
After years of acquiring AR and AI technologies, Snap is packaging together some of its biggest tools for customers to integrate into their own websites. The business, which Snap calls ARES (Augmented Reality Enterprise Services), is launching with "Shopping Suite," a set of try-on and sizing tools specifically geared towards retail. "Shopping Suite" currently covers three different verticals: clothing, footwear and eyewear.
Snap, the parent company of Snapchat, has invested in AR for the better part of a decade, launching functions like Lenses for Snapchat and Lens Studio, the latter of which allows artists and developers to build AR experiences. More than 250 million people engage with AR on Snapchat every day, according to the company. More recently, however, Snap has widened its approach to AR to hone in on commerce, something platforms like Instagram and Amazon have also leaned into.
Over the past few years, Snap has allowed brands to build profiles on Snapchat, rolled out AR filters tied to brands' products and developed ways for users to shop within the app. It's also acquired Fit Analytics (a company with predictive sizing technology) and Vertebrae (a company with 3D product rendering capabilities) and built a global branded creative studio called Arcadia. Now, Snap is offering retailers access to its AR and AI tools on their own websites to try and help them increase sales and retain customers.
"The goal is to be able to help retailers transform their consumer and shopper experience to really drive solutions for some of the biggest challenges that we keep hearing from a lot of our enterprise retail customers," Carolina Arguelles, Snap's Head of AR Enterprise Product Strategy and Product Marketing, told Modern Retail. "So, challenges such as cart abandonment because of increased competition… challenges such as conversions… but most importantly, reducing returns, which continues to be such a big challenge for retail. And lastly, even continuing to help retailers enable different types of experiences for their consumers to make them more loyal."
Snap is building its tools to appeal to smaller DTC companies and larger players alike. "We're excited because we actually think it has incredible applications for different types of customers within the retail space," Arguelles said.
How Shopping Suite works
"Shopping Suite," ARES' first offering, has several components, all of which clients can access for a standard start-up fee and additional payments. The first is "AR Try-On," which allows shoppers to "try on" items like sunglasses and shirts by interacting live with a filter or by uploading a photo of themselves. The second is "3D Viewer," which allows shoppers to move the screen to see a product, like a shoe, from multiple angles. The third, "Fit & Sizing," uses AI and returns data to suggest which size of clothing or footwear would be best for a particular customer.
At the heart of all of these is "Enterprise Manager," a personalized backend system that lets retailers plug in their entire product catalog, product descriptions, size charts and product images. Snap's AR tools will then take those data points and use them to inform the other three functions. For example, after a retailer uploads the product information and photos of a particular bag, Snap can render a 3D image of that bag and feed it into the "3D Viewer." For "AR Try-On," Snap can transfer photos of a dress onto images of people with multiple body types, eliminating the need for a lengthy photography shoot with multiple models.
Snap hopes that customers will be more likely to go through with a purchase if they can "try on" an item in different colors and styles, get a better idea of what that product looks like in real life and take advantage of personalized sizing recommendations. In this way, it hopes that its "Shopping Suite" can help solve some major headaches for businesses.
AR has come a long way in the past few years. However, some functionalities, like AR try-on, can still be challenging. For apparel companies, in particular, it can be tricky to make it look like someone is actually wearing a piece of clothing, rather than superimposing it on a model.
A business-to-business approach
Many retailers, including American Eagle and Prada, have used Snap's AR tools to help customers "try on" and purchase items such as sunglasses and sneakers. However, much of that process, until now, has been done in the Snapchat app. With ARES, retailers can build those same tools into their own websites and product pages, giving them a bit more control of the shopping experience and user insights.
While Snap is choosing now to announce ARES and "Shopping Suite," it's been working with several retailers over the past three to six months to test features, Arguelles said. These include the apparel company Princess Polly, the eyeglasses retailer Goodr and the cashmere brand Gobi Cashmere.
So far, Goodr tried out the "AR Try-On" tool and saw a 67% jump in conversion for mobile device users, Snap says. At Princess Polly, shoppers who purchased the recommended size from "Fit & Sizing" had a 24% lower return rate than those who didn't use the technology.
Snap knows that AI and AR tools can be costly, and it wants to make it easier for retailers to access the technology, Arguelles said. "Our focus has been not just what can the technology do and how do we do it in a way that's very high quality in terms of it looking very realistic — but how is it something that's actually efficient enough for the retailer to incorporate?" she explained.
The role of AR in shopping
Today, more retailers are starting to integrate AR into their websites, apps and even physical stores. Apple and Ikea have used AR to test out how their products would look in shoppers' homes, and companies including Ray-Ban and Nike have turned to virtual try-on to drive sales. Virtual fitting rooms have also become more common in the last couple years.
Jason Goldberg, chief commerce strategy officer at Publicis Groupe, told Modern Retail that he is "bullish" on use cases for AR, especially compared to the use cases of VR and the metaverse at the moment. "There's a lot of practical use cases for making shopping experiences better in AR," he said. "So, I think it's smart for Snap to be leaning into practical stuff and selling it to people that need it."
At the same time, Goldberg pointed out, when it comes to competing with the likes of TikTok and Instagram, it's "unclear how much this offering helps their traditional social platform," he said. "In the same way that people using Amazon Web Services to host their own website don't also shop more on Amazon because of that."
On a macro level, though, Snap's ARES program fits in with a greater trend of "vendors white-labeling some of their capabilities and services to sell to other retailers," Goldberg said. For example, Amazon offers AWS and Pay With Amazon, while Walmart has its own commerce technologies.
Kelly Pedersen, U.S. retail lead at PwC, told Modern Retail that retailers are interested in investing in AR, but many of them don't have the tools at their disposal. Instead, he said, "they're looking to other companies, probably more in the tech space, that do have that technology."
Snap is confident that its ARES program will help retailers tackle major challenges while providing a better experience for customers. Even though Snap is launching "Shopping Suite" with clothing, footwear and eyewear verticals, it plans to expand to other areas like jewelry, auto and furniture. Outside of retail, Snap is eager to develop suites of tools for sectors like education, entertainment or travel, according to Arguelles.