'A hybrid model': Foot Locker is integrating the Nike app into one of its stores to test new brand partnerships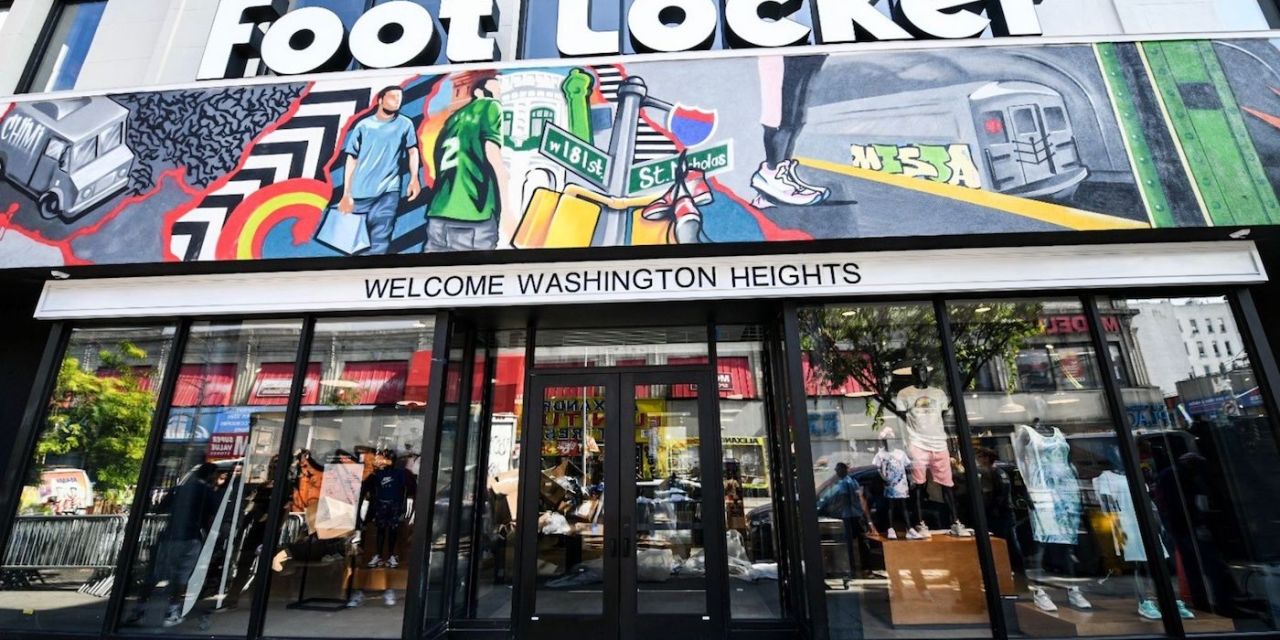 In a first-of-its-kind partnership, Nike and Foot Locker announced today that they'll let customers at Foot Locker's newest store, located in the Washington Heights neighborhood in Manhattan, use the Nike app for perks and checkouts. Customers can use the app to buy and reserve Nike products to try on in-store, and use it to find exclusive deals or contests they can enter to win free product in-store.
It's indicative of the way that wholesale relationships are evolving. As brands look to sell more product direct-to-consumer, and wholesale retailers are placing a greater emphasis on getting exclusive product, the way that the two are working together has changed. Both parties will have to make some concessions as they try to figure out how to build in-store experiences that encourage affinity for both the brand and the retailer.
The NikePlus app, which now has 170 million members, has become integral to Nike's store strategy over the past several years. For example, last year Nike opened NikeLive, a store built specifically for NikePlus members, in Melrose, California. Nike's House of Innovation store concept, meanwhile, unlocks different experiences and perks for app users.
Ann Hebert, vice president of global sales for Nike, said that the company is hoping to integrate the NikePlus app into more Foot Locker stores, as well as the stores of other retailers, but is waiting to see how the partnership goes with this first store.
"We want to make sure that we can deliver all of our experiences no matter where they choose to shop — online or offline or anywhere in between," Hebert said. 
Ben Feldman, a principal at research firm Gartner, said that Nike's partnership with Foot Locker is a smart way to grow the base of customers who may be interested in buying direct-to-consumer than Nike, beyond just investing in building its own stores, which is costly.
For Foot Locker, what's appealing is the number of customers Nike has gotten to register for its app, and the information they've been able to collect on what products and activities they're interested in.
"What we'll be looking at is how we take member data or member insights, and customize and provide offers, activations and experiences that will be unique and specifically targeted at an individual or group of individuals," said Frank Bracken, vice president of Foot Locker, Kids Foot Locker and Lady Foot Locker. For example, Foot Locker will be inviting NikePlus members who live in the Washington Heights neighborhood and have said that they're interested in running to join a group run during the opening week of the new Foot Locker store.
Nike said that Foot Locker will not get access to the personally identifiable information NikePlus members have shared through the app, like names, email address, and phone numbers. But, Nike will "share insights with Foot Locker [from the app] so that together both brands can serve consumers better," according to a spokeswoman.
Prior to this partnership, Nike was one of the most important brand partners for Foot Locker. As of last year, about 70% of the product that Foot Locker sold in total came from Nike. Nike has also been working with Foot Locker to develop unique items for its new Power store format, which are designed to include artwork, product and events  that are unique to that particular neighborhood. Foot Locker plans to roll out about a dozen Power stores in 2019.
Jason Goldberg, chief commerce officer for Publicis, is skeptical that the Nike-Foot Locker partnership will set a precedent for other brands and retailers to pursue similar arrangements, because of how eager both parties are to collect first-party customer data.
"[Foot Locker is] giving up a lot of leverage in a world in which Nike has already said our future is direct-to-consumer," Goldberg said. Nike has projected that its DTC business will reach $16 billion in sales by the end of fiscal year 2020, after doing $10.4 billion in revenue in fiscal year 2018. Its app suite alone drives $1 billion in sales.
Still, he said that Nike also has some serious leverage in that "it's way ahead when it comes to digital experiences for in-store shopping." He said that Foot Locker may be looking at the partnership as a way to simply see what kind of digital experiences its customers want in stores.
The partnership also comes as Foot Locker prepares to roll out a revamped loyalty program later this year, which will allow customers to earn and redeem rewards points across all of its various stores, like Foot Locker, Lady Foot Locker, Champs, and East Bay. There is a risk that Foot Locker customers at the Washington Heights store will gravitate more towards Nike's app and website instead of the retailer's own.
"It's something what we're going to monitor — what we're trying to do is create a new model, and admittedly a hybrid model that that's never been done before," Bracken said.