After a boom in home decor sales, furniture startups are now focused on retention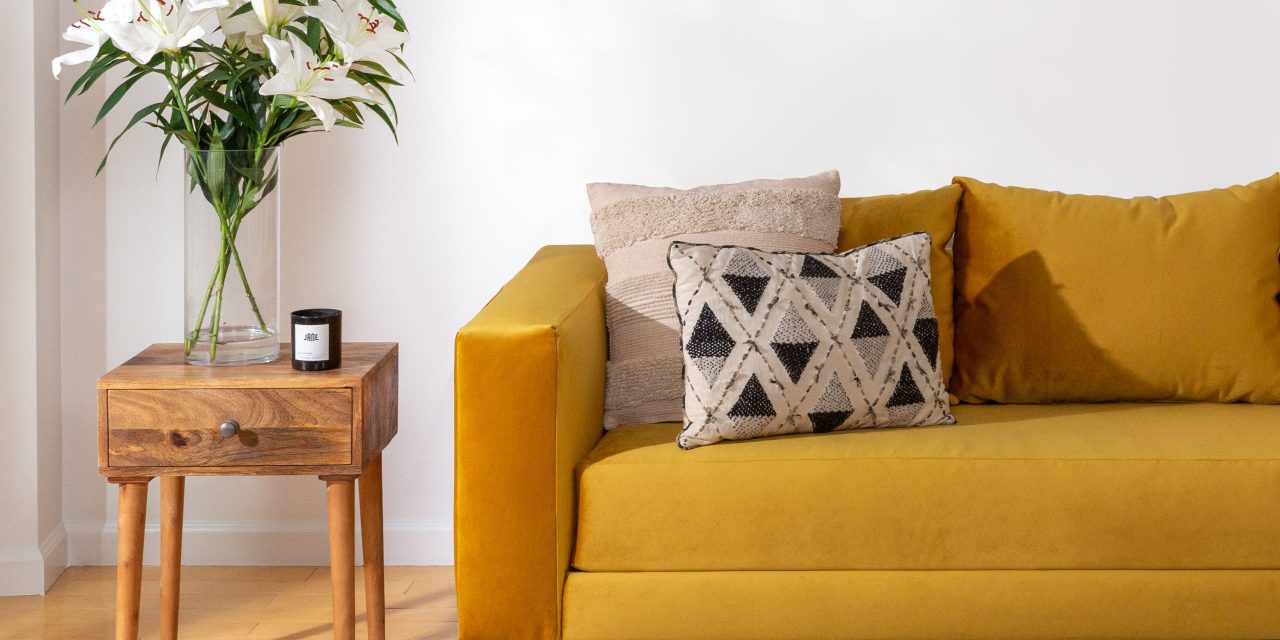 Image via Sabai
The home decor boom is slowing down, and the young brands that benefitted from it are looking for ways to keep customers coming back. 
At the onset of the pandemic, many Americans rushed to make impulse purchases to outfit their homes. As more customers become accustomed to shopping for their homeware online, brands are looking for more ways to stand out from the competition. Now, brands like Fernish, AptDeco and Sabai are trying to build a loyal following among their newfound customers by betting on trends like rental, resale and sustainability. 
Many home goods brands saw an early increase in sales during the pandemic, when remote workers invested in desks and home offices. However, the following waves have been more about general decor refreshing, said Rebekah Kondrat, founder of Kondrat Retail and former director of retail stores at Joybird. With people spending more time at home, they want to change up their spaces — including bedrooms and living rooms — more often. At the same time, more people are buying homes that need furnishing.
As a result, furniture startups are trying to carve out a loyal following to compete with established retailers like Ikea and West Elm, by emphasizing new business models and modes of purchasing.
Mobile consumers take up rental
Fernish, a furniture rental company, is counting on consumers' increasing tendency to switch out pieces more often. "A lot of urban professionals have moved out of big cities and are considering rental furniture," said Fernish CEO Michael Barlow. The company allows customers to rent furniture on a monthly basis. However, Barlow noted that many tend to stick with them for the duration of their lease. "Currently, 70% of existing customers use our service when moving to a new place."  
Fernish has grown triple digits every year since 2017, and has tens of thousands of pieces of furniture in circulation, said Barlow. He also said that the ongoing migration to the suburbs has resulted in Fernish's customers renting more pieces, including outdoor and guest room furniture. "So we're seeing more volume in rentals." 
The Los Angeles-based company still only operates regionally, with plans to expand nationally over the next two years. Fernish launched in Dallas this year, and plans to continue expanding in Texas and the adjacent markets. 
"A couple of years ago, we would've been focused more on the coasts," said Barlow. However, Texas cities like Dallas and Austin have proven to be fertile for Fernish's growth, compared to New York or Chicago, Barlow said.
"There is a growing opportunity to build smaller communities in tertiary markets," Kondrat said. As such, brands have already begun doing this by looking at mid-sized cities and resort towns for their next retail expansion.
Focusing on sustainability
Sabai, a furniture brand that launched in early 2020, saw sales take off during its first year on the market. The startup's product development strategy is focused on using Instagram polls to crowd-source new designs. The company, which makes furniture from up-cycled material, has been transitioning to using more natural material as a way to stand out among competitors, said co-founder Phantila Phataraprasit. 
Over the past few months, Sabai announced it eliminated plastic, redundant materials and swapped out synthetic materials for natural alternatives. The brand has also removed glue and added mechanical fasteners — as well as recently switched from using petroleum to plant-derived fiber webbing in their sofas. 
The changes also helped reduce the cost of manufacturing. They were also made based on customer feedback, Phataraprasit said, particularly mothers of young children concerned about toxic materials ending up in children's mouths.
What's more, according to the company, this emphasis on sustainability is helping with retention. "Showing our customers that we're always working on ways to decrease the impact of our products has helped to build trust within our community," said Phataraprasit.
The secondhand market getting a second look
Meanwhile, furniture resale is booming, according to Reham Fagiri, CEO and co-founder of the furniture marketplace AptDeco. The company, which was founded in 2014, saw its sales spike by more than 300% in 2020.
Now, AptDeco is trying to retain that wave of customers by following them into their different living space setups. As shoppers consider furnishings, Fagiri said the company's pickup service allows them to seamlessly clear our old pieces and use the funds to replace them with new AptDeco finds. 
With big retailers like Ikea entering the resale space, Fagiri said that AptDeco's advantages lie in already having an infrastructure in place to buy and resell furniture. "There are many challenges in executing reverse logistics, and we've already built a system that can handle it," said Fagiri.
The company currently operates in three metro areas, including Washington D.C. AptDeco, which buys customers' items and resells them on its website, recently launched a feature called "sell it." The tool allows customers to sell their own version of a listed product. 
All these companies are betting that going forward, customers will have more reasons to redecorate their homes — and for more reasons than just the fact that they are spending more time at home.
As AptDeco's Fagiri put it: "Life events will continue to happen, so we want to be part of future milestones."