B8ta shutters U.S. operations after failing to reach a deal with landlords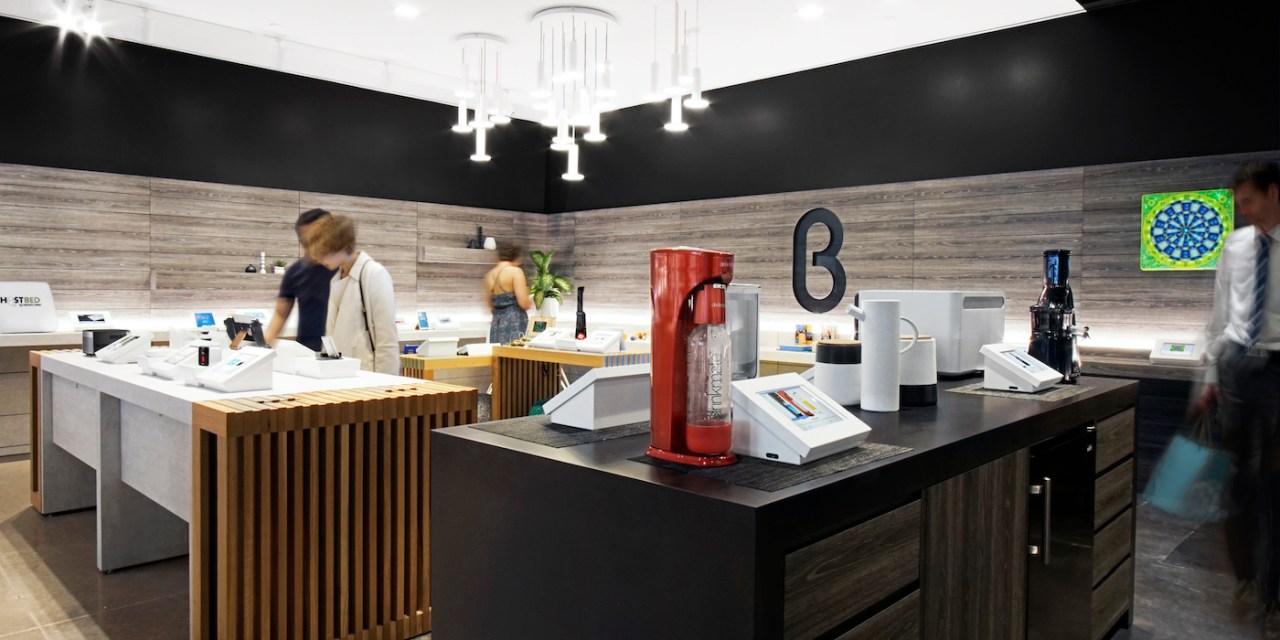 So-called retail-as-a-service startup b8ta launched in 2015, hoping to reinvent brick-and-mortar retail in a number of ways. But, ultimately, the company's reliance on brick-and-mortar stores proved to be its downfall.
B8ta quietly shuttered its U.S. operations earlier this month, according to a notice on its website. International affiliate b8ta Japan, which operated three stores, acquired the brand's licenses and is now a standalone, operational business, TechCrunch Japan reported. B8ta Mena also remains operational in the UAE. 
B8ta dubbed itself a retail-as-a-service platform, rather than a retailer. Brands paid a monthly fee to not only display their products at a b8ta store, but also to get access to the company's software, through which they received information like how much time customers spent demoing a product. The thesis of b8ta was that brands would ultimately pay for the software because of the great in-store experience and foot traffic it provided.
B8ta CEO Vibhu Norby said that the company shuttered after failing to reach a deal with landlords that would allow it to stay afloat. This came after the company decided last year to more than halve its store count due to it not seeing a strong enough recovery in foot traffic after the height of the pandemic.
"I think the pandemic dragged on a lot longer than we thought," Norby said. "It really affected the appetite from investors, from landlords to be helpful. We gave ourselves a lot of chances to make it through, we were pretty close [but] we couldn't pull it all the way through."
Before the pandemic, b8ta had roughly 20 stores, mostly in North America. Norby was open on Twitter about how drastic of a traffic drop b8ta experienced during the pandemic. When Texas became one of the first states in May 2020 to allow retail stores to open with 25% capacity, Norby reported that the company's Houston location saw less than 40 visitors the following weekend, compared to 1,000 in a typical pre-pandemic weekend.
Although foot traffic began to tick back up, "a lot of specialty retailers like us, we had a much slower recovery curve," Norby said. "A lot of landlords – they were looking at percentages, looking at averages…trying to determine who they should give concessions to." 
That slower-than-expected recovery led the company to close 15 of its stores roughly a year ago to cut costs, even though b8ta was still on the hook for leases. "We didn't really have a choice…part of the plan was to negotiate settlements of different types with the landlords," Norby said. Eight stores in California, Colorado, Massachusetts, New York and Texas remained open. 
"The technical story here is that although we were pretty close to signing a deal with everybody, it only took one landlord to be grumpy and say no and to kind of put the whole company on balance," he added. 
During the pandemic, b8ta experimented with a number of tactics to drive sales even while traffic to retail stores was down, in particular by building out a livestreaming business by refashioning its stores as video studios. Retail employees filmed hands-on demos of products, and started hosting some livestreams featuring product giveaways that could only be picked up at stores. B8ta even secured some corporate partnerships. Protocol reported in December that b8ta started partnering with Indiegogo to produce videos highlighting its crowdfunding projects. 
"We built a phenomenal streaming business with a shoestring team and budget," Norby said. But, "if streaming had been three times, four times, five times more successful, it probably wouldn't have changed the outcome."
A pioneer in reinventing wholesale
B8ta was launched in 2015 by Norby, Phillip Raub, William Mintun and Nick Mann, all former Nest employees. The company launched with a single store in Palo Alto, where customers could demo different tech products like electrical bikes and fitness wearables, where shoppers could compare prices at various retailers on an accompanying iPad. 
The thesis behind b8ta was that the wholesale model was broken — not only for consumer tech companies, but for all sorts of brands. Sending retailers thousands of units of inventory upfront was expensive, and also meant that it could take months for a brand to get set up in a retailer's display. What's more, b8ta's founders often felt that retail employees weren't trained properly on how to demo and educate consumers on a product, particularly when it came to tech gadgets. 
"I think they had a lot of unique ideas," Jason Goldberg, chief commerce strategy officer at Publicis said. "The notion of retail as a service and the kind of evolution of the brand versus retail economic model was interesting." 
B8ta's model caught the attention of a number of larger retailers including Macy's, which led a $19 million series B in b8ta back in 2018 minority stake. B8ta also announced it would sell its software to other retailers, and raised a $50 million series C the following year. Macy's used b8ta software to manage The Market @ Macy's, a shop-in-shop located in 12 Macy's stores.
Following the investment from Macy's, b8ta accelerated its store count — the company went from one store in 2015 to 18 by 2019.
B8ta tried to bring its retail concept to other categories. In 2019, the company partnered with Tru Kids Brand — the entity that bought Toys 'R' Us out of bankruptcy — to launch new Toys 'R' Us stores, that shuttered the following year. B8ta also debuted a fashion and retail lifestyle concept called Forum in 2019. 
But while b8ta was focused on giving the physical retail experience a high-tech upgrade, it wasn't as focused on driving e-commerce sales. That proved to be a huge detriment when most U.S. states imposed restrictions on in-store shopping at the height of the pandemic in spring 2020. "When the pandemic wiped out in-store traffic, [b8ta] really didn't have an answer for that, because they were under-indexed on e-commerce," Goldberg said. 
Many of b8ta's stores were located in malls, and were designed to encourage people to spend as much time as possible checking out products in-store – an activity that people were more reticent to resume than say, going to the mall to fetch a buy online, pickup in-store order. Even on key shopping holidays like Black Friday and Super Saturday, foot traffic to indoor malls was down by high single digits in 2021 compared to 2019, analytics firm Placer.ai has previously reported. 
That meant B8ta had to scramble to build a new business model, mainly by building out a livestreaming business.
"We were pretty inventive throughout Covid," Norby said. But he concluded: "probably the nail in the coffin was the treatment from landlords overall, and whether or not they felt like your company mattered."
"We exhausted all options, and this was the thing that had to happen," he added.