Macy's-backed b8ta pitches retailers on a new product to help them launch their own marketplaces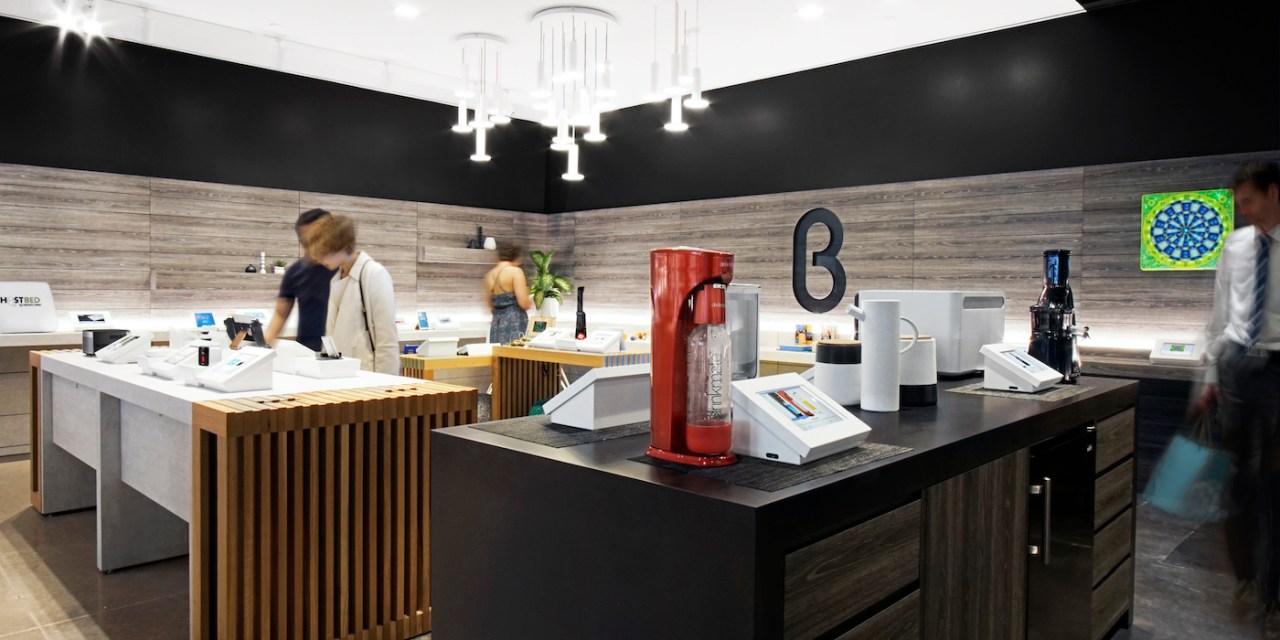 As legacy retailers struggle with what to do with their large store footprint, there's a growing industry of retail-as-a-service companies that are pitching them on software and services that they say will help them make better use of in-store space.
One such company, b8ta, announced today that it's raised a new round of $50 million in equity funding, and is releasing a product called Ark, a technology platform that will give retailers access to software to onboard new brands, a point-of-sale system, an analytics dashboard and other tools to manage what b8ta calls in-store marketplaces.
While other platforms like Shopify are built for vertical brands, b8ta's offering is designed for wholesale retailers. It's designed to help them test a new way of working with brands, where they can give them more access to customer data than they've traditionally been able to in the past, and bring them on to sell in-store more quickly.
Traditionally, wholesale retailers will buy hundreds or thousands of products from a brand, and then turn around and sell that product in-store, giving the brand little say over how the product will be displayed. b8ta allows retailers to charge brands a monthly fee to "rent" in-store space. The brand is responsible for displaying and stocking their product in-store, and get to keep 100% of their sales. Investors in b8ta include Macy's and Khosla Ventures.
"If you fast-forward 20 years from now, my opinion is wholesale is going away," said b8ta CEO Vibhu Norby. "Brands that make great products today, they never launch wholesale first, they always launch and sell directly to consumers…wholesale is you hand your product off to a retailer, and they do what they want with it."
The bet here by b8ta is two-fold: one, that traditional big-box retailers, who historically take months to negotiate a deal with a new brand, are finding that they need to turn around inventory more quickly in order to meet shoppers' needs. And, that in order to convince digitally-native brands to sell in their stores, they need to rethink how they do business.
Kohl's announced in August that it was trying to tackle this by testing a new in-store concept called Curated by Kohl's which will bring in a new rotation of products from popular digitally-native brands each quarter in partnership with Facebook.
Second, b8ta is betting there will be a steady supply of young brands who aren't ready to launch their own standalone or even pop-up store. Rather, they want to test out physical retail via a short-term lease. And, they want to see how displaying in a legacy retailer's store will do at introducing them to new customers compared to other marketing channels.
B8ta first launched in December 2015 as a store for tech gadgets, as Norby and his co-founders thought that traditional retailers weren't well-equipped to sell gadgets from new tech startups. They thought traditional retailers took too long to onboard brands and get products in-store, the in-store displays didn't allow for customers to try out products easily and brands couldn't get access to data about who was buying their products very easily.
B8ta works with brands to train its own in-store staff on how to demo the product. Pricing and product information is displayed on in-store tablets, which allows b8ta to give brands more detailed analytics about how long customers engage with a product display.
Currently, there are 18 b8ta-branded stores that mostly sell tech products. In November, the company is also launching a new store called Forum, which will sell products from fashion brands.
Last year, the company began striking one-off partnerships with other retailers to use b8ta's software to power its own in-store marketplaces. Macy's uses b8ta to manage The Market @ Macy's, a shop-in-shop located in 12 Macy's stores. B8ta also partnered earlier this year with Tru Kids Brands, which bought the names and rights to Toys "R" Us after the retailer declared bankruptcy in 2018 to relaunch two 6,500-square-foot Toys "R" Us stores during the holidays.
Currently, Norby said that about a quarter of b8ta's revenue comes from charging retailers to use its software. With the launch of Ark, b8ta can license its software to other retailers more quickly. The fee retailers will pay to use Ark varies and is generally determined by how large their retail spaces are in square feet.
"I think this is most likely our AWS," Norby said.
There are a number of startups like Neighborhood Goods and Showfields who, like b8ta, have built multi-brand retail spaces whose main selling point is they offer more flexible terms than traditional department stores, and give more control to the brand over how to display their product.
Now, these startups are finding that in order to grow, they need to find other services to pitch brands and retailers on, like better in-store software. They also have to constantly compete with one another to convince the hundreds of direct-to-consumer brands in the market today that their stores are a better retail space than others on the market.
"In some ways, this is actually a better model for consumers than stand-alone b8ta stores, because it's much better to add this discovery element to stores that already have traffic and already serve specific shopping missions," Jason Goldberg, chief commerce officer at Publicis said.
But b8ta still has some work ahead in convincing retailers that Ark will not only help them work with popular brands more easily, but also will help them bring in more sales. B8ta does not share sales data from its existing stores, but says that its stores will have more than three million visitors this year. Norby also cautions that Ark isn't meant to be a panacea for struggling legacy retailers.
"We've really been targeting retailers specifically that have a lot of square feet, and have solid financials and they are going to make it through whatever comes next, and have a brand that resonates with people," Norby said.