How big-box retailers are trying to get shoppers to add more to their curbside pickup orders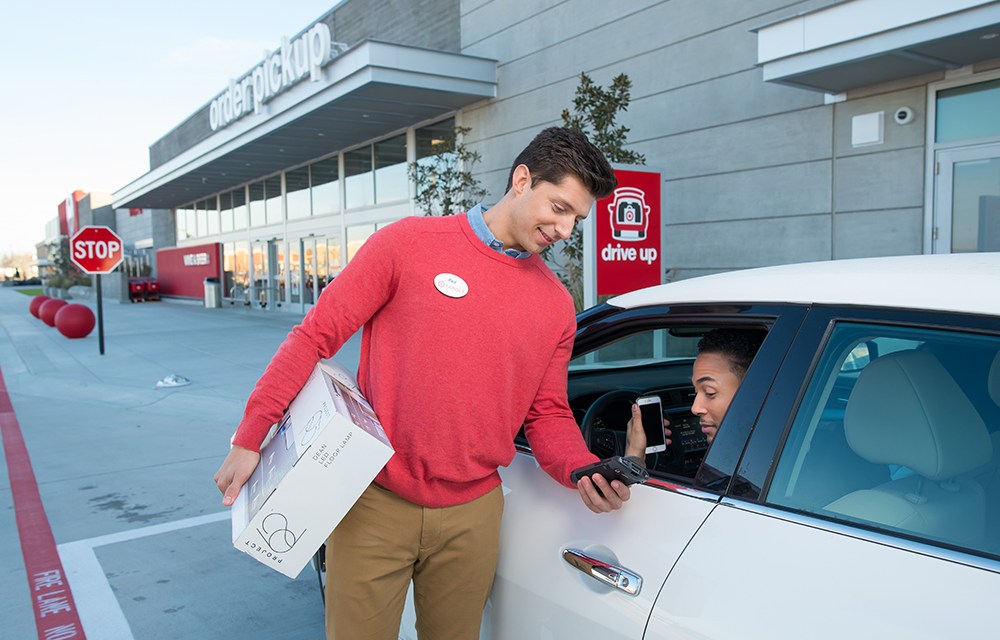 Image via Target
The evolution of in-store and curbside pickup continues, as retailers streamline the fulfillment option to drive more sales.
This week, Target announced plans to test a new curbside pickup and returns method, which will allow customers to get their Target-based Starbucks order delivered to them while their order is being prepared for pickup. Customers will also be able to make returns via curbside pickup.
In the past year, Target has revamped its Drive Up program by adding hundreds of more products to the same-day pickup menu, including fresh groceries and alcohol. This, combined with the latest test, is yet another way that big-box retailers are encouraging customers to use buy online, pickup in-store along with curbside pickup.
Same-day curbside pickup became mainstream during the pandemic, with retailers like Kohl's and Gap launching the feature for the first time in 2020. The solution was seen as a quick way for retailers to fulfill customers' orders locally, without having to pay for shipping.
Target, in particular, has leaned into the curbside evolution, having first introduced Drive Up back in 2018. The company hinted at its Drive Up expansion during its third-quarter earnings report last November, with COO John Mulligan claiming that 2022 will be a major year for the feature. The retailer reported that Drive Up sales jumped 500% compared to the same period in 2020, generating $1.4 billion in sales during that quarter.
Jonathan Sharp, managing director, Alvarez & Marsal Consumer Retail Group, said the pandemic has caused many consumers to rationalize shopping trips and minimize dwell time in-store. "In a recent Alvarez & Marsal consumer sentiment survey, we found that 85% of respondents intended to stick with these changes even as Covid fades to memory," Sharp said.
For consumers, however, Sharp said the pick-up experience itself has historically been poorly organized or unpleasant prior to the recent upgrades. When retailers first began implementing digital order pickup a few years ago, their websites and apps weren't equipped with providing real-time updates, leading to customer confusion or longer wait times. With retailers trying to make the experience as seamless as possible, the Target-Starbucks BOPIS and returns idea "combines convenience with a more attractive experience," said Sharp.
Indeed, enhanced digital capabilities have been at the forefront of retailers' efforts to get more people using their curbside pickup services. Retailers like Walmart and Sam's Club, for instance, have pushed customers to use their apps to get real-time fulfillment updates.
In 2020, Walmart and Target added features that allowed consumers to swap out-of-stock products with similar substitutions or add last-minute items. For the last holiday season, Target also added the option to select a backup choice in case the selected item is sold out. Product discovery through curbside pickup is also becoming a bigger focus, with some retailers like Walmart including product samples in pickup orders.
All of these efforts are aimed at ensuring retailers don't lose any sales through curbside pickup, or in some cases can tack on a few extra dollars to a customers' order. In fact, some statistics have shown that in-store pickup has helped retailers increase basket sizes over the past year.
According to November 2021 research by data capture provider Scandit, in-store order fulfillment has enhanced customer satisfaction and loyalty by 88%, according to its survey of U.S. retail executives. Scandit's findings, conducted by VDC Research, also showed that BOPIS led to a jump in digital basket sizes; 44% of retailers saw cart sizes rise between 16% and 30%, and 11% of retailers stating AOVs were up 51% from pre-pandemic levels.
Samuel Mueller, co-founder and CEO of Scandit, said that as more retailers invest in pickup, "consumers have become accustomed to increased choice." This is leading to big retailers like Target to up their curbside pickup and return game. 
Matthew Katz, managing partner at SSA & Company, said that coming out of Covid, as retailers have become more comfortable with fulfilling pickup orders, it's natural that they now want to create a more enjoyable curbside experience. 
Katz added that the combined conveniences can also drive customer lifetime value — particularly at a store like Target, which customers visit more frequently than, say, department stores. The concept also extends to curbside returns, which can make returning less of a hassle than the in-store customer service experience.
"Starbucks is a great partner for Target, given the number of café locations," Katz said. "With the accessible price point, the comfort while waiting and the ability to be with friends, I'd say it's likely that customers will take advantage of [this test]."