EBay's latest upgrades take direct aim at competitors like Etsy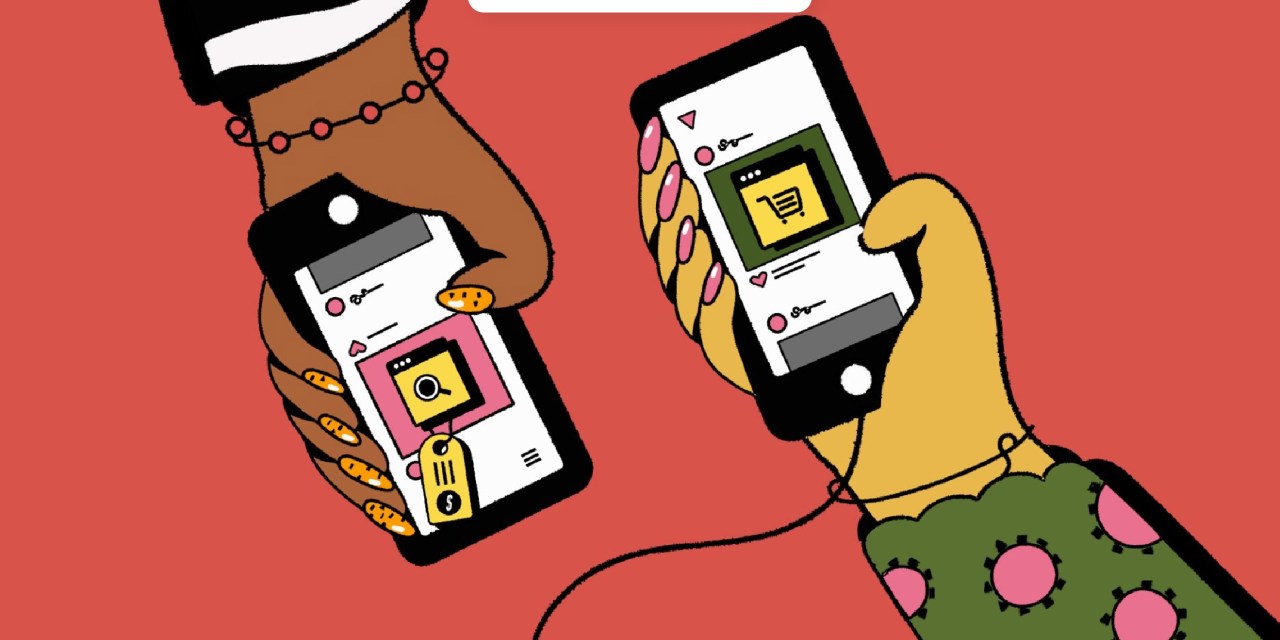 Ivy Liu
Today, eBay is pulling back the curtain on its holiday plans, relaunching its eBay Refurbished program with gifting in mind while also continuing to push personalized products.
Ebay was one of the original marketplaces on the scene — the site first launched in 1995, however, over the years, a slew of niche marketplaces — including Etsy and StockX — chipped into the platform's success, along with the rise of Amazon. Ebay was the second largest marketplace in pre-pandemic 2019, according to Marketplace Pulse, but its growth was slow compared to Walmart and Amazon. Now, it's trying to regain some ground by investing in site features and discounts in categories that had high sales growth during the pandemic.
A pandemic-fueled acceleration of e-commerce sales also drove eBay's growth in 2020, after five straight quarters of gross merchandize value decline the year prior. However, the marketplace still underperformed average U.S. e-commerce growth. This holiday season, eBay is fighting back via a multi-pronged strategy: it hopes to push more consumers toward refurbished tech, while many electronics retailers still face inventory delays. What's more it's cutting fees on personalized products, which are often popular gifts come holidays — a move that takes direct aim at Etsy.
A continued expansion of refurbished tech
Today, eBay added a top-seller functionality and a new categorization system — certified refurbished, excellent, very good and good — to its eBay Refurbished program. The features, explained Dawn Block, eBay's vp of collectibles and hard goods, are meant to increase consumer confidence that the tech they are buying for holiday gifts will work like new.
"In the refurbished category… there's a growing appetite," said Block. "eBay is creating an experience that allows users to both buy for themselves and give with confidence."
While traditionally refurbished tech might not be a usual Christmas gift, the category is experiencing market-wide growth. Companies like Back Market, for example, reported 1,000% sales growth from 2019 to 2020. For its part, Ebay's sales of refurbished electronics increased 120% year-over-year during Cyber Week last year, and sales are up an additional 25% since June.
Moreover, Block said eBay hopes to offer a timely solution to tech's chip shortage problem. As companies scramble to find machines and materials to produce chips, as well as space on container ships to transport the end product, Ebay is betting on tech alternatives that are ready to ship now.
"In a world where, frankly, the supply chain is a bit constrained and things are getting harder to find on shelves, this is another opportunity to… make sure we're providing a solution for both buyers and sellers," said Block.
Jonah Ellin, chief product officer at intelligence provider 1010data, said that "the challenges in the supply chain make used, refurbished and gently used products more appealing when readily available." However, he thinks strong warranties and insurance policies are key for the category to transcend from self-purchases to gifts.
Personalization play
This month, eBay also rolled out 0% fees on personalized items across categories to encourage more crafty sellers and buyers to head to eBay and away from Etsy. Ebay had already cut the fees for personalized products to 2% in May. In the past, personalized product fees varied by product category from 3% to 15%.
Additionally that same month, eBay also invested in new site features to help sellers automate personalized item sales. Now, sellers have the option to include a text box directly on personalized product listings for users to input their personalization requests when they purchase, rather than via DMs after purchase.
"We're finding that our buyers want to be able to express that they know the person they're giving to," said Block. "New features on the site bridge that connection, allowing [consumers and sellers] to try this category for the first time and then — we believe — love it and use it throughout the year for other moments too."
EBay competitor Etsy thrived during the pandemic — selling $346 million in face masks during the second quarter of 2020 alone and profiting off the pandemic crafting boom. However, the marketplace has since tried to pivot away its personalization and handmade beginnings, with Etsy CEO Josh Silverman saying in 2019 that he felt "handmade is not the value proposition of Etsy." Instead, Silverman believed a broader set of "unique items" — handmade or otherwise — would drive more sales. Thus, over the past few years, Etsy has instead focused on expansion through acquisition, investing in everything from clothing resale to musical instruments.
Still, eBay is trying to take a page from Etsy's original playbook with its push into personalization. On-platform eBay searches for personalized products reached a record 4.1 million last year at an average of 11,000 searches a day, according to the company. Personalized mugs and ornaments, in particular, drove high amounts of sales and searches.
"We took a step back and said the timing is right," said Block. "We know that are customers are looking for [personalized items]."
Juozas Kaziukėnas, founder and CEO of Marketplace Pulse, is somewhat skeptical about eBay's holiday play.
"EBay has been trying to rediscover its relevance in e-commerce for over five years now, said Kaziukėnas. "It's still the second-largest e-commerce player in the U.S., but has failed to grow for years… It will be a place for some to look for gifts, but I doubt many shoppers associate eBay with gifts."
However, Ellin is more enthused."Personalized product purchases on eBay represents a significant threat to Etsy," said Ellin. "Marketplaces continue to expand as sellers look for easy access to customers and the features that make their operations easier… After successful pilots in the U.K .and Germany, eBay Personalization has come to the U.S."