'Hero is an overused word': Despite public hand-waves, essential retail workers still face a daily minefield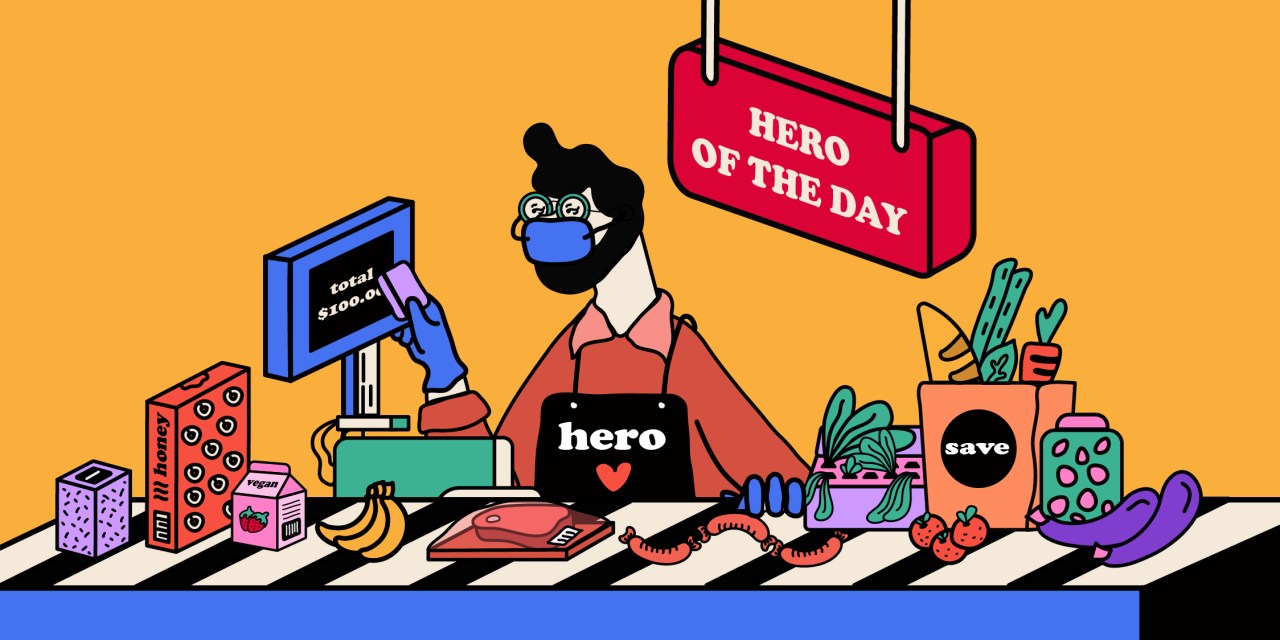 This is part of a special package from Digiday Media about what comes next, looking to the other side of the current crisis to explore the lasting changes that are coming about.
Over the past few months, essential retail workers have taken on a new role, according to their employers.
"Today, as you are being challenged more than ever, I see heroes — not just to me, but so many." Walmart CEO Doug McMillion said, implying that he is speaking to the company's more than one million retail workers in a national TV ad that the company ran in late March. "Thank you for keeping us safe, and being our light." A Target ad that ran a month later highlighted messages of thanks customers had given its employees on social media, like "Target employees have been MVPs!" Amazon proclaimed in a series of videos that highlighted a handful of its delivery and warehouse workers that "our people rise to life's big challenges."
Other retailers have extended the hero messaging into multiple facets of their coronavirus response. Kroger, for example, offered its workers a few short-term bonuses during the pandemic, which each were given different titles — Appreciation Pay, Hero Bonus and Thank You Pay.
At the end of the day, calling retail workers "heroes" is a public relations move. And the workers themselves say it hasn't meaningfully resulted in better treatment on the job. "Hero is an overused word," says one part-time Lowe's worker in Maryland. "Only thing I did was go to the store every day I was scheduled, to do what Lowe's pays me to do."
Rather, what the pandemic has further illuminated for retail workers is how fraught working in retail is — and how little autonomy they have over their schedules and ensuring that customers abide by certain rules. While many essential retailers initially gave their workers a short-term pay bump in March and April — as an alleged thank you for working during the pandemic — some companies, like Kroger, have since ended those bonuses. Workers also say that their hours have been cut so much during the pandemic that the bonuses ultimately didn't do that much for them.
Meanwhile, the work itself has become even more taxing; interacting with customers can be a minefield, as some customers react angrily or violently when asked to take the most basic precautions, like staying six feet away from employees.
Videos of customers yelling at retail employees who have asked them to wear masks in store have gone viral. In a recent survey of 4,000 McDonald's workers, 44% of them have said that they been verbally or physically assaulted by customers whom they have asked to wear masks. Thus, as more retailers are saying that they will require customers to wear masks at all of their stores, they are also leaving lots of exemptions, so their employees don't have to have showdowns with customers. Walmart said in its announcement, for example, that its new "Health Ambassadors" will "will work with customers who show up at a store without a face covering to try and find a solution" — not that they will refuse to allow customers to enter.
While there have been more calls during the pandemic for retail workers to unionize, the workers Modern Retail spoke with said what the coronavirus has instead prompted them to do is look for jobs outside of retail, though they don't anticipate being able to immediately change industries due to the job market.
"I feel a little dehumanized"
Bethany Howard, a Target worker in Tennessee, tells Modern Retail that she was able to find a job recently outside of retail, that she accepted, "and that is in no small part due to concerns over the coronavirus pandemic."
"Retail is hard enough outside of a pandemic," says Howard, who said she would be leaving Target at the end of the month. "Just emotionally and often physically. It is hard to maintain any sort of consistent schedule working retail."
Shortly after Tennessee issued its stay-at-home order in late March, Howard says that a fight broke out at her store between two men over a parking spot. Asking customers to stay six feet apart from her is a mixed bag. "Sometimes they are like, 'oh I'm sorry I just wasn't thinking and they'll step back,' but sometimes they will go on about how this whole thing is a hoax and we are just being sensitive," Howard says.
"I feel a little dehumanized oftentimes just because of the way that people talk to me here. I think there is a lack of understanding in the fact that retail workers are still just people," says Lydah Felidae, a Target worker in Colorado. "It's particularly nerve-racking for me, because I have family at home that has an autoimmune disorder."
Both Howard and Felidae say that their jobs have also gotten more stressful during the pandemic because, on average, they are working fewer hours than they did before the pandemic. They say that's because their stores are giving more hours to departments that have experienced greater demand during the pandemic, like grocery and online order fulfillment.
But, neither of them work in departments that have been awarded more hours; even though Target has increased pay for workers by $2 an hour during the pandemic, it actually hasn't resulted in them getting much more take home pay. (Target declined to answer how many of its employees have been working fewer hours during the pandemic, instead pointing to its previous announcements about how it would be extending the $2 an hour pay bump beyond the pandemic, and will be giving employees a $200 bonus at the end of July).
All of this stress is compounded by the fact that, these workers still risk contracting the coronavirus by going into work each day. Howard says that her store was notified on July 8 that an undisclosed number of workers — who were last in the store on June 30 and July 1 — tested positive for the coronavirus.
"I generally feel OK, but with the latest slate of cases, I don't feel confident or safe in going to work," Howard says.