How Kroger is planning for its next phase of digital growth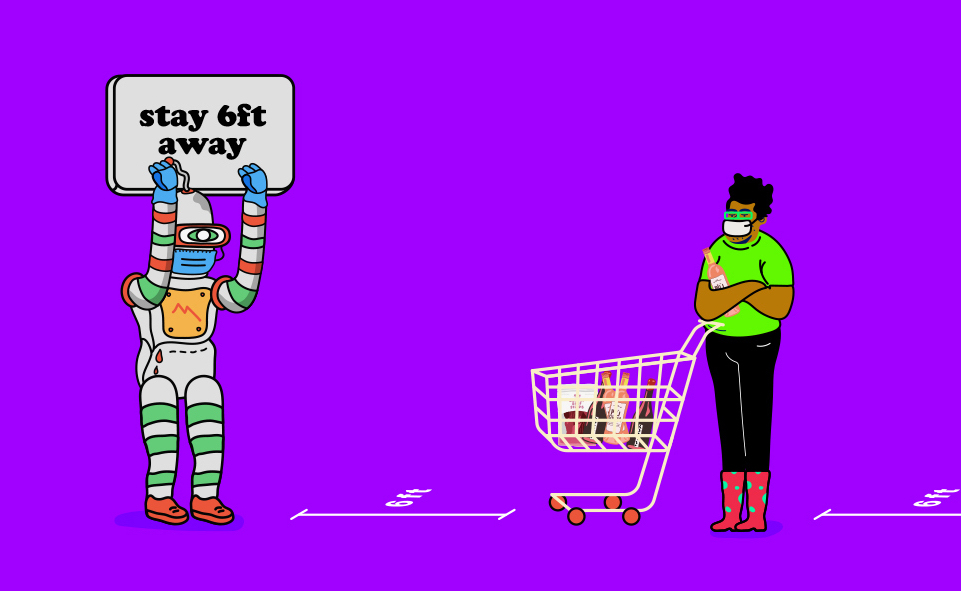 Last year, grocers like Kroger reported unprecedented growth in grocery delivery and pickup, driven largely by customers who were too afraid to step inside stores while the coronavirus pandemic was still raging. Now, the company is thinking about how to keep those customers using its e-commerce services.
At its investor day yesterday, Kroger outlined what areas it will be investing in to increase its market share in online grocery. In 2020, Kroger's digital sales more than doubled to reach over $10 billion in e-commerce revenue. Still, it represents just a fraction of the $132.5 billion in sales total that Kroger did in 2020.
Now, the company is working to double its e-commerce sales once again by the end of 2023. In order to grow online sales — and make its e-commerce division more profitable — Kroger plans to build out more fulfillment centers, particularly near existing stores, add more third-party sellers to its new marketplace, build out alternative lines of business and drive more sales through its private label brands.
"Leveraging Kroger's unique strengths in fresh food, combined with our increasingly profitable digital business, creates an unmatched combination that positions us better than anyone to continue to win share in a highly fragmented $1.4 trillion market," CEO Rodney McMullen said in prepared remarks.
Before the coronavirus pandemic, Kroger had spent the past few years investing hundreds of millions of dollars in building out its e-commerce business. As part of its "Restock Kroger" initiative, unveiled in 2017, Kroger said it would invest $1.3 billion in building out its online business, as well as other lines of businesses with better profit margins than grocery, like its Kroger Precision Marketing arm. In 2018, Kroger announced a deal with British grocer Ocado, to build out 20 warehouses manned by robots, in order to pick and place online grocery orders. The first such facility opened earlier this month.
A focus in digital retention
While Kroger's investments indeed have coincided with astronomical e-commerce growth, it remains to be seen how much of that growth is permanent given that some of that sales growth last year came from customers who turned to online grocery during stay at home orders.
"The big question is how many consumers going to come back into the stores? Or are they going to continuing ordering digital?" said Scott Compton, senior analyst at Forrester Research.
Kroger's strategy for getting customers to keep coming back to its website is two-fold: one, it plans to make grocery delivery and pickup more convenient, mostly by expanding its fulfillment network. The second Ocado facility is set to open later this year in Florida, which Kroger executives said will help it expand its delivery radius in the Sunshine State.
Last year, Kroger created grocery pickup spots in hospital parking lots for first responders, and is using the learnings from that initiative to pilot a new service called Hometown Pickup, where people can elect to pick up their grocery orders in more places beyond just Kroger's stores. Right now, Kroger is piloting this service in Ohio, at a variety of businesses like banks and according to its website.
Reducing margins
The company is also looking to expand its product selection online, both by adding more private label products, and by adding more third-party sellers to its new marketplace, which was announced last August. Within private label, Kroger is particularly focused on expanding its assortment of specialty food items like cheeses and alcoholic drinks, as well as prepared meal kits. Kroger is also working to expand its selection of fresh and organic produce
Not only is Kroger betting the expanded selection will keep shoppers coming back, but that some of the more expensive private label items will help improve its margins.
According to a recent report from analytics firm 1010data, the private label areas that Kroger has invested in correlate with some of the grocery categories that overall saw the biggest growth last year. Sales of items that contained the words "meal kit" or "snack kit" were up 121% between 2019 and 2020, according to 1010data. Meanwhile, Kroger said its private label line of prepared meal kits, called Home Chef, did record sales in 2020.
Furthermore, 1010data CEO Inna Kuznetsova said that the pandemic ushered in a shift in terms of what private label products people were most interested in buying. For example, early on in the pandemic, customers started buying more private label items to replace the "comfort food" they might have normally gotten at a restaurant or bakery.
"We saw more and more retailers introducing private labels and the customer embracing private labels as a way to control their spending while getting the same high quality products," she said.
Competition abound
Kroger is not only the only one betting on flashy new private label lines to drive growth. Target, for example recently launched a new private label brand in grocery called Favorite Day, which carries snacks and treats like cocktail mixes and ice cream, while Albertsons has launched over 1,000-plus new private label items in the past few months.
That's not the only competition Kroger faces — as Amazon and Instacart also race to build out their own grocery businesses, all of these companies are racing to win over the loyalty of online grocery shoppers, who still only represent a single-digit percentage of all grocery shoppers in the U.S.
As such, it remains to be seen what combination of product selection, price and ease of delivery ends up building the most loyalty among shoppers.
"The biggest challenge for grocers right now is how do we keep all of these new customers?" Compton said. "[Grocers] have gotten so many new customers who were shopping across brands over the past year due to supply chain issues or delivery windows or whatever those friction points were…now it's about tightening up those operations.