How Kroger's marketplace can help grow its marketing business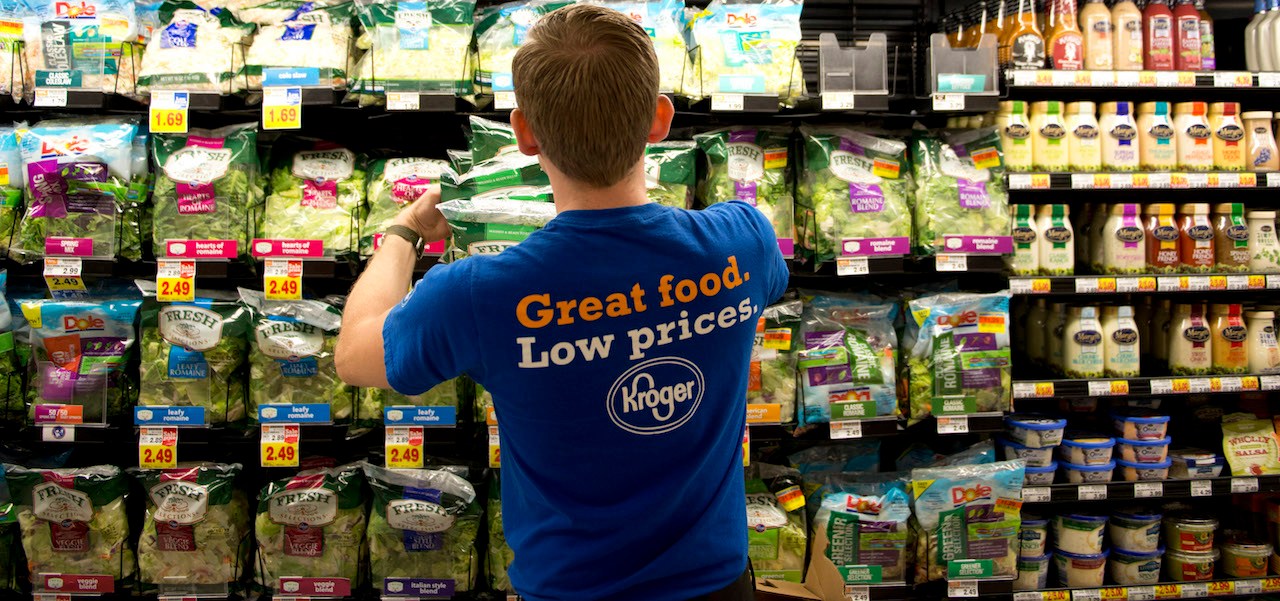 Over the past several years, Kroger has been building out its own Amazon-style flywheel to protect its revenue growth as more grocery shopping moves online.
On Tuesday, Kroger announced the next logical step in its quest to fend off competition from Amazon. The grocery chain will be launching a third-party marketplace, in partnership with French e-commerce software developer Mirakl. Kroger said in a statement that the marketplace will primarily sell products that Kroger doesn't have room for in its stores, like home goods and toys. An exact launch date for the marketplace was not disclosed.
The move comes as Kroger has not only been heavily investing in its e-commerce business, but also building out alternative streams of revenue like a personal finance business, as well as a retail media business called Kroger Precision Marketing. These alternative lines of business aren't meant to surpass Kroger's grocery business. But, the hope is that if they have more favorable margins than Kroger's grocery business, they can help the company stay profitable while still making costly investments to support its grocery delivery business. Thus one of the biggest benefits of building out a third-party marketplace is the boost it could provide to Kroger's alternative lines of business — even if Kroger struggles to match the reach of, say, Amazon or Walmart's marketplace businesses.
"If launching a marketplace is just about selling incrementally more SKUs, I would definitely think twice if I was a grocer," said Tory Gundelach, senior vice president of retail insights at Kantar Consulting. "But if it's about looking for other places to sell media, then the picture starts to become more appealing."
The focus on developing alternative streams was introduced as part of Kroger's Restock Kroger initiative in 2017. Kroger CEO Rodney McMullen has said that Kroger's alternative profits business generated $100 million in incremental operating profit in 2019, and that the Precision Marketing business was on track to achieve 50% growth in 2020.
These new streams of business didn't come cheaply: Kroger said that when it announced Restock Kroger that the initiative would require a $1.3 billion investment. But, the margins on the grocery business are notorious for being low. So, Kroger's pitch has been that even though Restock Kroger has required a lot of upfront investment, it would pay off as these lines of business, once they got off the ground, would help improve Kroger's margins in the long-term, while simultaneously lifting other parts of the business.
"Developing a retail media business is top of the list in terms of smart, strategic opportunities that [Kroger] is taking on," said Andrew Lipsman, e-commerce analyst at eMarketer.
The Precision Marketing arm is one such example. By using the data that Kroger has on what people are purchasing in-store — data that an online-only competitor doesn't have — Kroger purports that it can help primarily CPG clients better target online ads to customers. Kroger's Precision Marketing Business targets customers on its own online properties, like Kroger's email list serve and on its website, as well retargeting customers on other web properties that Kroger has partnerships with.
Kroger has yet to disclose how much revenue the Precision Marketing business has generated, but has said that the marketing business, along with the personal finance business, is generating the bulk of the growth for the alternative revenue streams.
Thus, launching its own marketplace will give Kroger simply another opportunity to boost its Precision Marketing business, by giving Kroger another property across which it can serve ads, as well as more purchase data to improve its ad targeting.
The risk, however is that launching a third-party marketplace is an expensive endeavor, particularly if Kroger chooses to launch services to help sellers to manage their business, like Amazon has done with its fulfillment service. Lipsman said that one way Kroger could bring costs down is through partnerships, which it appears to be doing by leaning on Mirakl to develop the platform.
The marketplace could also require a lot of oversight to ensure that third-party sellers aren't taking advantage of customers by selling them counterfeit or misleadingly marketed items. Gundelach said that Kroger could gain greater control over its marketplace by making it invite-only, as Target has.
And, given Amazon's huge reach — more than 150 million Prime members globally — it will be a challenge for Kroger to convince long-standing Amazon customers to use its marketplace instead. Walmart's third-party marketplace has run into a similar challenge, struggling to win over Amazon sellers.
Still, Lipsman thinks that Kroger's marketplace could prove to be a boon, "if this is something that they don't have to sink a huge amount of money into, and they can build up over the long time."
"You don't ned to drive huge amounts of revenue, if that revenue is so high margin," Lipsman said.