How retailers are preparing for more returns than ever this holiday season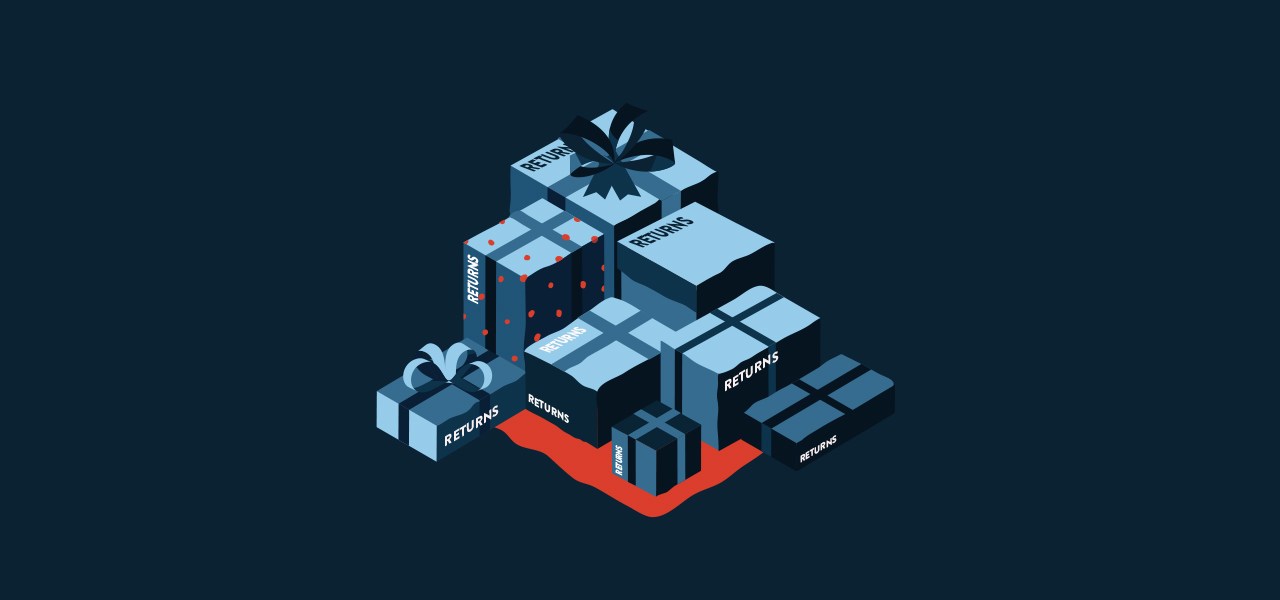 Right now, retailers are focused on getting items to customers in time for the holidays. But come January, they'll have a new headache to contend with: processing all of the items that ultimately get returned.
Some research has shown that items bought online are more likely to be returned than those bought in store, with online apparel having some of the highest return rates. Given that people are expected to do more of their holiday shopping online this year in lieu of visiting a store, retailers are also bracing for the likely scenario that people will want to make more returns this year than ever before.
To prepare, many retailers have extended their return policies, giving customers more days to send back unwanted items. They're also trying to give customers more ways than ever to return items. Retailers like Lululemon and Levi's have made it easier for customers to initiate returns within their mobile apps, while returns processing startups like Happy Returns and Narvar have struck partnerships with companies like FedEx and Walgreens so that shoppers can make returns at more places than just a retailers' store.
When most essential retail stores closed during the spring months, some customers waited to make returns until stores opened back up again. That created a huge backlog of returns that retailers had to get through, and their customer service lines were flooded with customers checking on the status of their refunds. So much so, that some retailers had to hire more customer service workers to keep up — in June, Wayfair announced plans to hire 500 more customer service workers, while Lululemon temporarily shifted 500 store workers to its customer service center, the Wall Street Journal reported at the time.
Now, retailers want to avoid a repeat of the spring — and to ensure that the money they have to spend shipping and processing returns doesn't eat too much into their margins.
"Merchants are under enormous pressure to cut costs," David Sobie, co-founder and CEO of Happy Returns said in an email. "Returns are getting more expensive with Covid-19 surcharges, holiday surcharges and annual general rate increases."
The most cost-effective way for retailers to process returns is for an item to drop it off at its own store. But that's not convenient for every customer. So some retailers are allowing customers to make in-person returns at other stores. Amazon, for example lets its customers return items at Kohl's. This was a trend that has picked up the past few years — but it has accelerated in the lead up to the holidays this year.
Happy Returns' strategy has been to build out a network of what it calls return bars — places where customers can return any item, no matter what retailer they purchased from, so long as that retailer uses Happy Returns. In October, Happy Returns announced that it had added FedEx as a partner for its return bar network, allowing customers to make returns at more than 2,000 FedExOffice locations nationwide. Happy Returns now has 2,600 locations that customers can make returns at, including some Simon malls, Paper Source stores and Bed Bath & Beyond stores. Meanwhile, another Happy Returns competitor Optoro allowed the customers of retailers who use its software to make returns at Staples stores this year.
Sobie said that Happy Returns has seen more demand from retailers during the coronavirus pandemic — the company added more than 150 customers this year, including Steve Madden and Mack Weldon.
Narvar, another Happy Returns competitor, also started partnering with Simon Malls this year to allow customers of its client — which include Levi's and Gap — to make returns at the concierge desks of some of its malls. Narvar also tested out a new partnership this year with UPS, through which Cole Haan customers could make returns without having to box up items, or print a label, at nearly 5,000 UPS stores. According to Chain Store Age, Narvar started testing the new no-box, no-label returns service with Cole Haan, but hopes to eventually role out the service to more retailers.
The other change that retailers have had to make this year is to ensure that people who want to make returns in-store can do so while coming into contact with as few people as possible. Marc Rosen, president of Levi's America's business, told Modern Retail last month that the denim brand had started allowing customers to initiate returns via its mobile app, and to drop off returns at boxes in stores, rather than coming up to the cash register. The hope is also that by making it as easy as possible to initiate returns, it creates less work for that retailers' customer service team.
However, making it easier for a customer to drop off returns is only part of the battle. Andrew Lipsman, e-commerce analyst at eMarketer, said that the biggest challenge for retailers is figuring out how to reduce the number of returns in the first place, because of the time and money retailers have to spend processing them.
"There is a human cost to processing returns and literally restocking shelves, said Lipsman, adding that a high spike in returns this holiday "is going to be harder for many retailers to incur."