Madewell looks to its loyalty program to drive personalization, retention efforts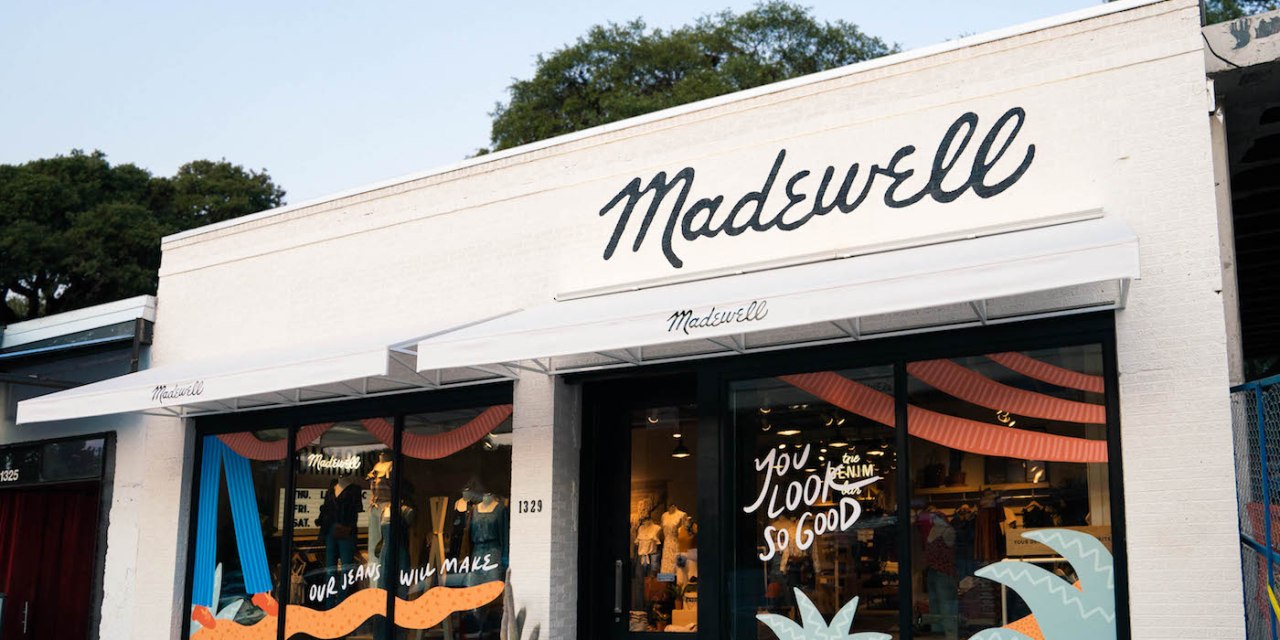 As J. Crew's denim-focused brand Madewell prepares to go public, it will be depending upon its loyalty program to fuel customer retention and personalization efforts, which the company thinks is key to driving more direct-to-consumer sales.
In its S-1, filed last week, Madewell said that its loyalty program, Madewell Insider, now has 1.56 million members, representing 60% of Madewell's active customer base. Madewell first launched the program in 2016. Additionally, Madewell Insider members accounted for 67% of Madewell's direct-to-consumer revenue, and 90% of customers who spent more than $500 in fiscal year 2018.
Loyalty programs often present a chicken-and-the-egg scenario — are they actually responsible for driving more sales, or are the people who are a part of the programs dedicated customers who would have spent that amount of money? But one thing that's clear is that they are valuable data-collection tools — it makes it easier for retailers to track what purchases a single customer makes throughout their purchasing history, both in-store and online, as well as to see what marketing tactics they respond to.
Madewell's loyalty program is going to be so critical in keeping customers coming back to the company's stores and websites. The company said in its S-1 that its loyalty program has "been a key driver of customer retention and purchase frequency."
Direct-to-consumer represents about 95% of Madewell's business. Madewell's business has been buoyed by the fact that it started out with zero brick-and-mortar stores, so it's been able to grow sales simply by opening more stores. Madewell currently has 132 stores. Additionally, Madewell is looking to increase the percentage of its direct-to-consumer sales that come from its website. In fiscal year 2018, 40% of its direct-to-consumer sales came from its website — Madewell hopes to grow that number to 50%.
One key to getting customers to come back to its website without, spending a ton on paid marketing will be figuring out what email and push notifications will encourage customers to buy more, as well as using personalization to create a web and mobile experience that helps customers discover new products. And that's where the loyalty program comes in.
Madwell, in keeping with other major retailers who have recently launched new loyalty programs or revamped them, emphasizes access to exclusive events and experiences in its loyalty programs, rather than discounts. The program has three tiers — one that's free to join, one that's for customers who have spent more than $500, and one that's for customers who have spent more than $1,000.
All members get access to free returns, free hemming on jeans, free standard shipping, as well as a birthday gift. Members of the top tier also get free expedited shipping, and access to a "dedicated concierge phone line" for their customer service needs.
Owen Frivold, co-founder of customer experience agency Hero Digital, which works with retailers on building loyalty programs, said that retailers including Madewell are increasingly marketing their loyalty programs "more around exclusivity of access and more around enhanced customer experience."
"You're seeing far less around the notion of discussing points," Frivold said. "There's no sort of push around the promotional element, there's much more of a push around the experiential or personal."
Events have also been a key part of Madewell's loyalty strategy. Madewell said in its S-1 that it hosted more than 2,5000 events last year in its stores. Members across all tiers of the loyalty programs get access to in-store events.  Some of the in-store events that Madewell hosts include charity events, pop-up shops with local artists, and early access to sales.
"Madewell consistently uses their store footprint to host hyperlocal events and experiences, making good on their promise of experiences and events for loyalty members," said Sarah Marzano, senior principal for Gartner L2 in an email. She added that Madewell has "set themselves apart from brands who list event access as part of their loyalty program but don't consistently follow through, or those who focus events and experiences only for stores in more densely populated metropolitan areas."
Given that Madewell's loyalty program is only three years old, the next step for the brand is that it ensures customers who have signed up for the program continue to shop with the brand and take advantage of the loyalty program, to ensure Madewell gets more data about what it's customers are interested in.
To that end, Madewell said in its S-1 that it plans to launch a mobile app in 2020, which will be designed around its loyalty program. Madewell said customers will be able to pay in-store through the app, but also that it will be used to send push notifications to customers about in-store events happening in their area.
Frivold brought up Apple's retail app as the type of app Madewell should look to emulate as it looks to engage with its loyalty program members on a more regular basis. Frivold said the Apple store app does a good job of customizing the app experience depending upon what the customer is doing and what they've bought in the past. For example, the app will automatically pull up in-store checkout when the customer enters a store.
"When you talk about loyalty it's more around demonstrating that they understand you as a consumer by being able to provide more recommendations in theory that align with what you've demonstrated you are interested in," Frivold said.