Earnings
// September 22, 2020 ■ 4 min read
Nike's sales almost return to pre-coronavirus levels thanks to digital growth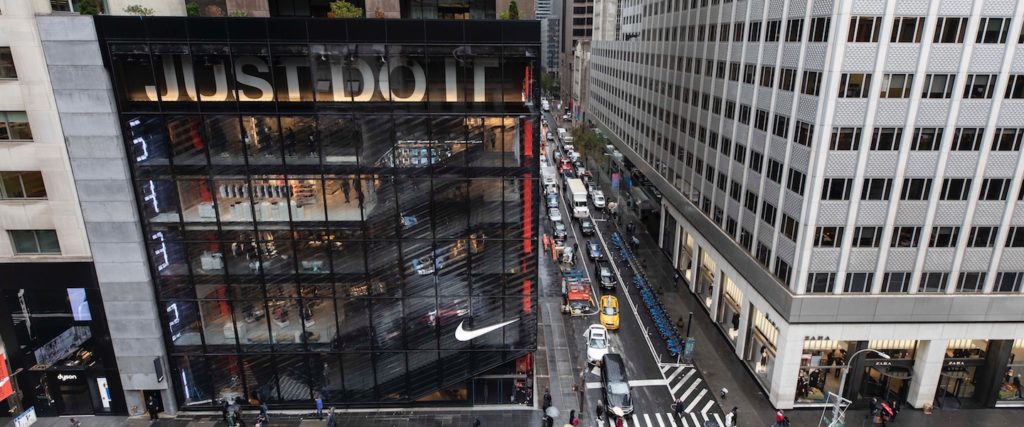 This story has been updated with quotes from Nike's earnings call
Nike's sales were down 1% year-over-year this past quarter. In today's retail environment, that's a success.
The athletic apparel reported that while it's still not seeing the same in-store traffic that it was a year ago, its digital sales over the fiscal year first quarter were up 82%, even as more than 90% of its stores were reopened. The results are an improvement from Nike's two most recent earnings reports, where sales were down 5%, and then 38% year-over-year, thanks to store closures in China and North America respectively.
Nike has benefitted from seeing a huge increase in downloads of its apps, which include its main Nike shopping app, Nike Train Club and Nike Run Club. That's helped the company both collect data on what types of activities its users have been interested in during stay at home orders, and then use that to better recommend products to customers at a time when they're being selective about what types of items they want to purchase. It remains to be seen, however, just how many sales Nike can continue to wring out of its app once store traffic returns to pre-coronavirus levels, and more companies look to enter the fitness space.
"In this dynamic environment, no one can match our pace of launching innovative product and our brand's deep connection to consumers," Nike President and CEO John Donahue said in a statement announcing its earnings.
Revenue for the quarter was $10.6 billion, while net income was $1.5 billion, up 11% year-over-year. Meanwhile, two of Nike's biggest competitors, Under Armour and Adidas, reported that sales were down upwards of 30% during their most recent earnings reports.
Nike's bet is that by getting its users to download a variety of different apps, depending on what activities they are most interested in, it can get more granular data on their behavior that they can then use to better recommend products to those customers.
"What we are doing is obsessing over the consumer journey across the board," Heidi O'Neill, president of consumer and marketplace for Nike, told Modern Retail in May. "We are creating connected experiences and journeys when we see a consumer interested in yoga, and connecting them to our yoga apparel."
Nike made its Nike Train Club — which used to cost $14.99 — free. In April, Donahoe said that Nike Train Club users were starting 5 million workouts per week, and that "this direct engagement with consumers allowed our business in China to return to growth in [the fourth quarter]."
Another key focus of Nike going forward, CFO Matt Friend said on the call with investors, is to use the data it collects through its apps to target existing customers, rather than new customers, with digital ads.
"As we retain a higher proportion of engaged members, we will be lowering customer acquisition costs, increasing return on ad spends, said Friend.
"Nike has chosen to double down on their different customers' segments with their apps," said Mousumi Behari, digital strategy practice lead at Avionos, a digital commerce and marketing consultancy that has worked with Kellogg's and Ulta Beauty. "They understand that each customer base has specific needs and targets messaging based on those needs."
But, that strategy will become increasingly challenged as more retailers and tech companies are looking to launch fitness subscription services that will rival Nike's workout apps. Apple, for example announced that it would be launching its own subscription workout service for Apple Watch Users, called Apple+ later this year. One wrinkle, however is that Apple CEO Tim Cook is on Nike's board. There could also be a tie-up between Apple+ and Nike later down the line.
In order to continue to differentiate itself, Behari said that Nike could look at using technology to find new ways to differentiate its workout apps from others on the market.
"Another area they could explore is augmented reality," she said. "Nike already uses this technology to enable customers to try on shoes, however the different apps could use it for training in virtual places."
Donahoe said that going forward, Nike will continue focus its digitization efforts on making, "consumer-facing" improvements, like using machine learning to improve search on Nike's website, as well as increasing personalization in marketing and product offerings.
"I feel like there is so much opportunity remaining," he said.