Nordstrom raises outlook shrugging off economic gloom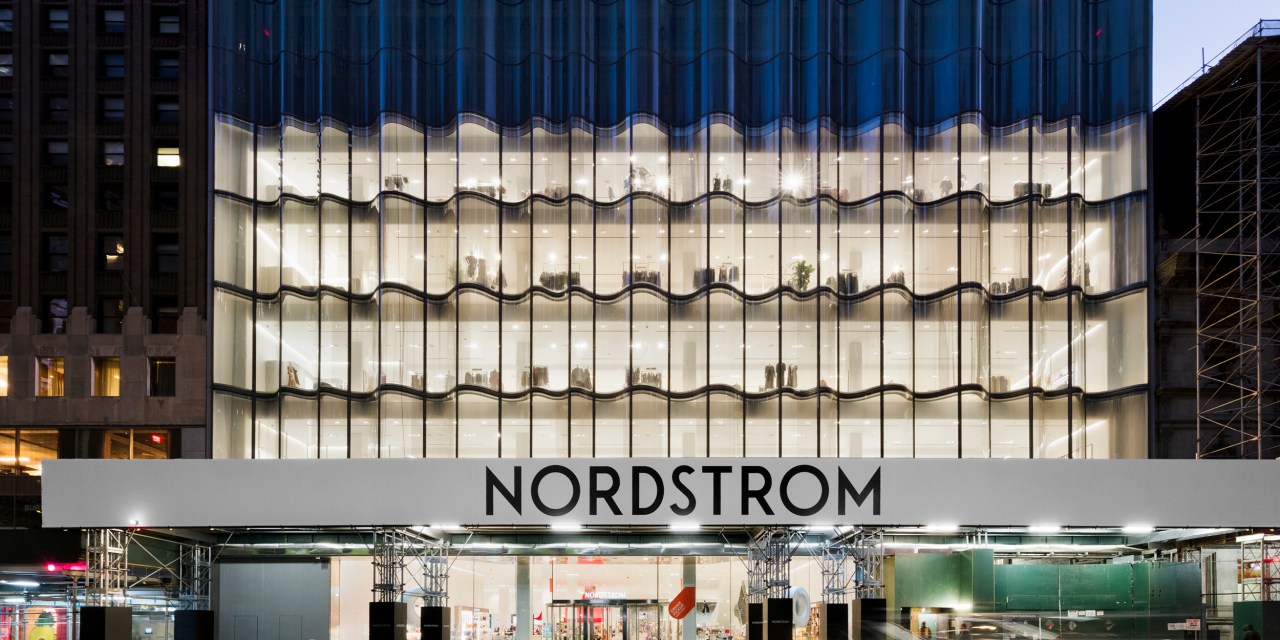 Image via Nordstrom
Nordstrom has broken the pattern of unfavorable earnings from other retailers in its recent report.
In a period where some of its biggest competitors have seen profits decline, Nordstrom executives signaled optimism in its first-quarter earnings report. The department store now expects its fiscal year revenue to grow 6% to 8% compared to its previous 5% to 7% growth outlook. Nordstrom reported a total net sales increase of 18.7% year-over-year to $3.5 billion, exceeding pre-pandemic levels. The company's gross profit, as a percentage of net sales, rose 190 basis points this quarter compared to last year.
Unlike retailers like Target, Walmart and Kohl's, the department store said it hasn't seen inflation impact its consumers' spending. Executives said this could potentially be due to Nordstrom customers' higher-income profile and resiliency. The company said it expects to benefit from higher sales and its strategic initiatives, which include the rollout of Allbirds products at some Nordstrom stores.
"This quarter, we saw customers shopping for long-anticipated in-person occasions such as social events, travel and return to office. Beyond occasions, customers also reevaluated and refreshed their wardrobes," said CEO Erik Nordstrom. "Were encouraged by this opportunity because it favors the core categories of our business and the core capabilities of our service model."
In the first quarter of 2020, Nordstrom experienced massive losses due to the pandemic after having to temporarily shut down stores. Its net sales dropped 40% from the prior year. In the first quarter of 2020, the company suffered a net loss of $521 million.  
But the return of in-store shopping, in-person events and on-site work is turning the tide for Nordstrom. Men's apparel was Nordstrom's strongest category, but both women's and men's apparel had double-digit growth over last year. As more customers return to stores, its digital sales this quarter were flat compared to last year.
Sales at Nordstrom's urban stores in particular have all made a comeback and reached pre-pandemic levels. Additionally, the company also offers styling and alteration services, which differentiates itself from competitors offering apparel. 
"Nordstrom has got an interesting mix of store locations, both in terms of geography and in terms of urban versus suburban," said Bryan Gildenberg, svp of commerce at Omnicom Retail Group. "They probably get a little bit more of an urban vantage point perhaps than some other retailers."
For other retailers, this quarter was not as rosy as Nordstrom's. Target's operating income dropped 43% year-over-year, which executives said represents the shift from discretionary items to other categories like travel. Walmart's operating income was down by $1.6 billion, while Kohl's operating income crumbled by about 70% year-over-year.
Economic headwinds like inflation, fuel costs and supply chain expenses as well as staffing challenges are some of the primary culprits of dipping profitability. Though Nordstrom isn't immune to these issues, it has the ability to pass on the cost, said Charles Lewis Sizemore, chief investment officer of Sizemore Capital.
"If you're a more mass-market retailer, you're pressured to not pass on the inflationary costs. It's going to affect your consumers more," he said. "Nordstrom has the ability to just pass the cost on. Their shoppers can afford it. It's not as big of a burden to them so that's really what it boils down to."
More tailwinds may be coming Nordstom's way in the coming quarters. Nordstrom said during the earnings call that direct-to-consumer sustainable shoe brand Allbirds will be available in select stores beginning June 1. Allbirds products will also be available at Nordstrom.com later this summer.
Just last week, Nordstrom expanded its partnership with fashion brand Asos. Some Nordstrom stores have begun selling Asos products, in a bid to attract younger consumers.   
The department store also plans to continue advancing its digital capabilities. In the second quarter, the company plans to expand next-day order pickup capabilities to more than 60 additional Nordstrom Rack stores in its top 20 markets. Executives said that customers who use in-store pickup tend to spend 3.5 times more than customers who don't.
The company's optimism for its future performance is also reflected in its new $500 million share repurchase program, said Sizemore. Stock buybacks are often a signal of confidence, he said.
But despite Nordstrom's positive forecast, experts said the current economic environment can be hard to predict. If a deep recession occurs where people lose their source of income or cut back on shopping, sales for luxury goods could drop dramatically.
"If we were to get a deeper-than-expected recession, then that's bad news for Nordstrom, at least for a few quarters," Sizemore said. "I don't see it as being catastrophic or potentially life-ending for the store, but I would say if there were any risks to their rosy outlook, it would be that the economy deteriorates faster than expected."