Earnings
// December 9, 2021 ■ 4 min read
Rent the Runway rethinks strategy in its quest to finally turn a profit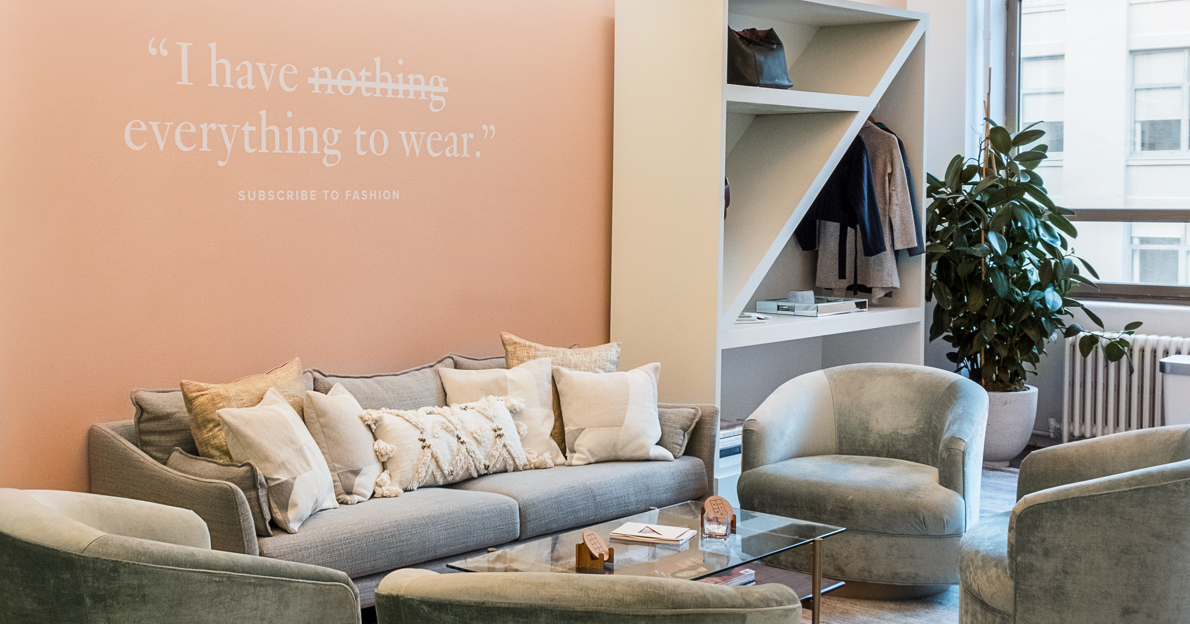 Rent the Runway
Apparel rental platform Rent the Runway is focused on revenue diversification and cost-cutting as it still searches for profitability.
In its first earnings call since going public yesterday, Rent the Runway reported a net loss of $87.8 million and an active subscriber count of 116,833 users, or only 87% of its pre-pandemic user base. In turn, executives rushed to highlight the cost-saving mechanisms and diversified revenue streams that would drive Rent the Runway toward profitability. By investing in new marketing channels, markets and styles, the platform is attempting to draw consumers back to rental in a time where apparel needs are still uncertain.
When Rent the Runway launched in 2009, it focused on one-time-rentals of designer clothing for special events like weddings. Over time, the retailer expanded to brick-and-mortar locations in New York, Chicago, Los Angeles, San Francisco and DC, and added a monthly subscription model for big-city office workers to supplement their wardrobes. However, from 2019 to 2020, active users dropped from 133,572 to 54,797 and Rent the Runway shut down its stores as workers left their offices, events dried up and Americans moved from the coasts during the coronavirus pandemic.
"Lower than expected customer growth has kept Rent the Runway below 2019 subscriber levels," Chris Ventry a VP at consultancy SSA & Company. "Delta's overhang stymying the return to societal events and companies opening up did not help the last quarter."
Still, the retailer is focused on finding new use cases for its rental services, starting with new markets. While New York, DC and San Francisco still fall behind pre-pandemic usage, Rent the Runway's other markets are at 90% of pre-pandemic active users, with the South Atlantic, South and Mountain regions now outpacing pre-pandemic users.
"Subscribers outside of our top twenty markets now comprise 29% of our subscribers, up from 23% pre-COVID," said Jennifer Hyman, Rent the Runway co-founder and CEO during the earnings call.
The company is also shifting its product mix towards more casual pieces to accommodate users leaning into the service for every day wear, though keeping Zoom-friendly workwear and event wear options available. In 2021, said Hyman, users rented workwear 25% of the time and special occasion wear 25% of the time.
Marketing messaging is getting a redux, too, as the retailer plans to further invest in brand ambassadors and affiliate marketing, as well as new channels like TikTok, YouTube and OTT. The goal, explained Hyman, is to drive customers from being one-off buyers into long-term subscribers. In the retailer's S-1 filing, Rent the Runway reported that its customer acquisition cost or "total marketing expense" was $55 per customer, though this quarter the retailer increased marketing from $1.4 million to $10.8 million, year-over-year.
Earlier this year, Rent the Runway also expanded its commitment to resale. While it always offered rental subscribers the opportunity to buy their rented pieces, in April it allowed non-subscribers to purchase pre-worn items as well. This quarter, resell revenue was up quarter-over-quarter, said CFO Scarlett O'Sullivan, though she did not say by how much.
"Apparel resale is definitely a bigger market than apparel rental," said Sunny Zheng, an analyst at Coresight Research over email. "Rental companies are testing services to enter the resale market and we will continue to see service providers blur the lines between the two services."
Alongside these public-facing service changes, Rent the Runway is also cost-cutting behind the scenes. This quarter, the retailer launched an at-home pickup service. The company's third-party logistics provider Xpdel picks up items at customers' homes to bring back to Rent The Runway fulfillment centers, which executives said decreases shipping costs. In the five metros that it piloted the program in, a third of customers are using the service.
"We have implemented several strategies to mitigate rising transportation costs," said Sullivan.
Moreover, Rent the Runway is focused on "capital-light" product acquisition, said Hyman. The company's "Share by RTR" program allows it to acquire products for "nothing or very little" then profit share with the brand that provided the product. "Exclusive Designs," meanwhile, are manufactured in a partnership with brand partners and the company says they cost 50% less than the wholesale styles that Rent the Runway previously relied on. Across 2021, Hyman predicted that 56% of the retailer's inventory will have come from one of these two models.
However, the path to profitability for the retailer is unclear. While revenue was up 66% year-over-year, so too were losses. The company reported a loss of $44.3 million last year during the third quarter and $88.1 million this year. Revenue was $59 million.
Alongside a major increase in marketing, Rent the Runway's other expenses were also up. Year-over-year, fulfillment costs grew from $11 million to $19.2 million. Technology costs grew from $9.4 million to $12.8 million. General and administration costs were a whopping $35.8 million this quarter, up from $17.9 million the year prior.
Ashley Rocha-Rinere a manager in the consumer practice of Kearney said rental retailers' problems are likely to continue into the fourth quarter as a return-to-office will likely be delayed again.
"Variants and continued concern about health and safety will likely continue for some time, which will keep consumers hesitant to rent in a way they previously weren't," said Rochas-Rinere. "However, as more consumers begin returning to a hybrid work environment — many going back in January — there will likely be an increased interest in renting again, with wardrobes that are as hybrid as our lives."