Target's new private label tries to cash in on the crafting boom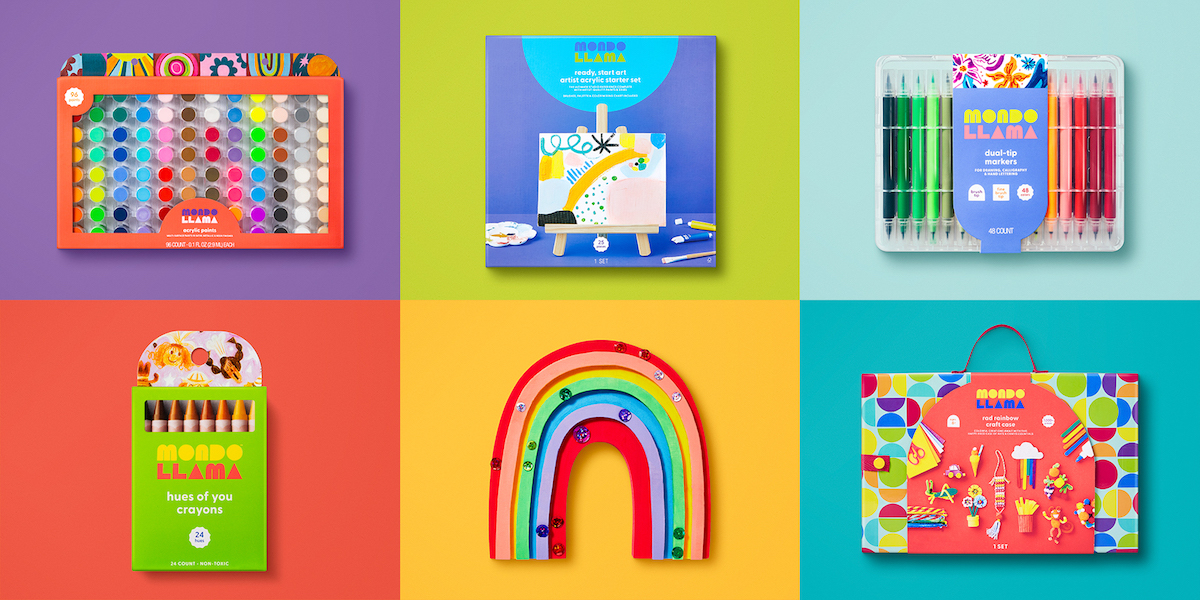 Target is betting that the arts and crafts boom will continue even after the pandemic is over.
Earlier this week, the big-box retailer announced the launch of a new private label line called Mondo Llama, under which Target will sell crafting supplies aimed at both kids and adults. The products featured in the new line include paint sets, canvases and drawing kits. This is the first crafting-focused private label line that the company has launched in over a decade, the company said in its press release on Monday.
Big-box retailers like Walmart, Target and Amazon have long sold basic crafting supplies like sewing machines and fabric, but crafting enthusiasts are not a demographic that many of them have explicitly gone after. Target's approach indicate that may start to change, especially in light of the fact that people have been spending more on crafting supplies during the pandemic. The NPD Group found that sales of coloring and art supplies were up 17% between 2019 and 2020.
The crafting boom during the pandemic first started because of the need for masks. As people struggled to find N95 or even surgical masks in the U.S., some people resorted to sewing their own. And many of them turned to big-box or specialty crafting retailers to do so.
Walmart reported during its first quarter earnings last March that fabric and crafting supplies were among the strongest performers in its general merchandising category, and has since added a guide on its site for customers on how to make their own masks, under its crafting supplies section. Fabric chain Joann recently reported when it filed to go public that it had acquired eight million new customers during the pandemic, many of whom "initially purchased fabric to make their own masks." And crafting supplies chain Michael's announced this month that it will be acquired by a private equity firm that intends to take it private. Michael's chairman said the acquisition offer from the private equity firm was spurred by the company's "impressive growth transformation" during the pandemic.
While some people are still making their own masks, for the most part people's reasons for buying crafting supplies have changed during the pandemic, said Tory Gundelach, senior vice president of retail insights at Kantar Consulting. Now, it's much more about "how do you keep yourself entertained," she said.
And that's what Target's newest crafting line gets at. Previous crafting items at Target typically fell into one of three categories: they were either focused on kids, tied to special events like Easter or were centered around trends like adult coloring books.
Gundelach said that she thinks the newest crafting line fits with Target's approach of "leaning into areas that appeal both kids and to families," citing toys as another example.
She said she doesn't see this new line as Target attempting to compete with specialty crafting retailers — which are more focused on professional crafters who make products to sell on sites like Etsy — but more to go after the person or the family who picked up activities like painting or jewelry making during the pandemic.
"I don't think Target's desire is to necessarily get to the point where they are matching the assortment of Michael's or Joann's," she said.
Neil Saunders, managing director at GlobalData Retail, said that among the big-box retailers, Walmart has historically been a bigger player in crafting supplies than Target. "Unlike Target, most Walmart stores sell fabric and sewing materials which are popular among its shoppers. It also has selections for kids crafting and in areas like candle making," he said.
During the pandemic, Walmart has also invested in creating more video content for families looking for activities to do at home. Walmart's done this through partnerships with toy store Camp, as well as Eko, an interactive video platform that Walmart has invested in. On the Eko site, Walmart has videos created by Camp featuring different activities like how to make an origami lantern, or how to draw your own self-portrait. The videos include links that people can click on to buy all the necessary products to make that craft through Walmart's website.
Gundelach said that she expects demand for crafting items or supplies for other at-home activities will remain strong through at least through the first half of 2021. At that point, Target's messaging for Mondo Llama may shift to focus more on promoting it as supplies to say, compliment a birthday party.
Still, despite temporary shifts in behavior, she thinks the line will endure. "I think Target has a strong history of growing private label brands, and this feels like it fits right into their wheelhouse," said Gundelach.