The days of lining up at stores for Black Friday deals may be over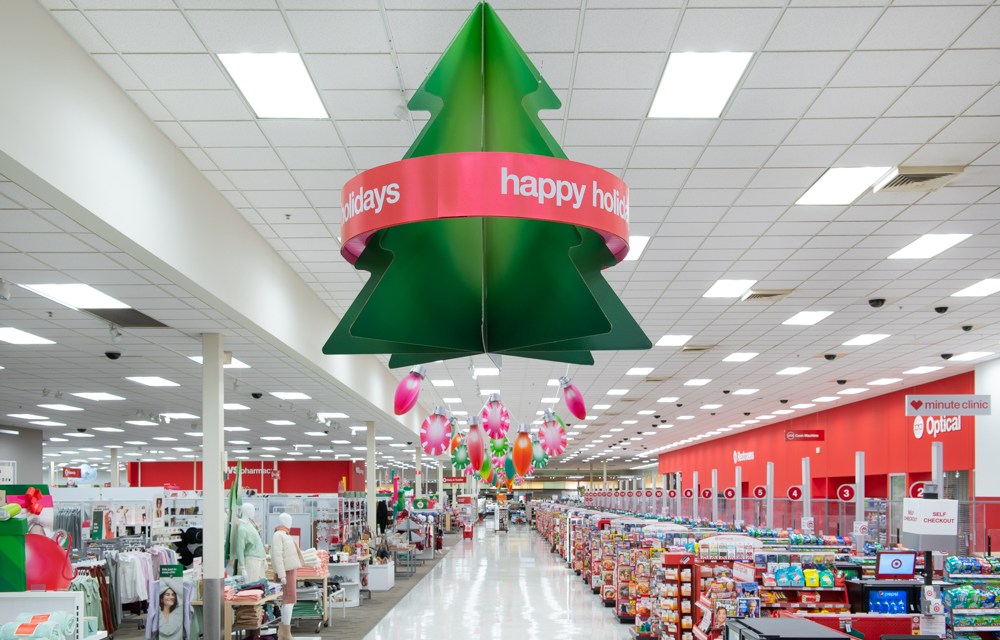 Target
Traditional Black Friday doorbusters may soon be a thing of the past.
Despite an increase from last year, in-store foot traffic on Black Friday was still down compared to 2019. Retail analytics firm Sensormatic Solutions found that in-store foot traffic was down 90% on Thanksgiving and 28% on Black Friday, compared to the same days in 2019 levels. Online shopping, meanwhile, was also down at $8.9 billion from last year's record $9 billion, according to Adobe's data insight platform Adobe Analytics, (though up 20% compared to 2019's $7.43 billion).
This year, brands pushed early holiday shopping in light of supply chain delays. What's more, many brands and retailers also offered smaller discounts compared to years past. As a result, Black Friday — while still the biggest sales day of the year — wasn't quite as big of an event as it had been in years past.
One reason for the waning momentum is that fewer retailers this year used Thanksgiving to drum up pre-Black Friday excitement. In 2019, retailers like Walmart and Target opened on Thanksgiving as a way to drive buzz for their next-day Black Friday sales. In 2020, these retailers closed on Thanksgiving, citing temporary pandemic policies. Now, under a nationwide labor shortage, these policies are being made permanent. Walmart, Best Buy, Target, Kohl's, Macy's and others were all closed Thanksgiving Day this year.
Target CEO Brian Cornell pointed to the retailer's strong e-commerce capabilities as a reason for why the big-box retailer no longer needed to be open on Thanksgiving. "What started as a temporary measure driven by the pandemic is now our new standard — one that recognizes our ability to deliver on our guests' holiday wishes both within and well beyond store hours," said Cornell in a note to Target employees.
However, even on Black Friday itself, retail-wide, brick-and-mortar foot traffic was down 28% on a two-year basis, according to Sensormatic, though it was up 48% year-over-year. Dick's, Best Buy, Nordstrom Rack, Dillard's and Kohls, in particular, struggled on a two-year basis, all of them down between 23% and 27% in visits according to traffic analytics firm Placer.AI.
"Traffic, in general, was less than you would have expected for the holiday weekend," said David Ritter, a managing director at Alvarez & Marsal Consumer and Retail Group, over email.
Out-of-stocks and dampened discounts
One reason for the drop in foot traffic, according to Brian Ehrig, a partner in the retail practice of Kearney, was low inventory and out-of-stocks. Indeed, marketing technology firm Bluecore found that out-of-stocks were most common in the sporting goods, jewelry, home goods and consumer electronics spaces, ranging from 5% to 41% of products out-of-stock by category across the 153 retail brands examined.
Discounts were also down across most retailers. According to Salesforce, the average percent-off discount on Black Friday products purchased was 24% this year, down an average of about 2 to 4 percentage points compared to years prior. Rob Garf, Salesforce's vp of retail told Time, "If consumers see 25% off, they should feel really good about that…[This Black Friday has] some of the lowest average discount rates that we've seen in recent history."
According to securities and finance research firm Jefferies, home goods retailers, in particular, walked back last years' discounts amid continued out-of-stocks, combined with high consumer demand. Home Depot, for example, offered a 25% discount on select appliances compared to a 40% discount last year. Meanwhile, at Williams Sonoma, promotions were down in every home subcategory.
Moreover, brands and retailers themselves have been pushing consumers away from a single-day shopping holiday into an earlier and more spread-out shopping season. Retailers — preparing for continued supply chain issues as well as out-of-stock products — offered shopping incentives early this year. Walmart, Target and Amazon, for example, all hosted pre-Black Friday sales in October and early November. To promote early buying, Target promised to match any subsequent price cuts, while Amazon explicitly called its October sales event "Black Friday-worthy."
Retailers were especially eager to promote the toys category early this year, given that it's a category that's been heavily impacted by supply chain delays. Target released its top toy list in August, two months earlier than 2020, to drive pre-holiday sales and Walmart, Macy's and Amazon followed close behind. As early as September, Macy's promoted its toy partnership with Toys 'R' Us on Instagram with the claim that "the holidays are closer than you think."
Ritter said that the inventory issues leading to the de-prioritization of the traditional Black Friday and decreased discounts may continue to damper the in-store holiday shopping season going forward.
"In many of the stores I visited, staff indicated that all product had been pushed to the floor in a 'get it, while we have it' approach that could hint at impending issues later in the holiday season," said Ritter.