Unpacked: What Franchise Group wants with Kohl's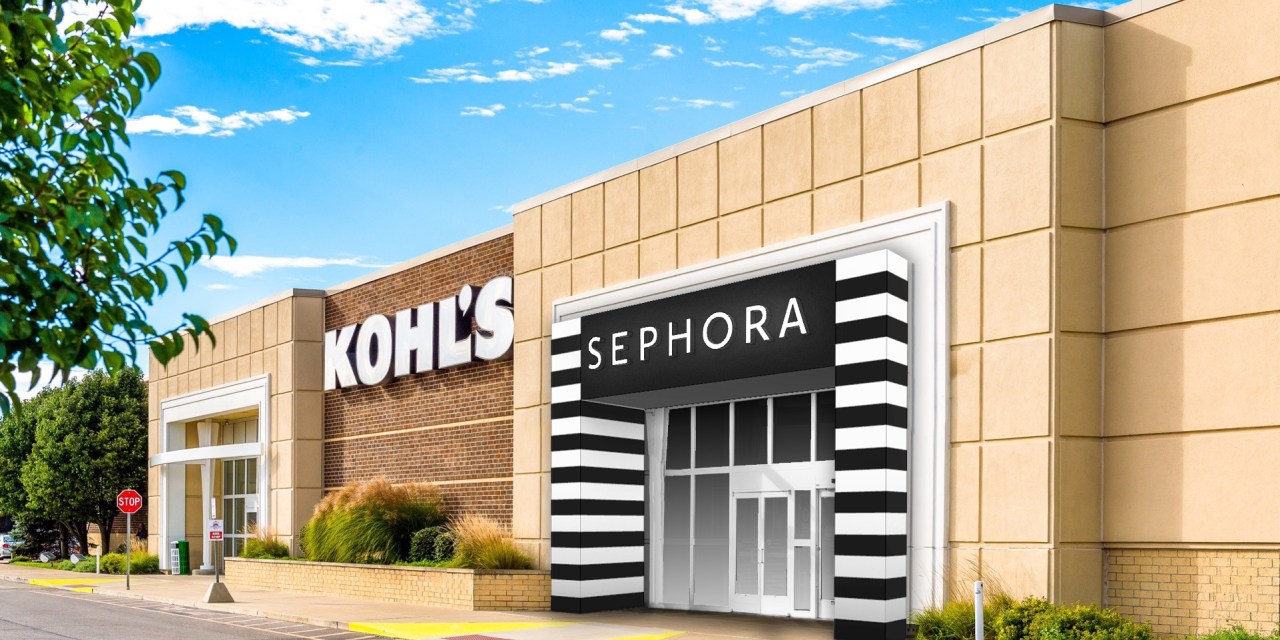 Image and video courtesy of Kohl's. ©2017 Kohl's Department Stores, Inc.
After months of receiving multiple takeover offers, retail holdings company Franchise Group emerged as the latest firm to express interest in acquiring Kohl's. 
Franchise Group, which owns brands like The Vitamin Shoppe and Buddy's Home Furnishings, has entered into a three-week exclusive negotiation period to buy Kohl's for $60 per share in cash. The deal would value Kohl's at around $8 billion. 
As its name suggests, Franchise Group or FRG mainly owns franchised or franchisable businesses. The company's fiscal year revenue in 2021was $3.3 billion, making the company smaller than Kohl's, which made $19 billion in revenue that year. Experts interviewed by Modern Retail said the deal was surprising given that Kohl's appeared to be an outlier in Franchise Group's portfolio. However, Kohl's real estate assets could prove valuable for FRG to grow its brands.
A power struggle has been occurring at Kohl's, including internal pressure from activist investors who have been attempting to take the reins and several takeover offers. In May, Kohl's rejected activists' proposal to overhaul members of its board. Despite initiating a poison pill to ward off potential sale, multiple parties have reportedly expressed interest in acquiring Kohl's – such as J.C. Penney owners Simon Property Group and Brookfield Asset Management as well as private-equity firm Sycamore Partners.
"Everybody's been looking at Kohl's," said Hilding Anderson, head of strategy for retail in North America at Publicis Sapient. "When you look at the enterprise value, the real estate alone is more than what [Kohl's] current stock price suggests… and so that creates a lot of opportunities."
What is Franchise Group?
Franchise Group is a relatively young company. It was founded in 2019 and was formed through the combination of Liberty Tax and Buddy's Home Furnishing. Though FRG's offer to acquire Kohl's may have baffled several experts, acquiring a diverse set of businesses is nothing new for Franchise Group.
In fact, FRG said one of its goals is to add business lines that the company isn't currently in. Right now, FRG has brands in categories like pet, home furnishing and even in education. 
In October 2019, it acquired discount retailer Sears Outlet for $130 million, according to the company's website. Months later in February 2020, it acquired American Freight – a company that sells furniture, mattresses and home appliances. In 2020, FRG combined American Freight with Sears Outlet. FRG has since grown American Freight's revenue to $988.9 million in 2021 from $896.4 million in 2020.
So far, the company's biggest revenue generator in its portfolio of brands is The Vitamin Shoppe, which it acquired back in 2019 in an all-cash transaction valued at $208 million. The Vitamin Shoppe's revenue had grown to $1.17 billion in 2021 from $1.04 billion the previous year. 
"[Kohl's is] obviously a much larger business than the ones that they currently own," said Bryan Gildenberg, svp of commerce at Omnicom Commerce Group. "What it looks like is that Kohl's may have been looking for the best balance between an acquirer or who could relieve some of their financial pressure and their external market pressure, while at the same time allowing the management team to continue to execute the strategy."
In response to an analyst's question during a recent earnings call about whether FRG plans to purchase Kohl's Brian Kahn, CEO of Franchise Group declined to comment on Kohl's specifically.
"We've got a lot of conviction in the brands that we operate now," Khan said in response. "We very strongly believe that these brands that we operate will give us significant organic growth over time and also generate enough free cash flow to support healthy and growing dividend, and also additional free cash flow that we can reinvest both internally and externally in M&A and we don't have any interest in putting that at risk for any transaction at this period." 
What would Franchise Group want with Kohl's?
While it is unclear what Franchise Group plans to do with Kohl's, experts agree that the franchising model that many of FRG brands follow doesn't seem to fit a department store like Kohl's. 
Kohl's post-pandemic performance has been lackluster; its revenue in the first quarter decreased to $3.7 billion year-over-year from $3.8 billion, and comp sales fell 5.2%. Its operating income fell dramatically by about 70%. Two C-level executives, chief marketing officer Greg Revelle and chief merchandising officer Doug Howe, also recently left their roles as Kohl's pursues the sale.
Gildenberg said FRG is unlikely to apply a franchising model on Kohl's. "This is not a business fitting something into its portfolio. This is a group that's trying to make a leap in terms of scale of what they do," he said. "I would say that it represents a fundamental transformation of what appeared to be the aspirations of Franchise Group."
Andrew Lipsman, principal analyst for retail and e-commerce at Insider Intelligence, said that Kohl's real estate may be a valuable asset for Franchise Group to expand its existing franchises. Kohl's currently has over 1,100 stores in 49 states.
"I'm kind of reading between the lines, but I wonder if what they're looking to do is take advantage of real estate efficiencies," he said. "I wonder if Kohl's is being looked at because it's got pretty large physical spaces to be able to introduce more shop-in-shop concepts." 
Shop-in-shops have been an area of focus for Kohl's in recent years in a bid to lure in more shoppers. The retailer has partnered with beauty retailer Sephora to open at least 850 Sephora shops inside Kohl's by 2023. In 2019, Kohl's also added Amazon returns desks in its stores.
Publicis Sapient's Anderson said that there could be a meaningful overlap between the demographic that shops at Kohl's and some FRG brands like The Vitamin Shoppe. He said a typical Kohl's and The Vitamin Shoppe customer could be lower- to middle-income households and maintain an active lifestyle. Kohl's in recent years has been refreshing its assortment to carry more activewear and outdoor brands.  
Still, there is no guarantee that the deal to go through. Anderson said that it may take several months for Kohl's to settle on an offer. "I suspect after six to eight months of looking around, if they get a bonafide, qualified offer that they think could close, they'll take it at this point."