Why grocers like Albertsons and Krogers are investing in their fresh aisles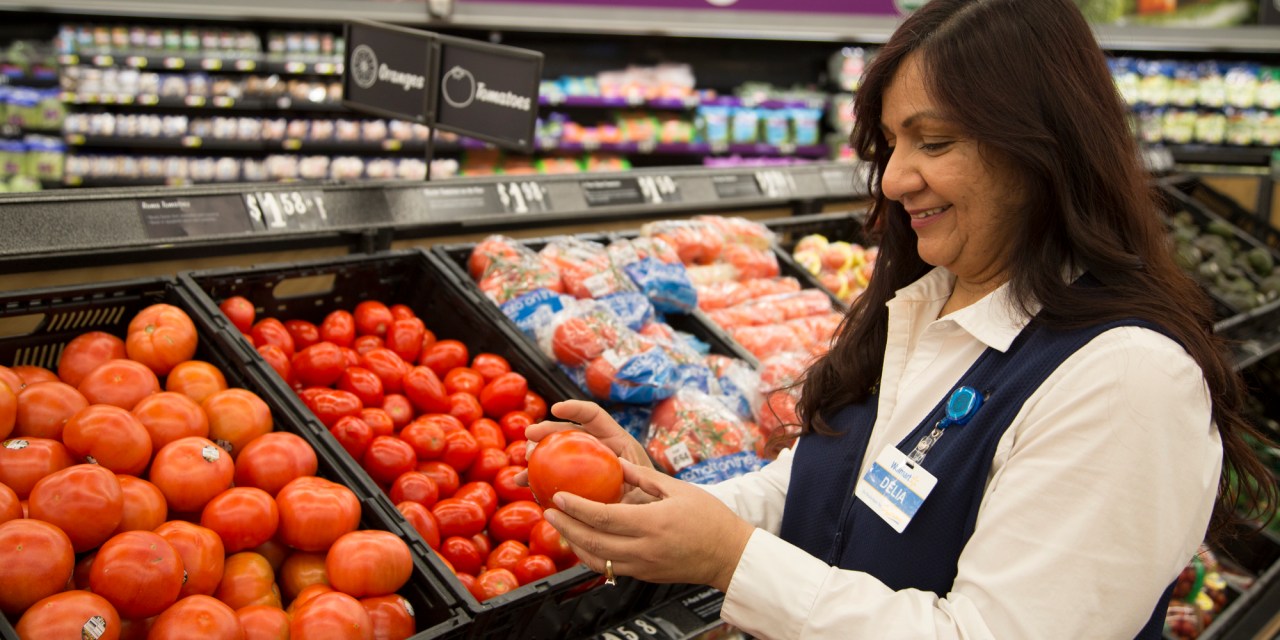 Walmart
Grocers are investing in their fresh food aisles after grocery revenues slowed in the fourth quarter.
As more people begin venturing out of their homes and food prices rise, grocery sales growth has finally decelerated. Grocery Outlet's sales declined 3% year-over-year in the fourth quarter, and growth at Albertsons and Kroger slowed to single digits. Amid this more competitive market, grocers are betting on fresh food items like deli, cheeses and produce to drive more sales. Within this category, grocers are focused on expanding their offerings via locally-sourced products, or by expanding partnerships with notable national brands like Murray's Cheeses. After an online grocery arms race earlier in the pandemic, analysts interviewed by Modern Retail explained that fresh aisles are how grocers will increasingly differentiate offline.
During Albertsons' fourth-quarter earnings call last week, CFO Charles Bracher said that the retailer's fresh products outpaced the "center store" or shelf-stable products by 280 basis points year-over-year.
"From an inventory and productivity perspective, we simplified tasks and automated production planning in our fresh departments, resulting in higher in-stock conditions and more time for customer interactions," said Bracher. He pointed to the installation of deli auto slicers and stackers as well as deli production planning tools as one example of investment in fresh.
At Kroger too, CEO Rodney McMullen said that fresh sales outpaced total company sales and specifically called out specialty cheese, sushi and floral as top performers in the retailer's fourth-quarter earnings call last month.
"During Covid — as we've mentioned several times — people have learned how to cook again and what they're finding is that they can have restaurant-quality food that they prepare at home," said McMullen, "Our fresh departments grew faster than the center store departments and our fresh departments have a higher gross rate as well versus the center store."
In Kroger's Investor Day Presentation last April, executives announced their intentions to focus on the fresh category and, since then, the retailer has invested in a variety of fresh-focused initiatives.
In March, Kroger expanded its 80 Acres Farms natural produce partnership, which focuses on offering consumers pesticide-free and local produce, to more than 300 stores. In May, Kroger launched a fresh and local accelerator program to help the company find new suppliers as it seeks to expand its fresh department. Some of the companies participating in the first iteration of the accelerator include Afghan chutney brand Maazah as well as a company that sells keto-friendly pimento cheese.
"We've completed the initial test phase of our end-to-end fresh initiatives focused on bringing more days of freshness to our customers and are confident in its scalability and with plans to expand to targeted stores across the country," said McMullen.
Grocery Outlet's president RJ Sheedy said the retailer would focus on expanding SKUs in "growth categories" like fresh in the retailer's fourth-quarter earnings call last month. Target's CEO Brian Cornell, meanwhile, said that grocery has become a "$20 billion company" for Target and that growth in fresh foods, in particular, is helping Target's bottom line. Even pet food retailers like PetSmart and Chewy are focusing their grocery dollars and strategies around fresh food.
Joan Driggs, a vice president at IRI, explained that even as consumers have more mobility in 2022 than they may have early in the pandemic, a significant period of time spent at home has led to "a new generation of chefs," who want better ingredients.
"Fresh is a fantastic bet," said Driggs. "It goes across all income groups. It goes across all demographic groups. But particularly younger people are really interested in fresh."
Jonah Ellin, Chief Product Officer at 1010data, said that the fresh aisles offer retailers a space to truly differentiate their in-store offerings (versus a more standardized center store experience with the same brands and products).
"You can differentiate on quality, you can differentiate on convenience and you can differentiate on price [in Fresh]," said Ellin. "People want to select their own produce, they want to select their own meats, it's something they really care about."
The category also allows grocers with a strong store footprint to take back market share from online juggernauts like Instacart. "Instacart is losing fresh right now," said Ellin. "They're winning on the things that are really convenient, where there's not as much differentiation."