Why retailers like Sephora are giving their buy online, pickup in-store platforms an upgrade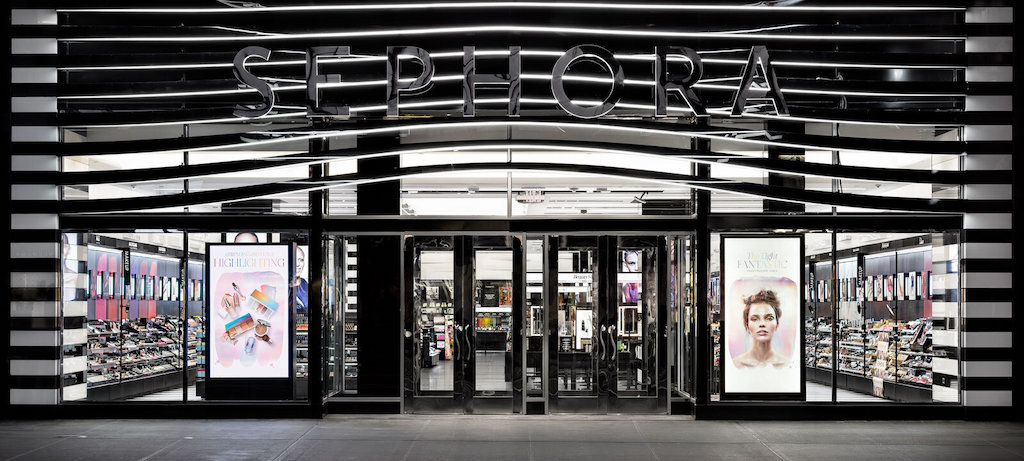 Image via Sephora
Sephora became the latest retailer to give its delivery and pickup options a tech upgrade, with an updated BOPIS platform.
The cosmetics giant on Tuesday announced it's switching to Commercetools for its underlying commerce platform from what it described as an "older legacy system." Company executives say the new cloud-based, headless technology will provide a more seamless and customizable experience for each customer — which they hope will improve same-day delivery and buy online, pickup in-store (BOPIS) services.
During the pandemic, many retailers rolled out BOPIS for the first time, to salvage store sales while restrictions were placed on in-person shopping. Now, many retailers are using 2022 to make upgrades to their pickup and delivery systems as they become more popular. Target, for example announced it was piloting more features to add to its curbside pickup service, like the ability to return items and place a Starbucks order. Others, like Steve Madden, are also doing backend upgrades with a new order management system to meet the growing demand. In 2021, shoppers spent nearly a quarter trillion dollars on BOPIS orders, according to a February 2022 report, with the BOPIS market expected to reach more than $703 billion by 2027.
The new technology "allows us to enhance, adapt and create nimble seamless experiences for our clients across all our features, including but not limited to BOPIS, Same Day Delivery, Checkout and so much more," Sephora CTO Sree Sreedhararaj said in an email to Modern Retail.
Sephora wouldn't share how much of its sales happen in-store versus online. But Sreedhararaj said that there's "a very healthy balance of brick and mortar and online sales," and increasing popularity in BOPIS and same day delivery.
"We have seen dramatic lift in both," Sreedhararaj said, "and most recently with the expansion of our Same Day Delivery across all of the U.S. and Canada, it's clear that ease and convenience are a major consideration for where and how our clients like to shop."
A June 2022 study Sephora conducted with Dynata found that same-day delivery is the most popular service users want to see. About 63% said the reason they would use same-day delivery is because they ran out of a favorite beauty product and need it fast.
Dirk Hoerig, the founder and CEO of Commercetools, told Modern Retail that the company's technology allows clients like Sephora to unify the in-store and online shopping experience. Further, a more unified system triggers faster and more efficient online transactions and in-store pickups.
"It really means that every POS system they have in every store needs to be connected with the global digital platform," Hoerig said.
A November 2021 study from last-mile solutions provider Lasership surveyed more than 100 retail professionals and found 87% of them had implemented BOPIS systems. But more than half faced issues around product availability, strained capacity or staff challenges, the survey found.
Another major priority for Sephora, Hoerig said, is personalization. This means the system is able to give better recommendations to customers on what products are trending or what they might want to buy. While it's too soon to say what specific examples Sephora will roll out, that could mean having different products suggested as a last-minute add-to-cart option, or different homepage links based on past shopping habits.
"Companies need to be flexible," Hoerig said. "They need to be able to own their customer experience. They need to be able to roll things out quickly, and they need to be able to roll out new business models."
Commercetools operates via a headless architecture, meaning the back-end of a website — like an order management system — is decoupled from the front end. That allows retailers like Sephora to personalize the front end of a website — the part that the customer sees — without impacting the part of the website that helps manage pickup and delivery orders.
Sephora has long focused on upping its technology in the name of new services. In May 2021, Sephora's senior Vice President and general manager for e-commerce Carolyn Bojanowski told Modern Retail that the company had started with reserve online and pickup in-store before graduating to BOPIS.
Bryan Gildenberg of Omnicom Commerce Group said the move to Commercetools isn't surprising given the capabilities of the cloud-based technology. The ability to personalize offerings may help Sephora increase what customers are spending on their pick-up orders, he said.
"The headless nature of this type of solution makes it way easier to vary and adapt the imagery and the messaging and the offers to your shoppers in a way that just takes way less effort than an e-commerce solution," Gildenberg said.
He said that BOPIS-style services are increasingly popular in the United States due to a car-centric culture where people may want to run errands in between weekend appointments, or make a quick stop on their way to an event.
"For an American family, car-based convenience is a real thing," Gildenberg said. "Even 10 years ago, when we were trying to forecast the future of e-commerce, one of the things we were always pretty certain is BOPIS would be a huge part."