Why Simon Property and Authentic Brands Group's are bidding on Brooks Brothers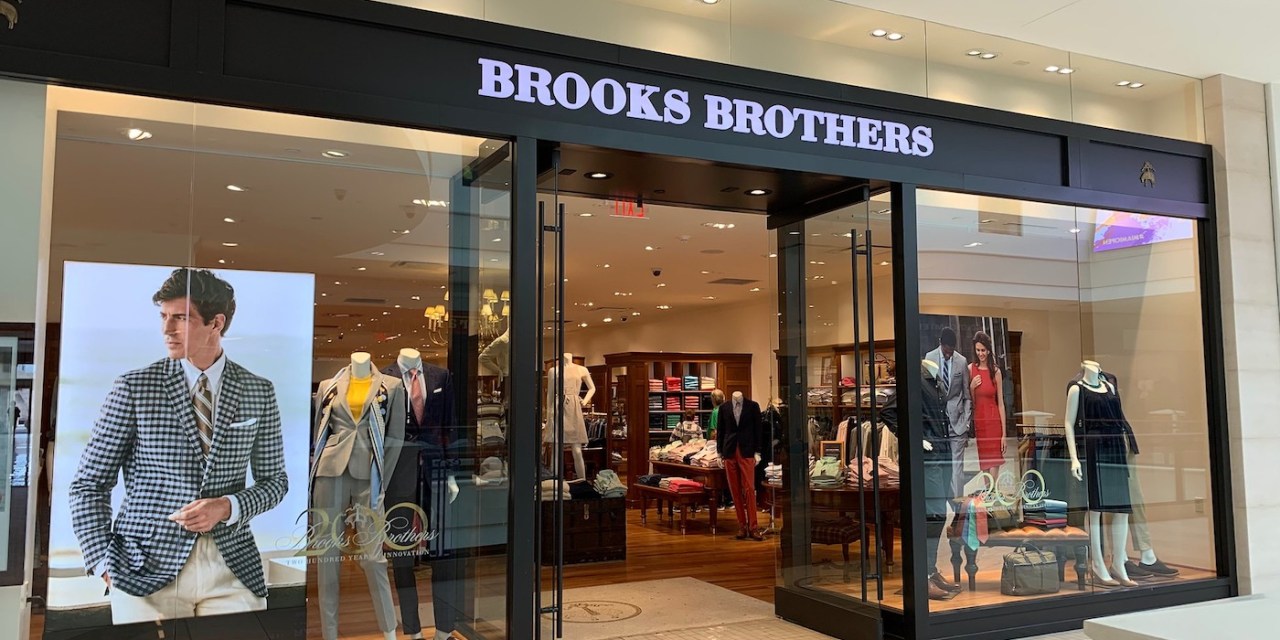 Thanks to the coronavirus, a number of struggling retailers are likely to be up for sale over the next year. And, if the past few weeks are any indication, mall owners are likely to be among some of the most eager bidders for these retailers.
Last week, Simon Property Group and Authentic Brands Group submitted a $305 million bid for the 200-year-old now-bankrupt apparel retailer Brooks Brothers, through a joint LLC the two had set up called Sparc. The deal is still subject to court approval, as well as if higher bids come in. Competing offers are due by August 5.
Acquiring some of its tenants is a straightforward, albeit expensive way for mall owners like Simon Property Group to ensure that they aren't left with an unsurmountable amount of open spaces should their tenants file for bankruptcy and need to close stores. But, even Simon, which had roughly $8.5 billion of liquidity on its balance sheet as of June 29, can't acquire all of the retailers that will likely be up for sale this year. First and foremost, mall owners like Simon will have to prioritize acquiring its biggest tenants; if a tenant with 1,000 stores goes out of business, it could leave mall owners with huge revenue losses to fill.
Brooks Brothers — with 250 stores — isn't Simon Property's biggest tenant. But, its brand still resonates with upscale consumers, retail analysts say, and as such may not require as much investment from Simon Property and Authentic Brands Group as other potential investments. "Brooks Brothers is probably at this point, a brand that's worth more than the business that surrounds it," said Bryan Gildenberg, svp of commerce at Omnicom Retail Group.
Not a new partnership
The Brooks Brothers bid wouldn't be the first time that Simon and Authentic Brands Group have teamed up, though it is the largest offer the two have made since the onset of the coronavirus outbreak in the U.S.  Sparc LLC also made a stalking horse bid of $191 million for denim maker Lucky's assets, and had until July 27 to come up with the funds.
In 2016, Simon teamed up with Authentic Brands Group and General Growth Properties which is now owned by Brookfield, to buy the Aeropostale brand out of bankruptcy. "We love being partners with Authentic Brands Group," Simon Property Group CEO David Simon said during an earnings call in July of last year. He also said during that same earnings call that in total, Simon Property Group spent $33 million for a 44% stake in Aeropostale, and David Simon said that the brand was expected to do $65 million in EBITDA that year.
Then, in February, Simon and Authentic Brands Group teamed up once again with Brookfield Property Partners to spend $81 million to acquire Forever 21. The fast fashion apparel retailer, which had 850 stores at the time, had 98 stores in Simon-owned malls. It was also Simon's seventh-biggest tenant in terms of total base minimum rent. Given that the trio only acquired Forever 21 six months, it's still unclear just how successful the acquisition will prove to be long term.
Why Brooks Brothers?
Though Brooks Brothers is not Simon's biggest tenant, it does have about 50 stores in Simon's outlet malls, according to Neil Saunders, managing director of GlobalData Retail. Outlets will be an important area of focus for Simon over the coming year, as shoppers are expected to become very price-conscious due to the financial fallout from the coronavirus. David Simon told analysts during Simon's most recent earnings call in the middle of May — during which point most of its properties had been open for two weeks — that "we're seeing some really good traction with some of the higher-end brands," in outlet malls. Brooks Brothers is also featured on Simon's online outlet store, which it launched last October with Gilt Groupe.
Brooks Brothers, which up until the bankruptcy filing was privately owned by Luxottica founder Claudio Del Vecchio, has not disclosed much about its financial performance in recent years. However, in its bankruptcy filing Brooks Brothers disclosed that it brought in $991 million in revenue in 2019, about 20% of which came from online.
Simon does not disclose how big of a tenant Brooks Brothers is, but recent court filings give some indication that it is far from Simon's biggest tenant. In June, Simon sued a handful of tenants, including Brooks Brothers, over unpaid rent in April, May and June. Simon disclosed in filings that Brooks Brothers owed $8.7 million in rent, and had more than 75 stores at Simon properties. Meanwhile, Gap, Simon's biggest non-anchor tenant in terms of rent, has more than 400 stores at Simon properties. Simon filed to dismiss the case against Brooks Brothers on June 30.
Brooks Brothers is relatively asset-light compared to other mall-based retailers, with around 250 stores in North America compared to Forever 21's 850 at the time it was acquired by Simon, Authentic Brands Group, and Brookfield.
Given that the brand has been around since 1818, Gildenberg said that Brooks Brothers has built a "very distinctive and carved out appeal," among upper-class professionals for office necessities like polos and sports jacket. "You want to find a brand that has current, strong resonance with an existing customer base…and that with intelligent marketing spend, that resonance can be expanded," Gildenberg said, when asked about what mall owners should look for in potential acquisitions.
With the Brooks Brothers acquisition, Simon and Authentic Brands Group will also have ownership of a brand that targets a wealthier, older demographic than either Aeropostale or Forever 21. And, one that has built up a strong brand cache over the years for dressing celebrities, including dressing all but four U.S. presidents.
During the coronavirus, Brooks Brothers' sales have been hurt by the fact that many people still continue to work from home, and are dressing more casually during the day. However, Saunders said that even before the coronavirus, Brooks Brothers had struggled with becoming "increasingly out of step with a new generation of consumers who are looking for a more edgy approach to smart casual."
"Brooks Brothers is very reliant on suiting and formal wear. Both of these categories are down sharply as people's working habits change," Saunders said. "Reinventing the brand against this backdrop will be very difficult.