With new revenue streams and marketing, Recess tries to become a national beverage brand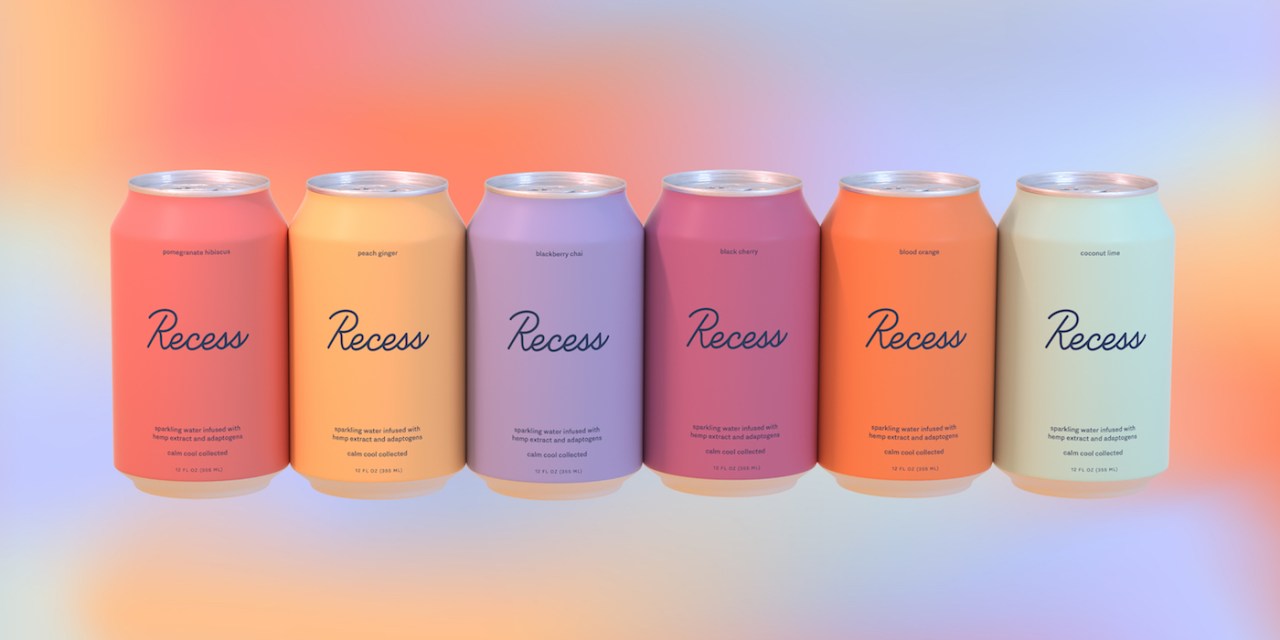 Since launching in 2018, CBD-infused sparkling water brand Recess has positioned itself as more than just a beverage company. Founder and CEO Benjamin Witte has described itself as a lifestyle that uses media and events to build a loyal customer base instead of through paid advertising. Now, those plans are starting to come into sharper focus.
On Tuesday, Recess launched a redesigned website, alongside some new revenue streams. The company now has subscriptions, where customers can save $10 per case by placing a recurring order every two, four or eight weeks. It is also now selling its own line of merchandise, and plans to do limited-edition drops in collaboration with other artists or brands. And, the company has launched a new ordering system for wholesale vendors, where they can apply to sell Recess in their stores directly on Recess' website; when approved, the vendors can place orders directly through the website instead of through a salesperson.
Most of Recess' wholesale business is concentrated in cities that remain under stay at home orders —  New York City, Los Angeles, Austin, Chicago and Miami — so the hope is that by allowing ordering through its website, Recess can more easily reach wholesale vendors in other parts of the country.
The approach here by Recess is two-pronged. As the company seeks to add more wholesale vendors beyond the coastal hubs, it also needs to increase brand awareness, which merchandise drops could help with, depending on who the company partners with. Witte said the company also plans to spend more on traditional marketing channels this year. Before this year, Witte said that Recess had only run a few tests on channels like programmatic advertising and advertising on buses, that amounted to several thousand dollars each.
Additionally, giving the Recess customer more ways to buy — through wholesale vendors, through its website or signing up for a subscription — helps Recess diversify its revenue base at a time when every company is being forced to do so. Witte said that while the company's e-commerce business is up 4X, its retail business is down 50%. He also added that the website redesign was in the works before the coronavirus.
Recess' business will ultimately consist of four components: its drinks, its digital experiences — like its Instagram account and email newsletter that as of March had over 40,000 subscribers — merchandise and events. Witte said that he founded Recess on the belief that traditional beverage giants like Pepsi and Coke invested too much in paid advertising, and instead could acquire customers more cheaply through more organic marketing efforts. By investing in these four components, Witte believes that ultimately Recess can build a more sustainable business that doesn't rely entirely as heavily paid advertising, and also lift its wholesale business.
As the cost of advertising on Instagram and Facebook has continued to rise, a number of other direct-to-consumer brands from Gravity Blankets to Bombas have sought to rely more on partnerships and events to acquire customers more organically. But, it has yet to be proven just how big of an audience these startups can build through organic marketing efforts alone.
"I think the larger question is, if you are going to be everywhere how do you balance the mass market sales approach with the brand storytelling?" said Richie Siegel, founder and lead analyst at retail consultancy Loose Threads. "If you don't support your [wholesale] channels, and your sales go down, they will move you out of there and allocate the shelf space to someone else, so you kind of have to balance this increased distribution and increased marketing, increased distribution, increased marketing."
Recess' growth strategy has also been made more complicated by the coronavirus; the company had hoped to do more in-person events this year, but now that is on hold.  Additionally, by allowing businesses to order Recess directly from its website, Recess' strategy is to diversify its base of wholesale vendors away from major cities that are still under stay at home orders. When Witte spoke with Modern Retail last week, he said that the company had already received outreach from vendors in Iowa, Mississippi, Michigan and Arkansas.
Historically, beverage brands have tried to win over new wholesale accounts through salespeople, with major national grocery chains like Whole Foods, Kroger, and Walmart often wanting to meet with representatives in-person before committing to carry that product on their shelves. The challenge though, is that many smaller beverage brands don't have the name recognition in order for wholesale vendors to come to them first. So Recess is betting that its brand is now big enough in order for wholesale vendors to want to reach out to them to carry Recess.
It's also worth noting that, given that Recess' product contains CBD, many of the larger grocery chains likely aren't ready to carry its products yet, given some of the regulatory uncertainty around CBD. Witte said on the Modern Retail podcast in April that Recess wasn't in the Targets and Walmarts yet "because of the regulatory [element]".  So, Recess' self-serve model is meant to appeal to smaller wholesale vendors, like coffee shops, bodegas, and markets, who are more likely willing to place a small order of Recess first to test it out.
The regulations around CBD advertising has also forced Recess in part to get creative with its marketing. While Facebook and Instagram have an internal policy of advertisements that mention CBD or ingestible hemp. Witte said that the company was able to start testing Instagram ads in February, by not mentioning CBD or cannabis in the advertisements, and plans to do more paid marketing this year.
"With the evolution of Recess and that fact that we will be entering new categories, ads may now make sense to draw attention from a larger audience of people who resonate with our brand," Witte said.