As competition stiffens, Claire's unveils rebranded piercing studio Pierced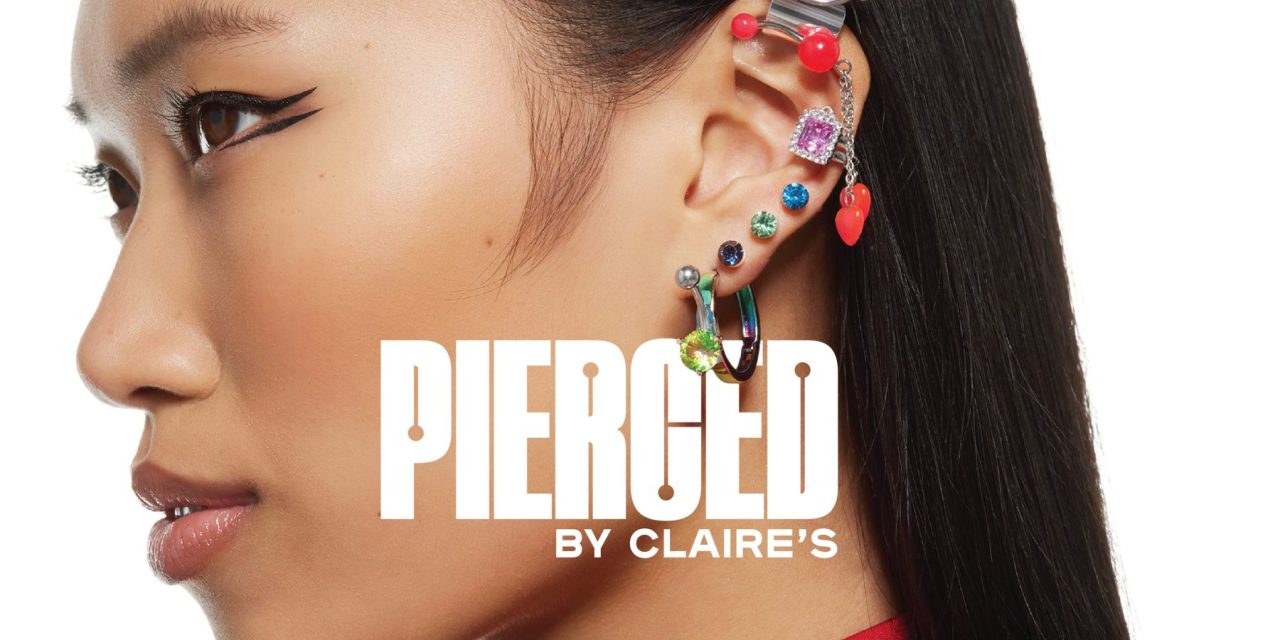 Claire's
Claire's has been in the business of ear piercing for 40 years. But as more competitors enter the market, it's rebranding the service for the first time in its history.
On Thursday, Claire's launched Pierced, a new vision for its piercing services that aims to resonate with a Gen Z and Gen Alpha audience. The update includes a new logo and design aesthetic, with a focus on personalization in the piercing process. Claire's plans to market the new push with its the second TV commercial in its 50-year history, as well as a promotion of free earrings for a year.
Kristin Patrick, evp and chief marketing officer at Claire's, said the piercing business is a major revenue driver and customer acquisition tool. It's the "connective tissue" of the business, she said. In turn, the brand must stay competitive as e-commerce driven brands like Studs and Rowan or independent piercing shops take on market share.
"Our goal is to become a global brand powerhouse," she said. "In order to maintain our leadership position, we have to stay a step ahead of everyone else."
The rollout comes a week after the brand hit pause on its plans for an IPO. While Claire's wouldn't share any financial information with Modern Retail, the brand has undertaken a number of ways to update itself since emerging from Chapter 11 in 2018, and generated $910.3 million in net sales for its fiscal year ending January 2021.
In 2020, it launched its first-ever loyalty program. Then, it rolled out a buy online, pick-up in-store service in January 2022, and later expanded its partnership with Walmart. And in the fall, it launched ShimmerVille, a Claire's-theme virtual world on Roblox. The brand has also invested in its e-commerce business with a $15 million website upgrade.
But in-store spending is still the core of the business, and piercing is a key driver. The company's S-1 from September 2021 showed that about 55% of ear piercing customers made another purchase. Claire's is also changing up its footprint, with CEO Ryan Vero telling Modern Retail last year that it's locating more stores in strip malls and outlet centers compared to traditional shopping malls.
Patrick said the launch of Pierced signals more changes to come to the stores' overall look and feel.
"We're in the middle of this amazing transformation," Patrick said. "A part of that transformation is getting into the psyche of the mind of our consumer, who is Gen Z and Gen Alpha."
An edgy look
To help get Pierced up and running, Claire's tapped Nicola Formachetti who serves as chief creative officer in residence. A collaborator of Lady Gaga's as well as former artistic director for Diesel, Formachetti helped craft digital images that will be used to help shoppers craft their "Earprint." Claire's will be using this trademarked term to help customers figure out what they want their ear to look like, leaning on the trend of people having multiple and asymmetrical piercings.
"It's about creating something that's unique to you," Patrick said.
The company's campaign promoting Pierced features brightly colored earrings in funky shapes from gummy bears to classic cars, plus barbell-style piercings. It also includes a sparkly character built out of earrings called Pierce that will crop up in marketing materials. Piercing specialists will get new wardrobes.
The creative behind Pierced falls in line with the changes Claire's in making to its brand aesthetic overall. Its new flagship store in Paris features neon pink signage, iridescent lighting fixtures and sleek surfaces.
"As part of a general overhaul, it was important to look at this from a piercing perspective," Patrick said. "We don't think about this as a service. We think about this as an end-to-end experience, and a detailed customer journey."
Winning over audiences
Rebekah Kondrat, founder of consulting firm Rekon Retail, said Claire's is wise to differentiate its piercing business at a moment when competitors are catering to the Gen Z and Gen Alpha customer is all about personalization and self-care.
Studs, for example, invites customers to create their "Earscape" when shopping for jewelry. Piercings at the locations are done with needles in private rooms, compared to the high-visibility of a piercing at the mall storefront.
Young shoppers are also looking to be as unique as possible with their choices, such as choosing different earrings for each ear instead of a matching pair of basic studs that was once the typical starter piercing.
"It's really about capturing what is going to resonate with the new generation of consumer," Kondrat said.
Claire's may also benefit from the nostalgia factor that's trending among young shoppers — or their millennial and Gen X parents who got their ears pierced at Claire's and trust the brand. Claire's also has the advantage of its 2,800-store network around the globe, while Studs has roughly 19 piercing studios in major U.S. cities.
"It's very good timing for (Claire's) if they can get the marketing right," Kondrat said.
Despite the competition in the market, Partick said Claire's is focused on figuring out new ways to connect with its audience. Claire's will promote Pierced with a full-funnel marketing campaign that includes a 30-second connected TV ad for its free earrings promotion.
The piercing promotion will allow anyone who is a member of their loyalty program and signed up for brand emails to get a free pair of earrings each month for a year after getting a new piercing. It's a first for the brand, Patrick said. And it's also planning other promotions to roll out in the future, Patrick said.
"We have to be much more sophisticated as a community in terms of reaching consumers now," she said. "There's so many ways to do that, it isn't just retail 101 anymore. It's a new changed world and we're positioning ourselves to future-proof our business on all fronts."