'There are only so many leases available': How shop-in-shops got a 2021 facelift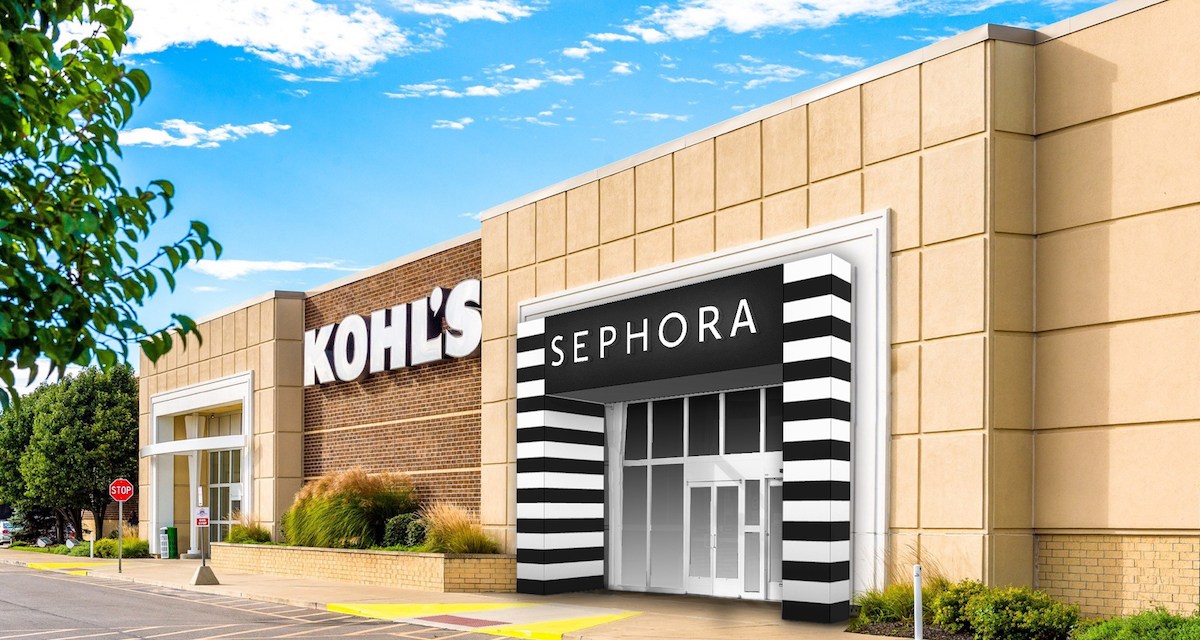 Image via Sephora
In 2021, retailers and brands are leaning on the shop-in-shop model for key store partnerships.
Over the past year alone, almost every major American retailer — for example: Target, Walmart, Kohl's, Macy's and Nordstrom — has announced a new shop-within-shop store concept, often in partnership with other well-known retailers such as Apple or Sephora. Store-in-stores allow smaller brands to build out their own branded hubs within their larger retailer partner's storefronts. Store in stores are longer-term partnerships than weeks-long or months-long pop-ups. Kohl's and Sephora, for example, announced their partnership late 2020 and won't finish building their 850 store-in-store rollout until 2023.
The concept isn't new: Starbucks, for example, has been in grocery stores since 1998. Experts, however, told Modern Retail that the store-in-store concept has experienced a renaissance as of late — and brands and retailers' motivations for embracing the model have changed. Today, big-box retailers and department stores are embracing shop-in-shops as part of their broader attempt to rethink store layouts, as more sales move online. They're also testing out shop-in-shops as a way to enter new categories, by partnering with another trusted retailer in that category.
Making way for the shop-in-shop
Shop-in-shop tenants can serve as high-performing tenants for retailers with too much floor space, explained CBRE's vp of partnerships Kevin Marschall. "A lot of these large-format stores that were built pre-Amazon, pre-online shopping, are over-spaced," said Marschall. "[It's] much easier to bring in a partner than physically demising the space to an entirely separate tenant."
Indeed, department stores in particular were hampered by the coronavirus pandemic: apparel was the retail category with the biggest losses during the pandemic according to research firm GlobalData. Despite a return to in-store shopping in the first half of the year, Nordstrom, for example, still hasn't reached pre-pandemic sales levels.
For categories where an over-spaced retailer may be struggling in-house, a shop-in-shop is one way to bring in outside expertise, added Marschall.
Kohl's partnership with Sephora — which rolled out 200 of its total 850 store-in-stores this fall — is a prime example of this model. The retailer struggled with sales even before the pandemic: the retailer's annual revenue dropped 1.3% year-over-year between 2018 and 2019, and its net income dropped 13.7%.
Beauty had never been a major performer for Kohl's — but it's a quickly growing category. During the retailer's third-quarter earnings, Kohl's CEO Michelle Gass said the category only accounted for a "modest low single-digit" percentage of its total sales. But as the company laid out in a new strategic initiative last October, Kohl's plans to triple its beauty sales in the coming years.
Partnering with Sephora, explained Gass in the retailer's most recent earnings call, "will transform Kohl's into a leading beauty destination" and use the "halo effect" of Sephora to drive new customers to other areas in the store.
Nostalgic brand re-dos
Some retailers, like Kohl's are choosing to partner on shop-in-shops with retailers like Sephora that are still a go-to destination for in-person shopping. Target is taking a similar approach by partnering with Apple on shop-in-shops.
Meanwhile, other retailers are choosing to partner on shop-in-shops with brands that have completely shuttered their store footprint, betting that these brands still hold nostalgic value for their customers.
In 2020 and 2021, Toys 'R' Us, Disney and Justice closed all of their own standalone stores. However, if consumers want to find their latest wares, they can now just head to Macy's, Target, and Walmart, respectively.
"Many of our customers were Toys 'R' Us kids themselves and we are excited to bring the beloved brand to macys.com and our stores across America," said Stephen Moore, svp of home, leased and food at Macy's over email. "Toys 'R' Us is a globally recognized leader in children's toys and our partnership allows Macy's to significantly expand our footprint in that category."
Design consultancy Ideo's Executive Director, Heather Boesch said in these cases shop-in-shops serve functional purposes — getting consumers back to store after a pandemic — as well as emotional purposes.
"By co-locating things that have similar values, that does increase the functional value in the store," said Boesch. "I think the challenge of that is to also think about how are we maintaining the emotional value of that store as they go from brand-to-brand within that [one] storefront."
Betting on startups to build buzz
Startups have also increasingly become go-to partners for retailers looking to enter new categories via shop-in-shops. In many cases, these digitally native startups are already looking to expand their store footprint anyways, making them prime candidates to enter conversations about shop-in-shops with retailers.
At-home fitness is one category in which this has played out over the past year. During the beginning of the pandemic, at-home fitness companies experienced a larger-than-expected sales boom.
Given this category-wide growth, Chris Stadler, CMO of smart gym brand Tonal said that the brand decided it needed to expand its physical retail presence quickly. In March, Tonal announced that it had secured a partnership with Nordstrom, launching shop-in-shops at 40 Nordstrom storefronts in under a month.
"That would have taken a lot longer if we had done it through the showroom angle… there are only so many leases available… at great malls, great locations within the mall, at a good price," said Stadler. "This [partnership] allowed us to jumpstart and ignite growth."
While quick expansion is a clear boon to DTC brands looking to get ahead, it's also a good strategy for retailers hoping to gain a quick foothold in a new or growing category. Nordstrom in particular has taken longer to return to pre-pandemic sales levels relative to other department stores like Macy's and Kohl's, because its assortment is so heavily reliant on formalwear. As a result, Nordstrom has recentyly invested more in fitness — via its partnership with Tonal — as well as home goods.
It's a longer-term commitment than a pop-up — Tonal and Nordstrom's partnership currently has no end date set — which Stadler thinks shows a certain commitment to a category on both sides of a partnership.
"I think a long-term partnership definitely connotes quality, and an endurance of a product," said Stadler. "When we started having our initial discussions with Nordstrom, they were just as excited about it as we were and I think understood that the home fitness category is booming. It's really a win-win partnership on both sides."