Why retailers are racing to build out their own healthcare clinics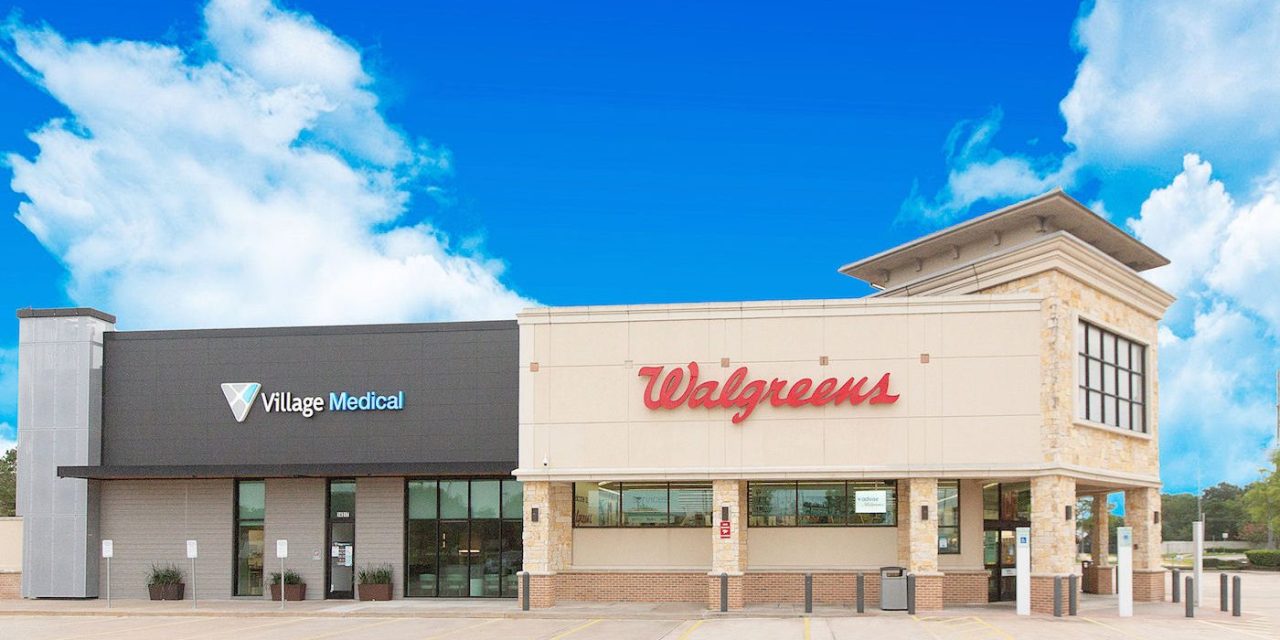 Walgreens
As retailers seek to make greater inroads into healthcare, many of them have unveiled aggressive plans to launch dozens — if not hundreds — of their own primary care clinics over the coming years.
Last week, Walgreens announced that it will invest $1 billion in debt and equity over the next three years into VillageMD, which operates a chain of primary care clinics. As part of the deal, VillageMD will open 500 to primary care clinics in Walgreens stores over the next five years.
Walgreens' announcement comes on the heels of Walmart opening several standalone primary care clinics over the past year, as well as CVS announcing plans to turn 1,500 of its more than 9,000 stores into "HealthHubs" which will have a larger clinic, offer access to a greater range of diagnostic tests, as well as wellness rooms for activities like yoga.
The new types of healthcare clinics that these retailers are unveiling are very different from the pharmacies that they've traditionally crammed into the back of their stores. These retailers are investing more into healthcare for a couple of reasons. One, is that the amount of money Americans spend on healthcare continues to rise, so retailers want to get a bigger share of this increasingly lucrative part of consumers' wallet. Second, as more shopping moves online, retailers need to add new services to figure out how to get more customers come to their stores more frequently.
"These retailers don't need as much space for the products that they used to have," said Bryan Gildenberg, svp of commerce at Omnicom Retail Group.
None of these retailers are primary care experts. So their success in building out a new chain of medical clinics depends on what expertise they are able to acquire through partnerships, or bring in-house.
CVS has the biggest head start, given its merger two years ago with insurance giant Aetna. That's allowed CVS to justify more expensive investments, like remodeling its stores and turning them into HealthHubs, because adding more primary care services should, in theory, bring down insurance costs for Aetna.
Walmart also has an opportunity to save on some costs by building out its own healthcare clinic. Gildenberg noted that Walmart is one of the largest private employers in America — by building out cheaper primary care clinics, it also has the opportunity to lower healthcare costs for its own employees.
The first standalone clinic that Walmart launched last year in Calhoun, Georgia allowed patients to see doctors for routine checkups and treatment of chronic conditions, even if they lacked health insurance. The cost for an annual physical at the clinic is $30, while the cost for a dental exam is $25.
With the hope that customers will eventually turn to Walmart for their primary care needs, the company is also looking at making great inroads into other medical services. In June, the company announced that it acquired the tech and intellectual property of CareZone, an app that helps people manage and schedule deliveries for multiple prescriptions. It was also reported this week that Walmart registered its own insurance business.
Walgreens' strategy, meanwhile has not been to build its own insurance companies or primary care clinics, but rather to partner with other companies on its healthcare initiatives. In addition to the VillageMD partnership, the company also previously tested an in-store primary care clinic designed for seniors in partnership with Humana, and secured a partnership with testing provider LabCorp to roll out diagnostic services to hundreds of stores within the next two years.
"Walgreens' DNA is partnerships," Brian Owens, vice president of retail insights for Kantar Consulting, previously told Modern Retail.
When the Walgreens investment was unveiled last week, Village MD's CEO touted the fact that the clinics' proximity to Walgreens' drug stores could allow doctors and pharmacists to communicate better with one another. That could allow the pharmacist to say, encourage the doctor to prescribe a lower-cost medication.
For Walmart, building out a line of clinics could compliment the other lines of business that it is trying to build out, like online grocery delivery, as well as to ensure that its physical properties remain a regular destination for shoppers. For Walgreens and CVS, investing more in clinics could also be an important boost to their business at a time when sales of their front of store items, like food and household products, are declining, and as customers now have the option to order more of their prescriptions online, through other services like Ro and Hims.
Ultimately, the retailers that have the best chance of seeing their clinics succeed are the ones who figure out best to encourage patients to try out multiple, complimentary services, within their retail network.
"What could be more powerful than sitting down with a dietitian in the place where you are buying groceries, having them tell you what to buy to lead a healthier lifestyle, and then you can literally just go into the store and buy it," Gildenberg said.